Description
SCREENING FOR THE FIRST TIME IN SOAS!
50% of your ticket cost will go towards IWA charity helping refugees in Syria, Greece, Lebanon and Yemen.
ABOUT THE FILM:
This documentary follows the journey of two young journalists - Niamh (aged 10) and her sister Sofia (aged 8) as they try to wrap their heads around something incredibly serious and weighty: the sometimes-bloody Sunni – Shia conflict that has been going on for decades.
The girls talk to religious figures, scholars, well known clerics, believers, political pundits, the public and more, all in the hope of understanding this absurd conflict and its routes.
As they continue on the road of discovery, the two journalists soon realise that what unifies us as Muslims is far greater and more powerful than our differences.
Directed in a light-hearted and innocent way, the film tackles a series of hard hitting and pertinent points without causing offence or apportioning blame. It offers the audience a chance to consider how religious choices and practices may appear to the outside world, all through the eyes of these two innocent sisters.
This refreshing documentary takes us back to our routes and reminds us of the simplicity of practicing the religion of Islam.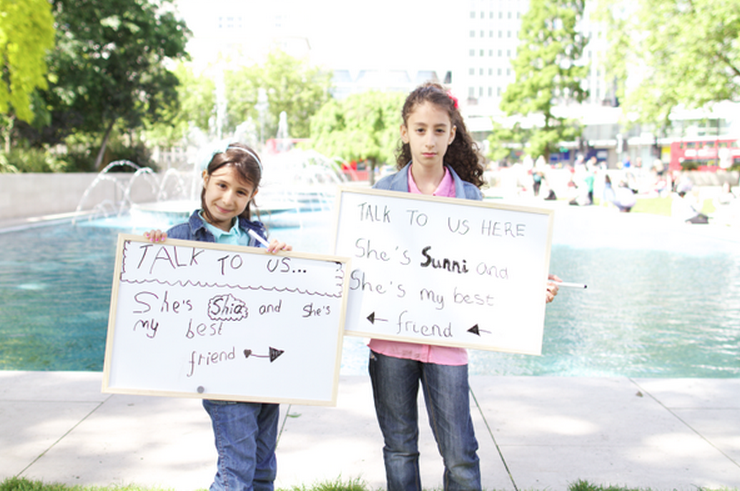 Note:
Please ensure you arrive 30mins before the screening time to register and be seated. The film will start at 7pm sharp.
Tickets:
Seats are on a first come first serve basis and can not be guaranteed for last minute on the door ticket buyers. To avoid disapointment please book in advance.
For more info call:
Ali: 07703447524
This film is a spoken Iris film production. If you would like to support more films from this independant production company CLICK: www.paypal.me/spokeniris
Follow us on facebook! https://www.facebook.com/sushidocumentary
www.spokeniris.com