Why can't we talk about race at work? [CIPD London D&I and Race series]
About this Event
CIPD Central London Branch is committed to continuing to build upon our successful portfolio of events from 2019-20 to have uncomfortable conversations, bring fresh new and transparent speakers and experiences and centre diverse voices through the reach of our events and programs.
We are delighted to launch our series of 'Why' webinars aimed at having difficult conversations and tackling the challenges we need to be talking about and owning up to in the HR and L&D communities.
The first of the Why series focuses on the question 'Why cant we talk about Race at Work?'
This breakfast webinar seeks to break the mould in relation to migrating from an academic conversation about ED&I to a more humanised, honest conversation around why we are still unable to talk about race, and what practically HR Professionals can do to dismantle these conservative cultures focusing specifically on tangible actions around race relations in the workplace.
The event will consist of a panel discussion and some take away packs for delegates to explore this issue within your own organisations, as well as provide an opportunity to connect to thought leaders in this space.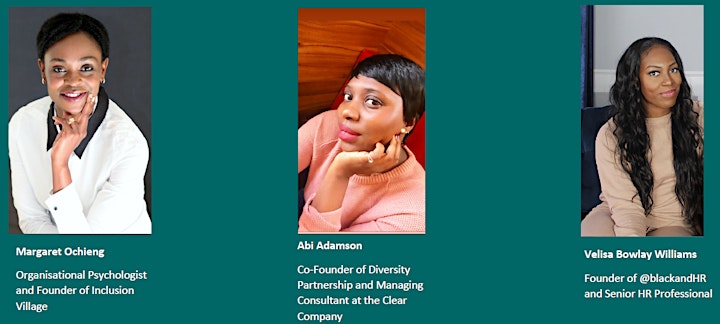 Speakers
Margaret Ochieng
Margaret Ochieng is an organisational psychologist and a founding director of the Inclusive Village, a management consultancy and training provider that helps organisations create and nurture conscious and inclusive workplaces that attract the best, most diverse people, retains them, develops them, and supports them to flourish. Margaret is an evidence-based practitioner and an organisational researcher on Equality, Diversity and Inclusion topics, and has recently written a thought-leadership piece featured on a Forbes column. Margaret is also a certified psychometrician and a member of the British Psychological Society (BPS).
Abi Adamson
Abi is Co-founder of The Diversity Partnership – helping organisations build an inclusive culture and workforce. As an academic, her research is focused around race relations, colonisation and social justice. She is passionate about inclusion and belonging in the workplace and in society. As a D&I consultant, Abi focuses on being an advocate for equality and helping people overcome the silver elephant in the room when it comes to having uncomfortable conversations about race.
Velisa Bowlay Williams
Velisa is a Human Resources professional and founder of community blackandHR and has been working in the HR world for the past 7 years currently working for one of the big 5 tech companies. During her 7 years as a HR professional Velisa has established a passion for championing diversity within the workplace, rooting for those voices which are not always heard to make sure they can get a seat at the table. Velisa prides herself on being for the culture and all things London. When Velisa is not being HR she loves a Brunch and a good Netflix Series!
Timings:
09:30 - Start of the session
10:00 - Closing
Please note:
Webinar joining instructions will be sent to you 2 days before the event (with further reminders 2 hours prior to the session and 10mins prior to the session).
The webinar will start at 09:30 and run for about 90 minutes.
We will record the webinar and will share will people afterwards. We will be using the recording to upload it to CIPD channels.
The chat function will be used for participants to engage with the webinar, rather than audio and video, so just be mindful of the login name you use and ensure you are happy for other people to see this.
Professional photography and video production may be taking place at the event, and these images and videos may be used on future promotional materials for CIPD.
By attending the event, you are giving your consent for your image to be used on any CIPD promotional materials.