How To Academy presents... Why Courage Matters – and How to Cultivate It | Ryan Holiday
About this event
"There aren't two kinds of courage. There is only one. The kind where you put your ass on the line" - Ryan Holiday
Fortune favours the bold. All great leaders of history have known this, and were successful because of the risks they dared to take. But today so many of us are paralysed by fear.
Drawing on ancient Stoic wisdom and examples across history and around the world, bestselling philosopher and podcaster Ryan Holiday will show why courage is so important, and how to cultivate it in our own lives. Courage is not simply physical bravery but also doing the right thing and standing up for what you believe; it's creativity, generosity and perseverance. And it is the only way to live an extraordinary, fulfilled and effective life.
Everything in life begins with courage. This livestream talk will equip you with the bravery to begin.
Praise for Ryan Holiday:
"Ryan Holiday is part Machiavelli, part Ogilvy ... this whiz kid is the secret weapon you've never heard of." - Tim Ferriss
"[Ryan is a] self-help sage, who is now a sought-after guru to NFL coaches, Olympians, hip-hop stars, and Silicon Valley entrepreneurs . . . [he] translates Stoicism, which had counted emperors and states­men among its adherents during antiquity, into pithy catchphrases and digestible anecdotes for ambitious, twenty-first-century life hackers." - Alexandra Alter, New York Times
"The Obstacle is the Way is about challenge, loving a challenge, and I haven't always loved a challenge. Things were great if it was easy but if it wasn't, 'F***, that's too hard.' Now it's, 'Make it difficult because it will make me better." - Rory McIlroy, 2x PGA Champion
"A book for the bedside of every future - and current - leader in the world." - Robert Greene, author of The 48 Laws of Power and Mastery, on The Obstacle is the Way
"Whether you are an athlete, an investor, a writer or an entrepreneur, this little but wise and soulful book will open the door to a healthier, less anxious and more productive life and career." - Arianna Huffington, on Stillness is the Key
Ryan Holiday is one of the world's foremost writers on ancient philosophy and its place in everyday life. His books, including The Obstacle Is the Way, Ego Is the Enemy, The Daily Stoic, and the #1 New York Times bestseller Stillness Is the Key have sold millions of copies and been translated into over 40 languages. He lives outside Austin, Texas, with his wife and two boys... and cows and donkeys and goats.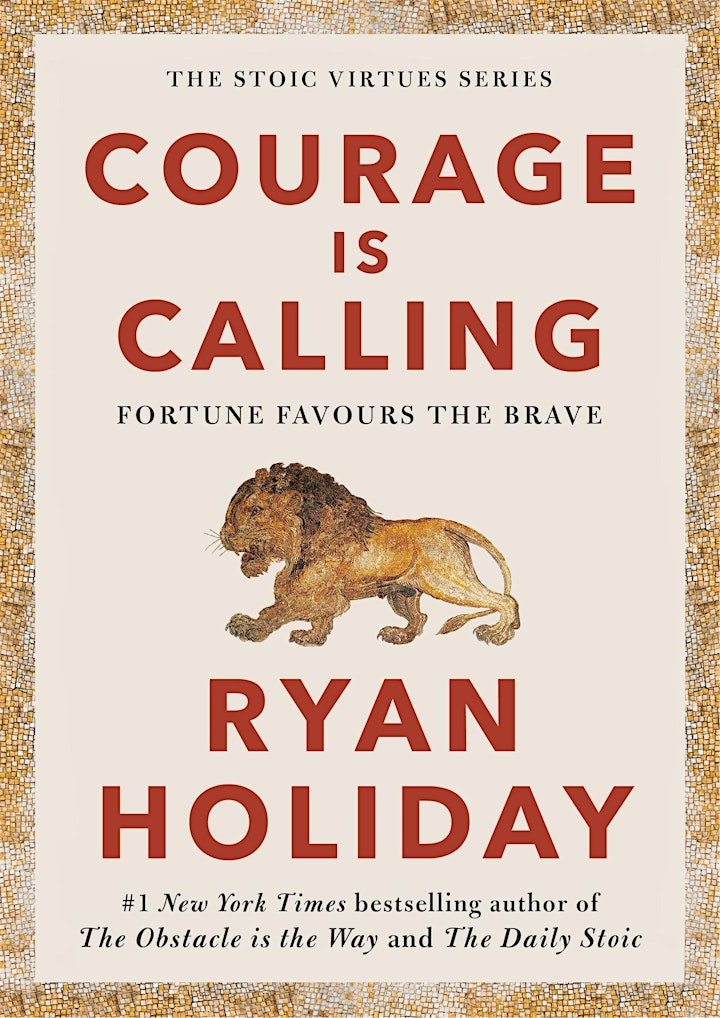 Organizer of Why Courage Matters – and How to Cultivate It | Ryan Holiday
How To Academy is an organisation for people who think big. From Nobel laureates to Pulitzer Prize winners, we invite the world's most influential voices to London to share new ideas for changing ourselves, our communities, and the world. 
We host leading artists and thinkers in an unrivalled programme of public talks, debates and conferences – from Yuval Noah Harari to Natalie Portman, Emma Watson to Eric Schmidt.
We help businesses discover transformative new strategies, anticipate the future, and inspire their staff with keynotes and workshops by internationally-acclaimed economists, psychologists, politicians, and thought leaders. 
We offer masterclasses live and online with experts in essential twenty-first century skills, like leadership, public-speaking, decision-making and resilience. And we make books, podcasts and films to share insight and innovation around the world.