Description
Why Don't You…?
...Just Switch Off Your Netflix and Go Out and Do Something Less Boring Instead?
At Why Don't You...? discover how you can become an innovative storyteller creating LGBTQ stories using the new digital platforms of virtual reality, mobile filmmaking and podcasting. Learn hands on from industry experts how to utilise digital to tell your story. Enjoy a creative mix of inspiring talks and engaging workshops aiming to encourage and inspire you with the skills to refresh representation and the way that LGBTQ narratives are told.
Registration is from 9.30am and feel free to pop down to our drop-in workshops throughout the day.
Follow this link to get directions to The Sharp Project.
Why Don't You…? - Queer Media Digital Arts Festival - Schedule
Sharp Project - 9.30am registration 10.00am start - 4.30pm finish
9.30am - Doors open for Registration
10.00am Welcome in Stage One
10.15am - 11.00am - Mobile filmmaking taster with Deirdre Mulcahy
11.15am to 12.00pm - Podcasting in-conversation with Chrystal Genesis and Emma Goswell
12.15 to 1pm - Virtual Reality taster with Future Artists - Rosie & Clay
1pm to 2pm - BREAK
(Participants sign up on the day and choose only one workshop to do in the afternoon. No advance booking needed)
2.00pm - 4.00pm
Stage One: - VR Lab/Pods - Future Artists - Rosie & Clay
The Gold Meeting room: - Podcasting workshop - Emma Goswell
The Campus: - Mobile Filmmaking workshop - Deirdre Mulcahy
4.00pm - Stage One - Goodbye and Thank you
4.30pm - Event ENDS

----The event is flexible you can drop-in whenever you like or stay for the whole day----
MobDoc Mobile Filmmaking Workshops facilitated by Deirdre Mulcahy (BBC Academy)
MobDoc involves practical exercises focused on learning how to tell LGBTQ stories utilising mobile filmmaking technologies. The aim is to teach people how to begin to challenge the narrative in LGBTQ films by developing skills to create a film during the workshop. With two workshops aimed at beginner and advanced filmmakers ultimately we hope to empower participants to tell their own stories using their smartphone.
Podcasting workshops facilitated by Emma Goswell (Gaydio Radio) and Chrystal Genesis (STANCE podcast)
Are you growing increasingly frustrated by the under-representation of many voices in society - large groups of people growing up having no value attached to their perspectives - so why don't you decide to do something about it? Hear how Chrystal launched Stance Podcast on Trump's Inauguration day with the aim of giving a larger array of people the same amount of space, creativity and intellectual weight as others, and how Emma this autumn is set to launch her own podcast series – Coming Out Stories
Virtual Reality workshop facilitated by Future Artists
Meet Rosie and Clay two pioneers in Virtual Reality production and creation - ask them anything about creating in VR and have a go on a variety of demos that we have set up - by the end of the demo, you will have created something in Virtual Reality!
Presented by Queer Media UK in partnership with The Sharp Project.

Photography and filming will take place at the event.
Workshop times to be confirmed in October.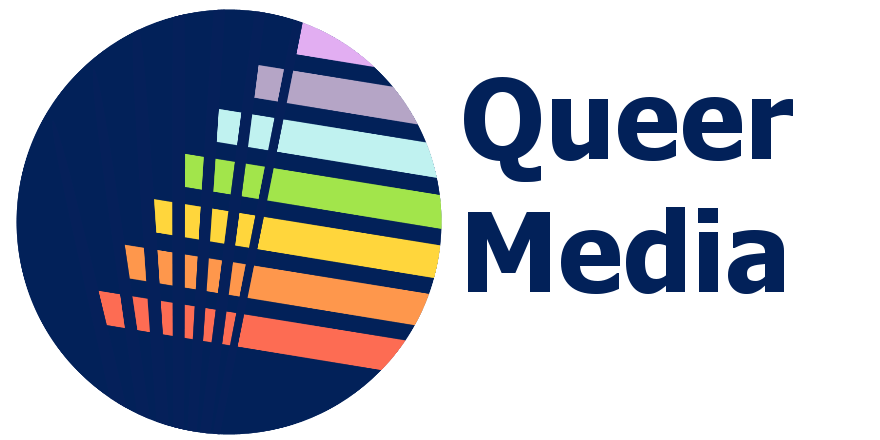 ---
Biographies
Emma Goswell
Radio presenter and Sony award winning broadcast journalist with over 16 years on air experience.
Emma began her career by being awarded 'Young broadcast journalist of the year' by the Broadcast Journalism Training Council in 2002.
She first began working as a journalist at Dee 106.3 and Imagine FM before moving to the BBC where she worked for 5 years as a news reader, producer, reporter and presenter.
Between 2009 and 2012 she worked at HMP Styal for the Prison Radio Association and set up the first radio station inside a women's prison in the UK.
Emma co-presented the breakfast show on Gaydio- the worlds biggest LGBT radio station for 5 years between 2013 and 2018. She also freelances at BBC Radio Manchester where she works as a Cover Presenter- presenting various shows from Drive Time to weekend shows. As well as her broadcasting work she manages outreach projects teaching radio skills to groups across Manchester.
She currently co presents Drive Time on Gaydio.
In September this year she is launching her own podcast series – Coming Out Stories.
Deirdre Mulcahy
The session will be facilitated by tutor Deirdre Mulcahy. Deirdre has spent the last 11 years training BBC journalists, after a long successful career as a BBC camerawoman. She has trained on a variety of cameras and edit systems and has recently developed a training programme to deliver these craft skills using a mobile phone. Her workshop will enable delegates to shoot professional looking interviews with quality sound and give the foundations of how to build your story visually and structurally.
Chrystal Genesis is a freelance producer and broadcast journalist. After working at the BBC for almost a decade - creating multi-platform content for Radio 4, 6 Music, BBC 1 and BBC World in London and Washington DC, she now works in artistic programming at Southbank Centre for contemporary music, performance and dance. Stance Podcast is an award-winning independent arts, culture and current affairs podcast exploring diverse, global perspectives. Presented as a transatlantic conversation between broadcasters, Chrystal Genesis in London and Heta Fell in San Francisco, Stance aims to inform, entertain and inspire action. A new episode of STANCE is released on the 1st of every month. https://stancepodcast.com/
Mark Ashmore - Future Artists
About Future Artists
Founded by Mark Ashmore in 2009, Future Artists is a socially conscious collective of artists with an ethos based on two clear ideals:
To model its self on United Artists, the artist led and art focused studio ran by Charlie Chaplin
To make central to all its work the motto "without deviation from the norm, progress is not possible" (Frank Zappa)

Built from socially conscious creative thinkers and entrepreneurs who deviate and work flexibly across a variety of art forms including VR, Cinema, Art, Design, Gaming, Theatre, Technology & Digital, the wide remit of the team allows the collective to be both diverse in its talent pool and also in its outlook and ambition.
For more info - join us on facebook.com/futureartists or follow us on twitter @futureartists
---
This project is supported by a grant from Superbia. Superbia Grants provide financial support for LGBT events as part of Manchester Pride's commitment to the quality and diversity of cultural events taking place throughout the year in Greater Manchester. https://superbia.org.uk
Please follow them on Twitter and Facebook:
https://twitter.com/superbiaMCR
https://www.facebook.com/MCRSuperbia
---
Part of the 5th Queer Media Festival which also has for the third year events at HOME arts centre. Details TBA
If anyone is experiencing hardship but would still like a ticket please email jamie@queermedia.org.uk
Please SHARE our event and we look forward to welcoming you to The Sharp Project in November!
Organiser of Why Don't You…?