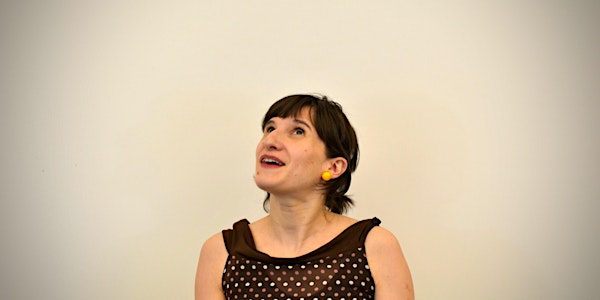 "Why Fabulate Design?" — A seminar talk and discussion with Daniela Rosner
Event Information
Location
Room A130, College Building
City, University of London
280 Saint John Street
London
EC1V 4PB
United Kingdom
Description
We're delighted to have Daniela Rosner visit the Centre for Human-Computer Interaction Design (HCID), at City, University of London.
Daniela is an inspirational figure in the HCI and design research communities. She has developed a core following with her focus on hand-work, craft, making, and feminist approaches to critical/speculative design. It's no exageration to say she has led the way in turning the more formal sides of HCI and design towards concerns for craft, making and shall we say the "lay," or even "creek-side" (Nelson 2013) fabulations of science, technology and innovation.
Presenting ideas from her just released book "Critical Fabulations: Reworking the Methods and Margins of Design", Daniela will be developing this line of inquiry by attending to those less celebrated but equally important contributions to technology design. Crucailly, she'll be working this into a generative story-telling of what could be otherwise.
We're equally excited to have Ann Light as discussant for Daniela's talk. Ann is a Professor of Design and Creative Technology at the University of Sussex. With a long-established research career studying technological innovation and creativity and working with grassroots communit projects—and being her usual fabulous self—Ann will help to draw out Daniela's ideas following the talk and also invtie a wider discussion from the audience.
Why Fabulate Design?
Today design has come to constitute a dominant discourse of innovation and social change. Within the academy, design has infiltrated not only the arts, where it has had considerable influence and longevity, but also departments of engineering and business where it promotes widespread forms of economic development and entrepreneurship. This narrative of empowerment through commerce brings with it underlying disjunctures between design's rhetorics of plurality and the power structures design tends to reinforce. In this talk I expand design's prevailing paradigm through fabulation. Fabulation, or Latin fābulāt, meaning to "relate as a fable or myth" (OED), comes from the participial stem of fābulārī, to speak. Foregrounding fabulation within design, I reflect on a mode of storytelling that helps foreground situated histories always present but too often suppressed. I focus on one particular story of collaborative manufacturing where public narratives render the work of women technicians invisible. Revealing legacies of practice elided by contemporary technology cultures, this talk reminds HCI scholars that worlds of handwork and computing, or weaving and space travel, are not as separate as we might imagine them to be.
Daniela Rosner
Daniela Rosner is an Assistant Professor in Human Centered Design & Engineering (HCDE) at the University of Washington and co-director of the Tactile and Tactical Design (TAT) Lab. Her research critically investigates the role design practices play in materializing collective futures, focusing on practices historically marginalized within engineering cultures such as electronics maintenance and needlecraft. Rosner's work has produced several best paper nominations and awards and appeared in Public Culture, New Media & Society, and other journals, conference proceedings, and edited volumes. She is the author of Critical Fabulations: Reworking the Methods and Margins of Design (MIT Press). Her work has been supported by multiple awards from the U.S. National Science Foundation, including an NSF CAREER award. Rosner earned her Ph.D. from the University of California, Berkeley. She also holds a BFA in Graphic Design from the Rhode Island School of Design and an MS in Computer Science from the University of Chicago. Rosner serves on the Editorial Board of Artifact: Journal of Design Practice and as the editor of the "Design as Inquiry" forum for Interactions magazine, a bimonthly publication of ACM SIGCHI.
Ann Light
Ann Light's research addresses themes of social and ecological justice; the co-making of futures and the politics of design. She is Professor of Design and Creative Technology at the University of Sussex, UK and Visiting Professor at Malmo University, Sweden. She has long specialized in the social impact of technology, bringing a background in arts, humanities and human-computer interaction to bear on innovation in social process and community wellbeing, conducted using participatory methods. She is currently investigating how creative practice can promote transformations to sustainability.
Date and time
Location
Room A130, College Building
City, University of London
280 Saint John Street
London
EC1V 4PB
United Kingdom