Description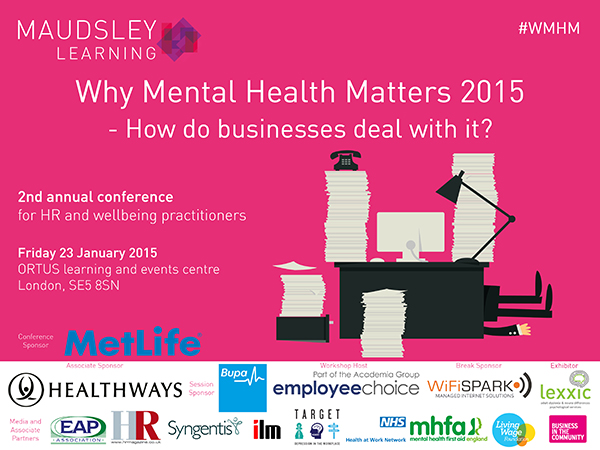 Our first Why Mental Health Matters conference for HR & Wellbeing practitioners took place on 15th of January 2014.
It was a very successful launch of our mental health and wellbeing conference portfolio and we received excellent feedback from many of the 80+ attendees who participated.
We are therefore delighted to confirm that the 2nd annual Mental Health Matters conference is scheduled for the 23rd of January 2015. This conference is designed as a follow on from the launch event and is being developed to continue the conversation and to address the areas raised by our attendees at the previous event.
We will be looking at a dynamic and hands-on day with workshops and case studies which will provide line HR managers/senior decision makers with practical tools and techniques to take back to the workplace.
For more details on the conference visit our brochure: https://bitly.com/WMHM2015
Speakers include:
- Professor Sir Cary Cooper, Distinguished Professor of Organisational Psychology & Health, Lancaster University
- Professor Steven Bevan, Director of the Centre for Workforce Effectiveness, The Work Foundation
- Georgia A Hedley, UK Health and Wellbeing Specialist, American Express
- Patrick Watt, Corporate Director, BUPA UK
- Sue Baker, Director, Time to Change
- Geoff McDonald, former Global VP HR (Marketing, Communications, Sustainability and Water), Unilever
Cancellation Policy
75% refund if written cancellation is received 1 month before the event
50% refund if written cancellation is received 2 weeks before the event
No refund for cancellations received with less than 2 weeks' notice
If you are unable to make an event but would like someone to take your place, please email events@maudsleylearning.com to notify us.
Organiser of Why Mental Health Matters 2015 - How do Businesses Deal With it?
We are a new, dynamic and forward facing social enterprise with the strategic vision to support and provide world class and accessible learning in mental health and wellbeing. We are a Community Interest Company and our sole shareholder and landlord is the Maudsley Charity.
We facilitate and originate learning projects where the outcome is the enhancement of mental health knowledge, skills, awareness and wellbeing.
As well as supporting other groups and organisations with their own learning, Maudsley Learning develop our own learning events delivered face to face at the ORTUS and virtually through Maudsley Learning Online. These could be anything from short courses and masterclasses to e-learning modules and conferences.
Working collaboratively with our clinical and academic partners at South London and Maudsley NHS Foundation Trust (SLaM), Kings College London (KCL) and the Institute of Psychiatry (IoP), Maudsley Learning creates innovative, forward thinking, relevant and informative learning events for a broad audience. Our audience includes those from clinical and corporate environments, as well as service users, patients and carers, young people, students, the police, the judiciary, charities etc.
To learn more about Maudsley Learning Events please visit this page.