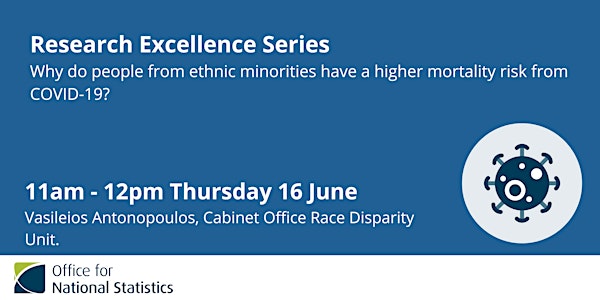 Why people from ethnic minorities have a higher mortality risk from COVID?
Research Excellence Series 2022 - Why do people from ethnic minorities have a higher mortality risk from COVID-19?
About this event
We are very pleased to welcome Vasileios Antonopoulos, winner of our Research Excellence Programme Aaward to host a talk on his winning programme.
Vasileios has been leading Race Disparity Unit's analytical work to clarify the scale, and drivers of the data and evidence gaps related with higher risk of covid-19 mortality and infection for ethnic minorities. He has been working collaboratively across government and with the Office for National Statistics (ONS), and is liaising with universities and researchers to build the evidence base and to get a better understanding of what is driving these disparities.
The Talk
Vasileios will present the research synthesis conducted from the Cabinet Office Race Disparity unit, to report on the disproportionate impact of COVID-19 experienced by ethnic minority groups.
The presentation will follow the hypothesis that the excess risk of dying from COVID-19 for ethnic minorities is driven by socioeconomic factors. The evidence gathered shows that geography, socioeconomic factors and pre-existing health conditions explain a large part of the disparities. However, there is some residual excess risk of dying from COVID-19 after accounting for all the above factors for some ethnic minorities compared to white population. This needs further investigation as it may be due to aspects of data quality or factors not included in the model.
There will also be time for you to present your questions to Vasileios in the last 15 minutes of the talk.
Book your place now!
Register to join us on Thursday 16th June 2022.
Your confirmation email will contain your a Microsoft Teams invite to join us on the day.
If you have any questions, please contact: SRS.Engagement.team@ons.gov.uk
ONS Research Excellence Series 2022
The SRS Engagement Team like to provide ONS colleagues and members of our research community with a greater understanding of how ONS data is being used to make a real difference.
We are currently building our ONS Research Excellence Series 2022 programme so please keep an eye open for updates.