Description
The Why Perseverance Matters event is Sponsored by Sage UK and hosted by NatWest.

The panel discussion is for women professionals and business founders, who want to learn strategies and skills to increase their levels of perseverance for ultimate success.

Do you have difficulty staying with the task and not giving up?

Is it a challenge for you to try something again, if you failed the first time?

Do you find it difficult to know when to persevere and when to give up?

Successful people usually cite or demonstrate perseverance as key to their achievements. Oprah Winfrey, J K Rowling and Bill Gates all had to persevere through failures and knockbacks to succeed.

The trait of perseverance doesn't always come naturally, you can learn it. This means that you have a choice to persevere or not.

Our panel of business people will share their experience of perseverance in life, career & business, strategies they've employed and top tips.

Event Schedule:
6.00pm - 6.30pm Networking
6.30pm - Panel Discussion
7.45pm - 8.30pm Networking
Refreshments of Prosecco and Canapes are included

Host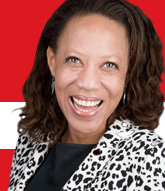 Jenny Garrett is an Award Winning Coach with over 12 years experience of running a global business. She is a Freeman of the Guild of Entrepreneurs – City of London and was listed in Brummell Magazines Top 30 City Innovators 2016.
Her mission is to transform the world for everyone, one empowered woman at a time. She use's her years of experience in coaching and leadership to inspire and motivate people, working with them to deliver career and life changing results beyond expectation. Jenny has written an Amazon Bestselling Book 'Rocking Your Role', on the taboo subject of female breadwinners. She has reached an audience of over 30,000 through her speaking engagements, including two TEDx Talks, and coached individuals all over the globe - from Australia, to Botswana, the US, Mexico, Spain and the UK, with over 3,000 coaching hours under her belt.
Jenny gives back through her social enterprise Rocking Ur Teens. Her most recent clients include MasterCard, EY and Mace Macro. Jenny is regular commentator on Sky News and LBC radio and has been featured on BBC Radio 4 Woman's Hour, The Telegraph, and Glamour magazine amongst many others.
Panellists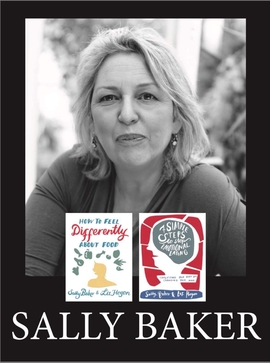 Sally Baker is an award winning therapist and best selling author, working in private practice for almost twenty years. She sees clients face to face in London and the world over via the internet.

Her professional specialism is in helping her clients to resolve and release their negative limiting beliefs however they show up in their life from emotional eating, to social-anxiety and panic attacks, to procrastination and self-sabotaging behaviour.

She is a registered therapist in Britain with membership of several respected professional registers and associations including as a registered practitioner with The Complimentary and Natural Healthcare Council (CNHC).

She currently has two books published by Hammersmith Books, London co-written with her colleague Liz Hogon called '7 Simple Steps to Stop Emotional Eating' and 'How to Feel Differently About Food'.
She is currently completing her third book and first solo endeavour called 'The Getting of Resilience - from the inside out' for publication in 2019.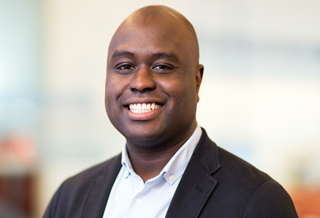 Geoffrey Williams Director, Head of Diversity & Inclusion, EMEA
Geoffrey has had a diverse career journey starting his working life in the entertainment industry then moving into health care, rail and media for the last 20 years. He has worked in Human Resources for the last 10 years of his career and has experience in Recruitment, Talent Management, learning and development, Organisational Design and Diversity and Inclusion.

Currently, he is the head of Diversity & Inclusion at Thomson Reuters, where he works on strategy, culture and implementation of a D&I agenda. He recently globally launched Thomson Reuters Diversity and Inclusion index, which is awarded EY's National Equality Standard.
Geoffrey is also the co-founder of www.RockingUrTeens.com, a social enterprise that introduces young people to the real world of work & aims to connect the teens to a positive and vibrant futures. This work has lead to Geoffrey been featured on the Financial Times top 100 ethnic minority leaders who are role models. As well as sitting on the board of film production company, www.oneumbrellaproductions.com.
Geoffrey is a creative who is committed to working to change the world of work so all people feel connect and understand the purpose of the work they are doing.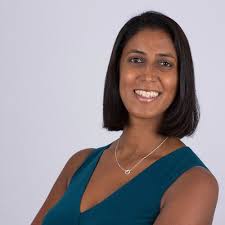 Leela is an inspirational Multilingual Speaker, a Mentor, and a Storyteller. She specialises in helping people develop resilience and face challenging situations with boldness. This enables them to develop confidence, competence and capabilities to tackle any challenges that come their way.
Leela strongly believes that if you dig deep you can find RESILIENCE within yourself. GRIT will enable you to learn to be comfortable in an uncomfortable state. SELF-BELIEF will give you the ability to see yourself through and achieve any goals as well as elevate your LEADERSHIP skills.
Leela is passionate about inspiring business leaders and individuals to adopt the principle that resilience is a key focus for every company as it will benefit both their employees and business.
After surviving an Arctic expedition in temperatures down to
-42 C, winds of up to 80 KM per hour, sleeping in tents on ice with emergency help over 24hrs away, her whole outlook on life completely changed. From that moment on, her mindset was transformed. Leela overcame several of her fears and began to believe in herself all over again. This soul-searching journey led her to develop her own motivational speaking career which brings her to where she is today. Leela believes that we are all unstoppable and anything can be achieved when you challenge your self - belief.
Visit www.leelabassi.com
BOOK NOW

ps Want to Try Sage Acounting Software absolutely free? Use this special link