Description
At this months Escape The Rat Race Meetup Event (#ETRR29), I am pleased to welcome Anna Zannides, Founder of https://www.mindfulnessapproach.com/
Something we discuss often at #ETRR is that 'Success Begins In The Mind'.
Anna will be sharing with you her positive experiences of using Mindfullness to successfully Escape The Rat Race as a teacher, and 'Why Real Freedom Can Only Be Found In The Mind'.
Join other's all on a quest to escape the 9-5, as Anna demonstrates how the limiting thoughts we have are self inflicted and that these thoughts are how we perceive and experience life......especially how they keep us from reaching our full potential.
This event will be a combination of talk, and practice - perfect if you have head of Mindfullness before but never had the opportunity to learn how to apply it in your own life.
Entry to this Escape The Rat Race Meetup is FREE!!
**********************************************************************************
Escape The Rat Race monthly meetup events feature world class speakers sharing their own success stories.

Every month we get together to discuss and share ideas to help our members move towards their goal of becoming financially independent, enjoy more freedom, and be able to generate additional income from different business opportunities.
We have high profile speakers that have already escaped the rat race and have valuable insights based on proven past experience which can massively help you to progress towards your own quest for living a life on your own terms, without having to get up and go to work every day for someone else.
Every event is a great opportunity for you to meet like-minded people who all share a common goal, and who are very friendly and there to help one another by sharing what is working and what is not.
Whether you are completely brand new to the world of personal development and business, or you already work for yourself but are looking for new ideas and to build your network, you'll be sure to find what and who it is that you're looking for.
******************************************************************************************


ETRR29 - '
Why Real Freedom Can Only Be Found In The Mind

'

Would you like to learn some simple techniques to be able to press 'pause' on your busy lifestyle in an instant?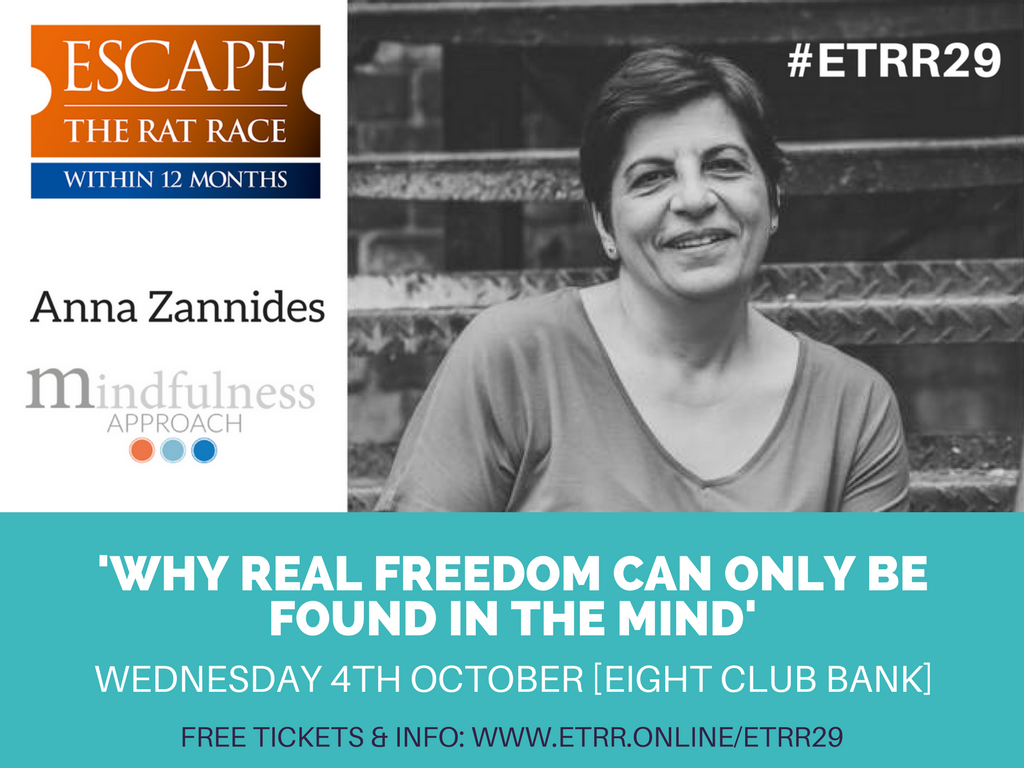 About the Speaker
Anna is a member of the Mindfulness Association trained to deliver the eight week Mindfulness Based Living course. She started practicing Mindfulness as a way to better cope with her personal struggles, especially after her thirty year marriage ended. Seeing the impact Mindfulness had on her life, she decided to train to teach others how to use Mindfulness approaches to develop resiliance and self compassion.
Anna's Philosophy
Anna's philosophy is that self acceptance and self kindness is fundamental to a healthy mind. Her approach, the Mindfulness Approach, is rooted in self-compassion. She assists clients in developing techniques and actions to enhance their awareness as to what is, rather than what was or what should be. Her work principally centres on facing loss and journeying through transitioning stages with authenticity, courage and grace.
Anna has a background in education where she taught in secondary state schools for a decade. She spent several years working as an education adviser nationally supporting schools in some of the most deprived areas of the country.
Anna lived in Cyprus for many years and had various roles in large off shore companies, including finance and shipping. As such she has an understanding of the pressure that comes with working in the business environment.
To Learn more about Anna and Mindfullness, visit - https://www.mindfulnessapproach.com/who-we-are/
Entry to this Escape The Rat Race Meetup is FREE!! Simply register your attendance
P.S. - You can watch the highlights of all of our previous Meetup Events by visiting - https://www.etrr.online/guest-speakers/
I'm really looking forward to seeing you there!
Christian Rodwell
Founder, Escape The Rat Race