Join Women in Aerospace - Europe Barcelona on 3th February from 18:30-19:30 (CET)
About this event
Join Women in Aerospace - Europe Barcelona
on 3th of February from 18:30-19:30 CET
"Mars, Oman and Moon Diary, space exploration in essay film" by Vanessa del Campo
Vanessa del Campo is a Spanish film director based in Belgium, where she is currently pursuing a PhD in the Arts, focusing on filmmaking, at the Royal Institute for Theatre, Cinema and Sound at the Vrije Universiteit Brussel. Her research topic is "Female voices and dominant science narratives in essay film".
Her last short documentary film Mars, Oman was premiered at Visions du Reel, where it received the IDFA Talent Award, among other recognized international awards for some previous short films.
Vanessa is graduated with a Master of Audiovisual Arts at LUCA School of Arts, in Brussels. Besides, she has also studied Scriptwriting and Project Development at EICTV, in Cuba. As first training, she holds a PhD in Aerospace Engineering at the Universitat Politècnica de Catalunya and a Master in Aerospace Engineering at the Universidad Politécnica de Madrid.
In the next #Women4Space conference, she will explain to us her working trajectory and the motivations of a curious woman that turned her space knowledge into art. Later on, she will talk about her last winner project Mars, Oman. And finally, she will spoil us with the project that she is involved in right now!
Register now!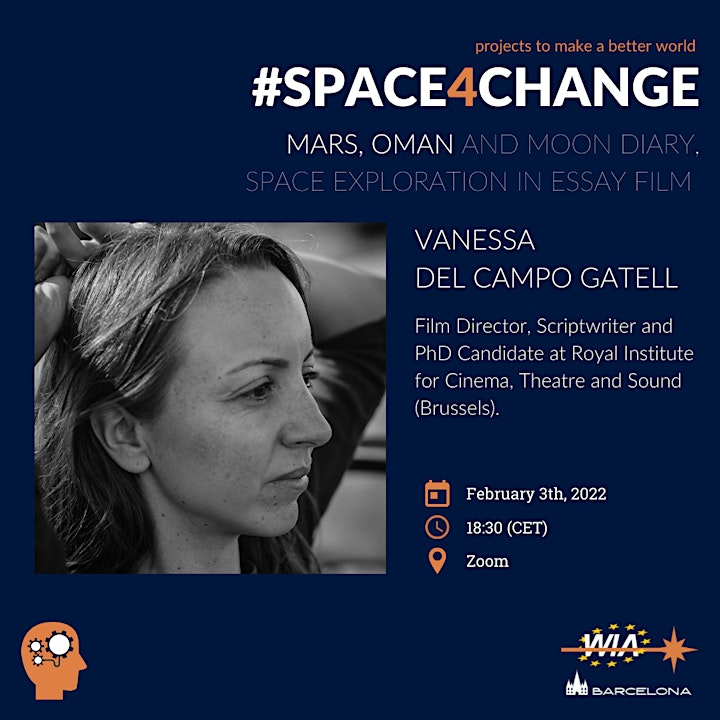 Organiser of WIA-E Barcelona - #Space4Change Conference with Vanessa del Campo
Women in Aerospace Europe (WIA-E) is passionate about expanding women's opportunities for leadership and increasing their visibility in the aerospace sector. Being a part of our ever-growing network means benefiting from our programmes and special member offers, as well as connecting with like-minded professionals through our local communities.
Rich with opportunity, our various functions offer something for everyone, regardless of whether you desire personal or professional gain. We offer mentoring programmes, awards, grants, training workshops, networking local groups and much more. In addition to this, both our regional and central events regularly feature speakers and panel discussions on a wide range of topics of interest to our community, and we keep members updated with valuable industry information such as scholarships and conferences.