Sales Have Ended
Registrations are closed
Thank you for registering for the WIA-E Barcelona event.
Sales Have Ended
Registrations are closed
Thank you for registering for the WIA-E Barcelona event.
Join Women in Aerospace - Europe Barcelona on the 18th March from 17:00-18:00 CET #Women4Space Conference with Gisela Detrell
About this event
"In order for humans to one day live on Mars, a Life Support System will be required, which should be capable of sustainably provide all the resources necessary for survival: oxygen, water and food. How is this being done today on the International Space Station? Can we use the same technologies for further and longer missions? What is currently being researched and what can we expect for the future? Will we eat dehydrated food on the red planet or grow our own potatoes? What about tasty algae?"
Dr. Gisela Detrell will explain how to survive on Mars in the next #Women4Space conference next 18th of March at 17pm! She currently heads the "Life Support Systems" research group at the Institute of Space Systems at the University of Stuttgart, in Germany. Her research focuses on how humans can be kept alive in space as independently as possible from Earth's resources, whether in a space station around the Earth, on the Moon, Mars or beyond.
Don't miss it!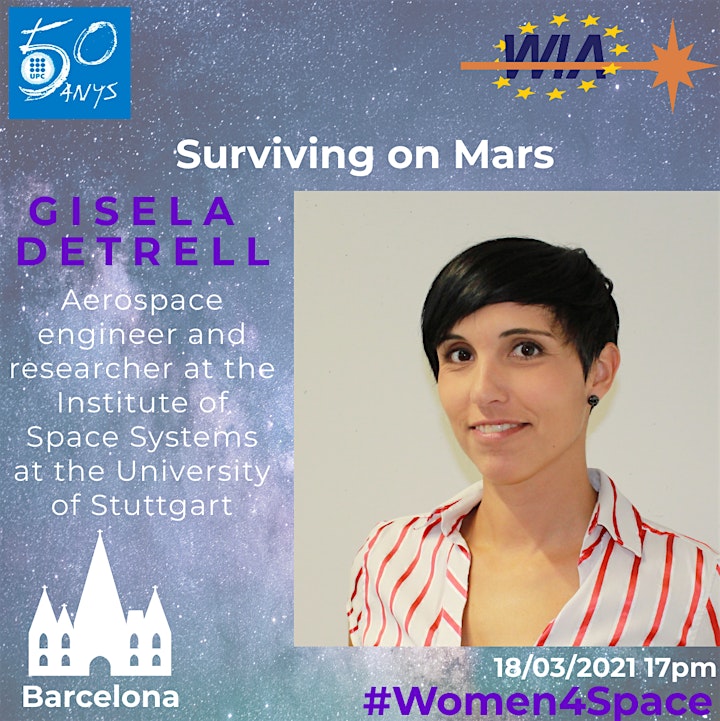 Organiser of WIA-E Barcelona - #Women4Space Conference with Gisela Detrell
Women in Aerospace Europe (WIA-E) is passionate about expanding women's opportunities for leadership and increasing their visibility in the aerospace sector. Being a part of our ever-growing network means benefiting from our programmes and special member offers, as well as connecting with like-minded professionals through our local communities.
Rich with opportunity, our various functions offer something for everyone, regardless of whether you desire personal or professional gain. We offer mentoring programmes, awards, grants, training workshops, networking local groups and much more. In addition to this, both our regional and central events regularly feature speakers and panel discussions on a wide range of topics of interest to our community, and we keep members updated with valuable industry information such as scholarships and conferences.