Sales Have Ended
Registrations are closed
Thank you for registering to the WIA-E Barcelona Event!
Sales Have Ended
Registrations are closed
Thank you for registering to the WIA-E Barcelona Event!
Join Women in Aerospace - Europe Barcelona on the 21st April from 16:00-18:00 CET #Women4Space 'The Origin of Elements' by Pilar Gil
About this event
"Everything around us is made of matter. But do we really know what matter is? And most importantly, how was it created? Today, more than 100 elements are known that, when combined, form the molecules of all the liquids, solids and gases on Earth, including ourselves, as well as all those in the universe.
So, where did all these elements come from? The answer is in the stars, the quintessential factories of all the elements of matter known in the universe. And all thanks to the fact that throughout their lifespans, as well as in their deaths, a series of nuclear chemical reactions take place inside stars."
At the next online #Women4Space conference on April 21st at 4:00pm; PILAR GIL, who´s a leading researcher specializing in Astrophysics, Stellar Evolution and Nucleosynthesis, with a degree in Physics, PhD in Applied Physics and lecturer and researcher at the Universitat Politècnica de Catalunya, will give a speech on the subject of the origin of the elements and all the chemical reactions that take place in the stars and her hands-on experience with how to study the life and synthesis of elements, and how to look for the traces of older stars in newer stars.
Registration is required. Do not miss it!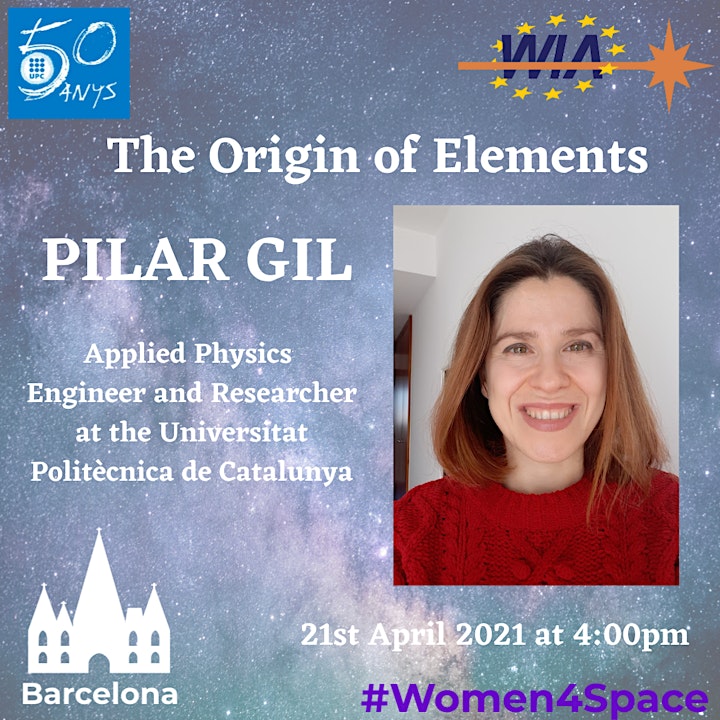 Organiser of WIA-E Barcelona - #Women4Space Conference with Pilar Gil
Women in Aerospace Europe (WIA-E) is passionate about expanding women's opportunities for leadership and increasing their visibility in the aerospace sector. Being a part of our ever-growing network means benefiting from our programmes and special member offers, as well as connecting with like-minded professionals through our local communities.
Rich with opportunity, our various functions offer something for everyone, regardless of whether you desire personal or professional gain. We offer mentoring programmes, awards, grants, training workshops, networking local groups and much more. In addition to this, both our regional and central events regularly feature speakers and panel discussions on a wide range of topics of interest to our community, and we keep members updated with valuable industry information such as scholarships and conferences.