Join Women in Aerospace - Europe Barcelona on 9th of December from 19:00-20:00 (CET)
About this event
Join Women in Aerospace - Europe Barcelona
on 9th of December from 19:00-20:00 CET
"ATHENA, the first spanish electrical propulsion system for nanosatellites" by Sara Correyero
ienai SPACE has been developing the propulsion system ATHENA, a micro electrical propulsion rocket based on micro and nano technology that allows nanosatellites to change their orbit, to stay longer in the same orbit or even to avoid possible collisions. The development of the main component of the first ATHENA prototype was in collaboration with Centro Nacional de Microelectrónica (CNM) of CSIC, in Barcelona. It will be launched January, 2022.
During this #Women4Space conference, the process to develop ATHENA and what is expected from this first mission will be explained by Sara Correyero.
Sara Correyero, is an Aeronautical Engineer and has a PhD in Fluid Mechanics from the University Carlos III de Madrid. She received two awards during her PhD thesis, one for the best article and the second one for the best visionary idea. She is the Operational Director and responsible for testing in ienai SPACE.
Register now!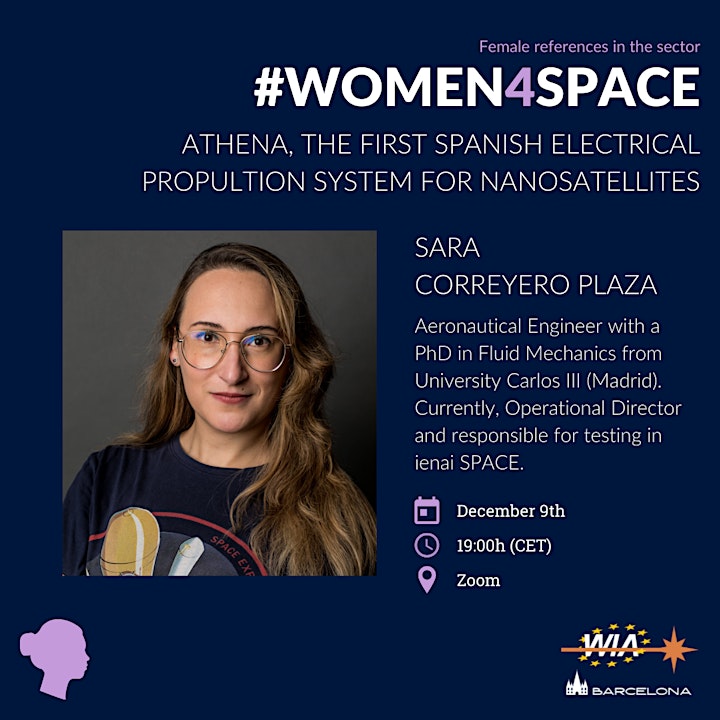 Organiser of WIA-E Barcelona - #Women4Space Conference with Sara Correyero
Women in Aerospace Europe (WIA-E) is passionate about expanding women's opportunities for leadership and increasing their visibility in the aerospace sector. Being a part of our ever-growing network means benefiting from our programmes and special member offers, as well as connecting with like-minded professionals through our local communities.
Rich with opportunity, our various functions offer something for everyone, regardless of whether you desire personal or professional gain. We offer mentoring programmes, awards, grants, training workshops, networking local groups and much more. In addition to this, both our regional and central events regularly feature speakers and panel discussions on a wide range of topics of interest to our community, and we keep members updated with valuable industry information such as scholarships and conferences.