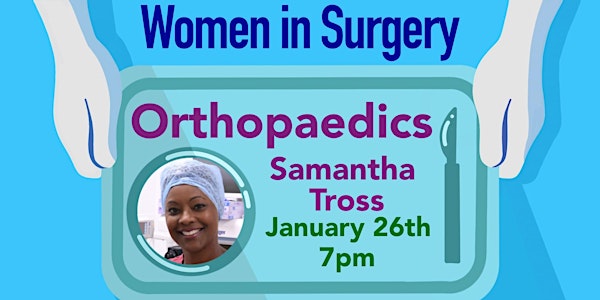 Widening Participation Women in Surgery: Miss Samantha Tross - Orthopaedics
Interested in being a surgeon but concerned about the lack of diversity and representation?
About this event
Surgery still has a long way to go with regards to inclusivity and diversity. We know this and we strive to be a part of that change. WPMN brings you a monthly series delivered by inspiring women from different surgical specialities from ENT to orthopaedics to cardiothoracics. Interested in a career in surgery? Come listen and help us pave the way for a new generation of surgeons.
To start the series, we are incredibly excited to bring you a talk from Miss Samantha Tross. The first female of Afro-Caribbean ancestry to become a Consultant in the UK. Miss Tross works as the Lead Orthopaedic Consultant in Ealing Hospital, West London. She is a passionate advocate for diversity in surgery and was part of the Royal College of Surgeon's Diversity Review Panel led by Baroness Helena Kennedy.
Miss Tross will be talking about her journey into orthopaedics, what her day-to-day work entails and some top tips for those of you interested in a career in orthopaedics!