Wikiverksted på Nasjonalbiblioteket

Wednesday, 28 January 2015 from 18:00 to 20:00 (CET)
Event Details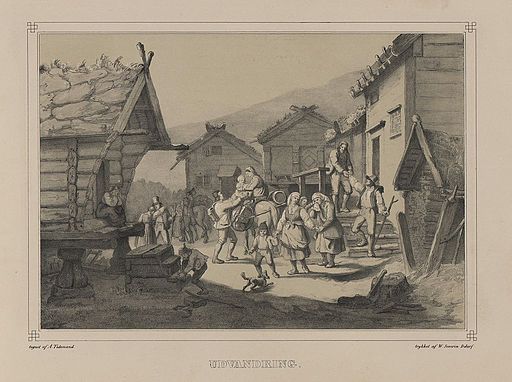 Illustrasjon hentet fra boken "Norge fremstillet i Tegninger" av Asbjørnsen, P.Chr. og utgitt av Chr. Tønsberg (no, 1848). Wikimedia Commons
Denne våren inviterer Wikimedia Norge og Nasjonalbiblioteket til månedlige wikiverksteder på Nasjonalbiblioteket! Det første blir den 28.1 fra kl 18-20 og arrangeres sammen med Riksarkivet og Norsk lokalhistorisk institutt. 
Tema denne kvelden blir Cleng Peerson og norsk utvandrerhistorie, men man står selvsagt fritt til å skrive om et hvilket som helst tema. Innledningsvis vil Fredrik Larsen Lund fra Riksarkivet snakke om boken han ga ut i høst: Nedenunder og hjem. Nordmenn i Australia gjennom 400 år, og deretter vil han og Lars Jynge Alvik fra Nasjonalbibioteket forteller oss kort om hvordan vi kan bruke Riksarkivet og Nasjonalbibliteket sine samlinger som kildemateriale for wikipedia-redigering. 
Når vi sitter på Nasjonalbiblioteket har vi ikke bare tilgang til stoff tilgjengelig for Norske iper, men også stoff kun tilgjengelig på Nasjonalbiblioteket, blant annet samtlige aviser og bøker nyere enn år 2000.
De neste wikiverkstedene vil bli holdt fast den siste onsdagen i hver måned. Hvert wikiverksted vil ha et overordnet tema som vi vil få en kort innføring i. Tema vil spenne fra Inger Hagerup, til Jens Sibelius, til norsk homohistorie osv. Det blir en spennende vår! 
Alle er hjertelig velkomne og det blir litt servering underveis! Ta med egen laptop. Vi legger ikke opp til noen opplæring i plenum, men hjelper hverandre heller underveis.
When & Where

Nasjonalbiblioteket
110 Henrik Ibsens gate
Oslo
Norway


Wednesday, 28 January 2015 from 18:00 to 20:00 (CET)
Add to my calendar
Organiser
Wikimedia Norge er en frivillig organisasjon som arbeider for å gjøre kunnskap fri og tilgjengelig for alle.