The second edition of Midland's new monthly comedy night, with James Nokise (NZ), Laura Davis (Vic/UK), Bobbie Apples & Tomás Ford.
About this event
After a massive first edition, Midland's new monthly comedy club Wild Comedy is back for an even more laugh-packed second edition. at 7:30 on Thursday December 9 at the Crooked Spire Coffee House, with an incredible lineup of comedy talent.
December's show features kiwi comedy royalty James Nokise, Melbourne International Comedy Festival star Laura Davis, the hilarious comic burlesque from Bobbie Apples and more. It's all held together by your anarchic MC, award-winning musical sillyman Tomás Ford.
The Crooked Spire's bar will be pumping out beer and wine all night, plus their full menu of food, so come down anytime from when doors open at 6:30pm for a feed and a laugh. Tickets are onsale now at Eventbrite - book now!
🦁 DECEMBER'S LINEUP 🦁
🌵 LAURA DAVIS (VIC/WA/UK) 🌵
An hour with Laura Davis leaves you feeling uplifted, somewhat bewildered, and utterly amazed by such blistering talent - Time Out, Melbourne
Laura Davis is a riotously funny storyteller with a talent for taking audiences on relatable strange journeys. From a start on Perth's standup scene, she's gone on to become one of Australia's most awarded comics. In 2015, she won both the Melbourne International Comedy Festival's Golden Gibbo award and the Melbourne Fringe Best Comedy Award, and she's also taken home a Comedy Channel Moosehead award. You may have seen her on the comedy gala on the telly, where she's also worked as a writer for shows including Shaun Micallef's Mad As Hell. When it's not the apocalypse, Laura is now based in London, where she's a regular on the UK comedy and festival circuit.
🌳 JAMES NOKISE (NZ) 🌳
"a phenomenal performer: relaxed and friendly, engaging and intelligent, persuasive, informed and genuinely, naturally, brilliantly funny." ★★★★★ - The Scotsman
With a formidable following around New Zealand and the UK, Samoan-Welsh-Kiwi James Nokise is one of the . His series for Radio NZ Eating Fried Chicken In The Shower features long chats about mental health from an actual shower cubicle - it's well worth checking out (you can listen to it online in podcast form).
🌴 BOBBIE APPLES 🌴
🏆 Winner - The Apprentease
Bobbie Apples is an absolute treat - her burlesque acts are full of surreal comedy and physical gags. She's had a string of awards on the burlesque scene, including winning big local competition The Apprentease in 2019. Bobbie's motto is "let's get weird", and her fun energy is is pretty irresistible. She's bringing us one of her funniest acts.
🌲 TOMÁS FORD 🌲
He's been Perth's king of fringe for longer than the city has had a fringe festival - The West Australian
Your MC for the night is the gleefully anarchic Tomás Ford. He's become part of the furniture at fringe festivals around the world, thanks to his unpredictable mix of musical comedy, storytelling and his special kind of controlled chaos have marked him out as an unmissable, one-of-a-kind performer. Whether trying to play Sandstorm on ukulele, hyperactively gallivanting about crowds at his smash-hit comedy DJ show Crap Music Rave Party or crooning his hilarious cover versions, he's guaranteed to make your night out fun and memorable. For our December edition, Tomás is bringing new songs from his ridiculous upcoming show Campfire Ukulele Torture, appearing at the Fringe World festival in January.
🌳🌴🌲🌵🌳🌴🌲🌵🌳🌴🌲🌵🌳🌴🌲🌵🌳🌴🌲🌵🌳🌴🌲🌵🌳🌴🌲🌵🌳🌴🌲🌵
Beer, wine and food available from 6:30pm.
Show starts at 7:30pm.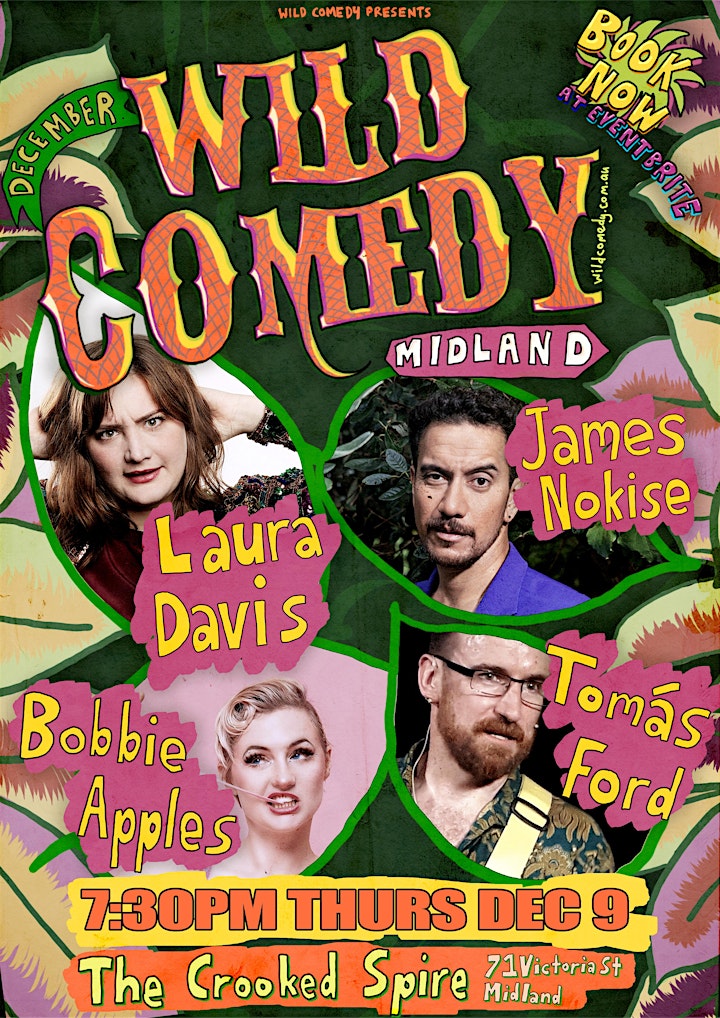 Organiser of Wild Comedy Midland - December!
Wild Comedy is, uh, "wild" about producing comedy tour, event and festival projects. We're new around here, but you'll get to know us as we introduce you to an incredible pool of comedy and variety talent, drawn from the international fringe festival circuit and Perth's best local heroes.