In this workshop, you will learn about the fundamentals of Product Management with Product Validation!
About this event
Product Week: Grow into the star of Product management !
Workshop #1 - Product Validation
⚠️ Pre-requisites
This is a workshop for beginners.
You need a Google account to complete the challenge (we are going to use Google Sheets and Data Studio)
👨‍💻 Live Video Session
Join the Live video session by:
- Connecting to the Google Meet platform (link will be we shared after you complete your registration)
- Using headphones & a microphone
**** Free but compulsory registration on Eventbrite - https://www.eventbrite.co.uk/e/wild-summer-school-data-analysis-introduction-to-geographic-mapping-tickets-164528923439 ***
We look forward to seeing you online!
Wild Code School Team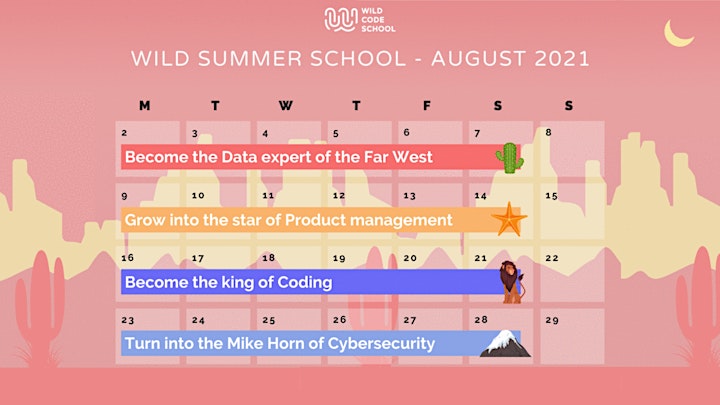 Take a break to think about your projects for this new school year, develop new Tech skills and who knows, maybe discover a new vocation 😎
After the successful first edition, the Wild Summer School is renewed and offers you to explore the world of Tech:
From August the 2nd to the 28th
100% free and online
Let's discover 5 areas: Web Development, Data, Product Management, No-code and Cybersecurity
Organizer of Wild Summer School - Product validation
Wild Code School is a European school network that prepares students to excel as professionals in the tech industry. Our innovative approach to education equips students with the proper technical skills to succeed in web development, cybersecurity, and data analysis.
Boasting 20 campuses across Europe, Wild Code School has created an expansive community of over 4,000 ambitious students who leave our programs with robust technical skills, polished professional portfolios, and a network of like-minded professionals. Our program provides connections to over 1,000 partner companies, which is why 84% of our alumni start working in the tech industry within 6 months of graduation.
Check out our website for additional information about a program near you: https://www.wildcodeschool.com/en-GB