Location
The Shanti Space
no Estrada da Tapada
#1360
2665-418 Mafra
Portugal
DAY EVENT FOR WOMEN TO GROUND INTO THE SACRED LANDS OF THEIR BODY & AWAKEN THEIR RADIANCE
About this event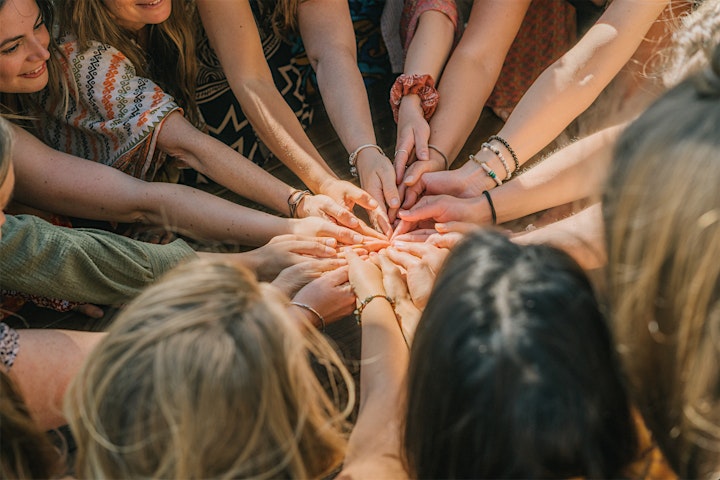 Within every person there lives a powerful force, filled with good instincts, passionate creativity, and ageless knowing.
She is the Wild Hearted One, who represents the instinctual nature of women. But she is an endangered species.
Fertile and life-giving, this is a gathering of women who in the truest sense, are coming to know & rekindle their soul.
This is a safe space where we can gather, learn from each other, and fully own our womanhood & expression. Open to all that identify as women, this space honours the feminine quality of inclusion & equality, we welcome you.
This event is a nourishing experience, reminding us to listen deeply to the voices of all women and nurture an intimate relationship with ourselves, bring balance, maturity & in turn come into right relationship with Nature, to embody change from within.
A Beautiful Sacred Space Nurturing Community, Restoration & Sovereignty
☾ Earth-Based Offerings
✧ Women's Sharing Circle & Wisdom Enquiries
✧ Kundalini Yoga & Sound Journey with Alchemy Crystal Tones
✧ Breathwork Journey
✧ Moon Phases, Archetypal & Menstrual Cycles, and Mother Earth Offering
✧ Cacao Ritual, Wild Woman Dance & Songs
✧ Sacred Herb & Flower Bath
✧ More to be announced soon.
✧ Seasonal Organic Plant-based Snacks & Massage Therapies (Additional Cost)
☾ Temple Gates Opening / Close
1pm - 6pm (may finish later!)
☾ Energy Exchange
€59 earlybird, €69 general admission
Tickets are non-refundable. All profits to go to Tree Sisters Charity
Food will be available at extra cost / you may bring your own picnic
Children under the age of 12 welcome free of charge.
We do not welcome pets
☾ Location
Join us in this magical forest location: The Shanti Space, Quinta Dos Lobos, Mafra
Find yourself held in the arms of nature; amongst ancient native corks and abundant fruit trees, swept up in the enchantment of a forest filled Portuguese valley.
The Shanti Space is a beautiful traditional Quinta set in the forest of a national park. Cocooned by nature, our neighbours are an Iberian Wolf Sanctuary, the Tapada de Mafra where many animals like deer, wild boar and owls also reside.
☾ Directions
IMPORTANT: If it's your first time, please be aware that GPS takes cars the wrong way. Turn off the N8 at Vale da Guarda opposite ALFALMA CARS, down the bumpy track to the location :)
Use this in GPS and then follow the track to the end and you will reach The Shanti Space ✨
Quinta da Montanha (our neighbours)
https://maps.app.goo.gl/wAz2Xxtj4RTGdjH5A
☾ Bring
Yoga Mat
Swimming costume
Snacks / Picnic
Instrument
Any crystals you may wish to charge on the alter
Water bottle
Comfy warm clothing for the evening
☾ Space Holder
Founder of The Shanti Space, Jessica began exploring yoga & meditation 20 years ago & has touched the lives of many with work & spaces dedicated to healing & transformation.
She's taken groups on immersive awakening journeys through the Himalayas of Nepal, hosted workshops all over the world, featured at Om Yoga Show London & shared her practices at one of the world's leading restorative wellness programmes, while featuring in publications such as The Telegraph, Elephant Journal & The Yoga Mag.
Now with over 750 hours' yoga teacher training specialising in Yin, Kundalini & Tantra, she is a certified Meditation & Biodynamic Breathwork facilitator with a trauma-informed approach. Embodiment & love for Nature are integral to her grounded & embodied approach to spirituality.
In 2011 she bowed out of a successful career in creative advertising & seeking inspiration travelled the world to deepen her practice, explore cultures & ways to bring depth & expansion to her creativity & life view.
Passionate about rekindling women's connection with their cycle, nature's seasons & tending to the unmothered parts within, she brings a trauma-informed & grounded approach, compassionate, fluid & intuitively inviting greater awareness to the teachings of the breath, self-resourcing & resilience to retrain the nervous system & rekindle trapped energy & flow.
Her practices are carefully selected to gently unravel & release internal blockages women face to living an abundant fulfilling life. She holds a container for emotional release while offering tools to cultivate more expansive awareness, connection & integration.
More: www.jessica-weaver.com/about
"Jessica held the space with such grace. Boundaried but soft and loving. felt safe and secure."
"Jessica has such a wild, uplifting, explore out of your comfort zone side, it's so authentic and attractive that we all open up as well."
"Jessica has an incredible presence and calm. She resonated a confidence in herself and the program which truly permeated through all of us."
"Available, supportive, friendly, such a goddess!"
"What a blessing to experience these days with Jess - she really knows how to hold space and guide everyone into their heart and release deep emotions. To feel alive!"
See you in the woods sisters!