Location
Colesdale Farm
Northaw Road West
Potters Bar
EN6 4QZ
United Kingdom
Refund policy
Refunds up to 7 days before event
Eventbrite's fee is nonrefundable.
Authors, comics and games creators, poets, theatre makers, storytellers and musicians, all on a beautiful campsite just outside London.
About this event
APRIL UPDATE
Our full programme is NOW LIVE - and we have day tickets as well as weekend passes.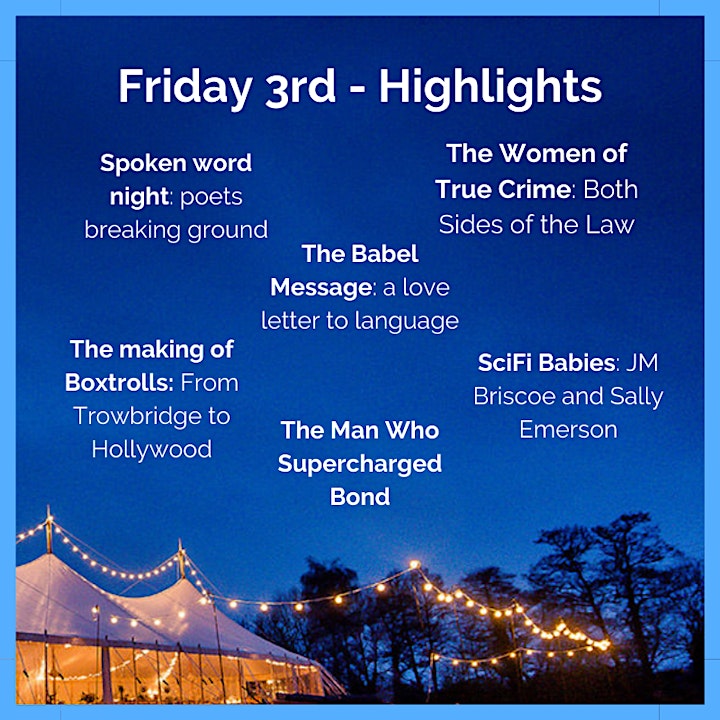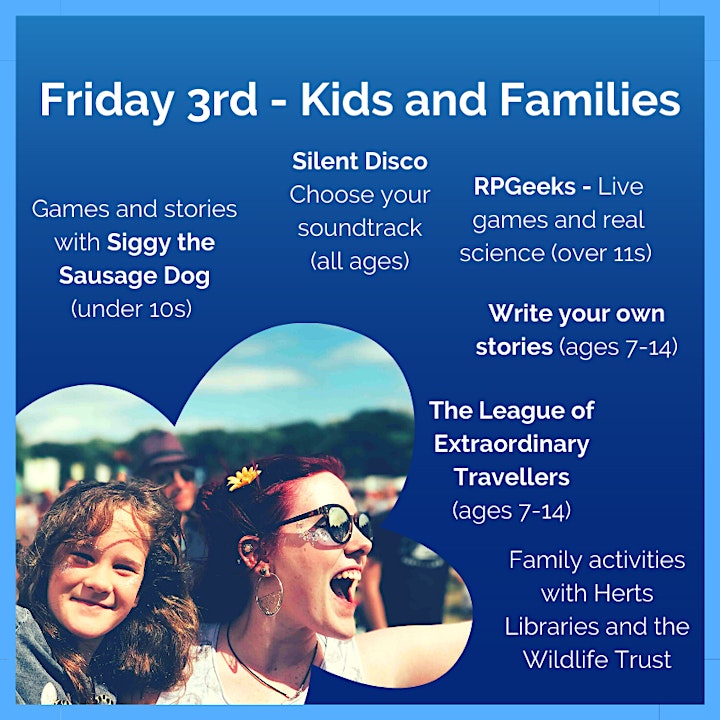 You love books? Reading? Poetry? A fun and friendly vibe? You're our kind of person! Wild Words Festival is for people who love books but don't "do" literary festivals. Who need a more laid-back experience.
Wild Words Fest is for everyone who enjoys the written or spoken word with performances, panels, workshops, and author talks. If Hay is Fortnum and Mason then we're the local farmers' market.
Wild Words Fest is for families, with a dedicated kids tent and an intergererational silent disco!
It's for people who find traditional literary festivals inaccessible, with BSL interpreters and relaxed performances available.
It's for people who like hot street food and cool camping. Or if you'd rather glamp we have an add-on for that: rates start at £180 for a four person bell tent - bookable separately and subject to availability.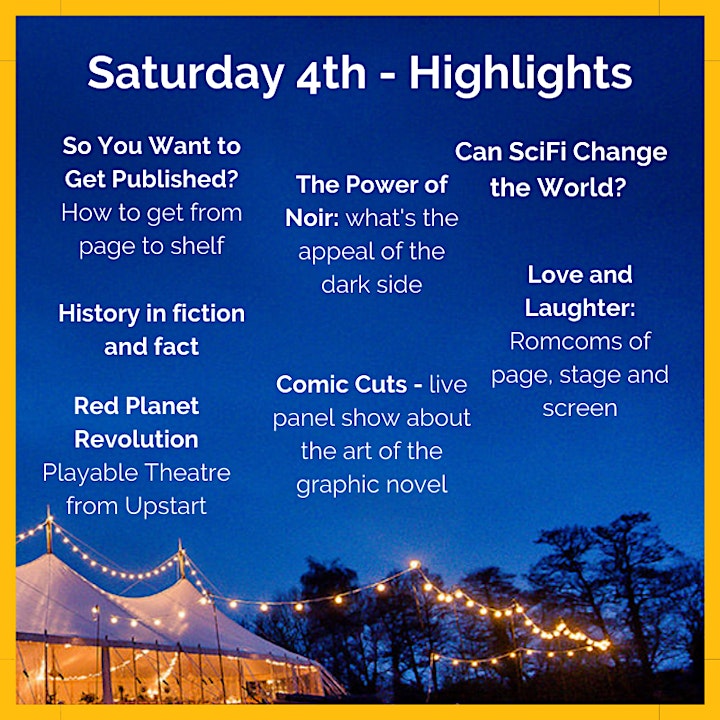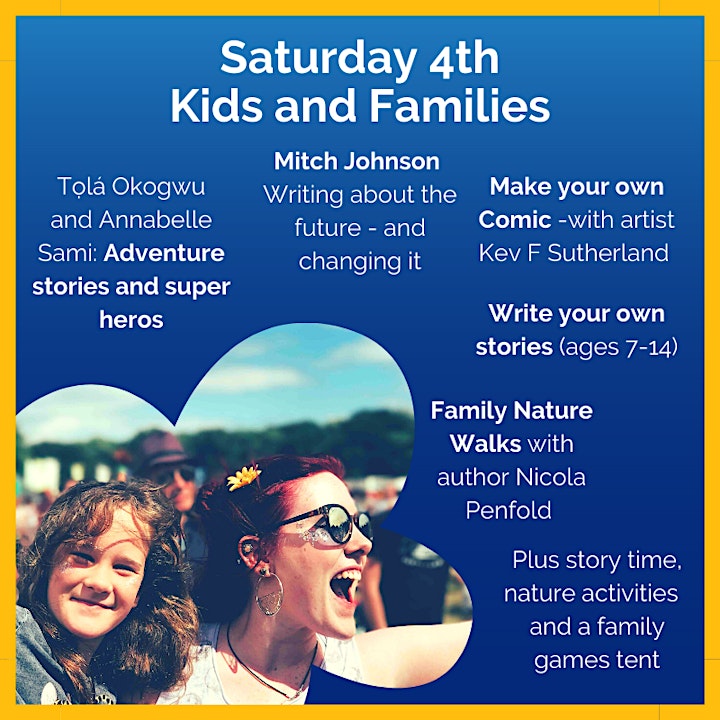 Our lineup includes
Sophie Hannah, award-winning crime writer, and author of the new Poirot mysteries
Annabelle Sami, bestselling children's author of the Llama out Loud and Agent Zaiba Investigates series.
Author of the Malabar House and Baby Ganesh series, Vaseem Khan
Author of The Peer & the Gangster and Scandal at Dolphin Square, nonfiction writer Daniel Smith
Beth Crane and Hedley Knights, creators of We Fix Space Junk
Lizzie Damilola Blackburn, author of the runaway success Yinka, Where is Your Huzband?
Winner of the inaugural Comedy Women in Print award for her debut novel Cow Girl, Kirsty Eyre
Author of urban fantasy noir The Dying Squad, Adam Simcox
Upstart Theatre, the team behind the sell-out interactive show Red Planet: Revolution
A Convenient Marriage author, Jeevani Charika
PLUS
The Man Who Supercharged Bond, writing for games and comics, how to get published, children's storytelling and comic workshops, author panels and signing sessions, live podcasts, silent disco, poetry workshops and performances, pop up art gallery, locally produced street food and drink and a beautiful campsite – all accessible by Oyster Card!
See our full lineup here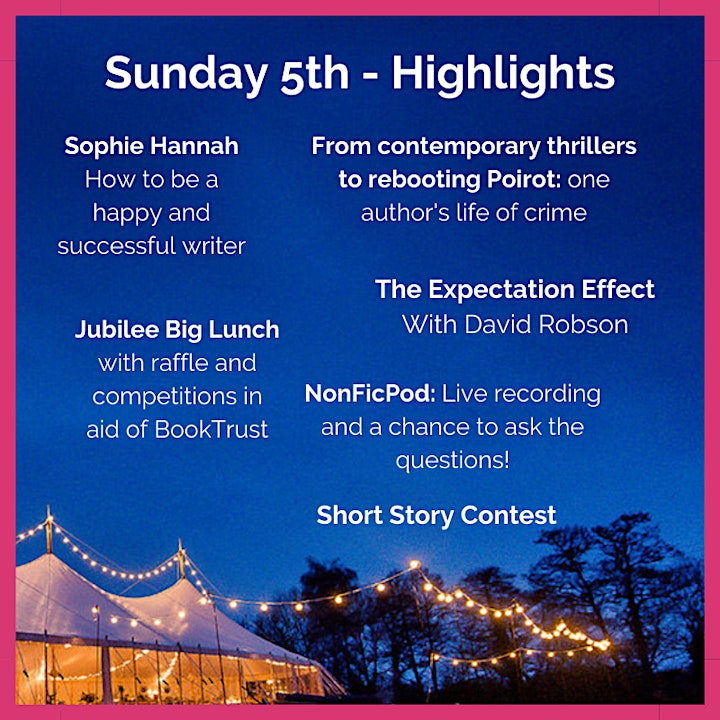 Why the "Wild Words Festival?"
Well it's a festival with lots of reading but the name Reading Festival was sadly already taken. Instead we've gone with Wild Words Festival because
We're a camping festival set in the beautiful countryside just outside London
We care about wildlife, and are a low-impact festival
We'll also create 100 wildflower spaces with the help of our attendees
We care about words – they're one of the most important ways we connect as humans
We care about access to words and to the wild and we're inclusive in our programming and our production
And we're a celebration – a festival – full of joy, discovery, and connection
Is camping in June a good idea?
We have marquees for the stages because we're not daft – we know that June can be hit or miss. The camping and festival site is level and well drained so even if there is a bit of rain it won't turn into a quagmire. And there are delicious options from our friendly, sustainable vendors onsite, catering to a wide range of dietary needs so no need to pack your Calor gas!
We have limited spaces for campervans, and a handful of four person bell tents with kitchens that can be hired.
Obviously pack according to the forecast – you'll decide if it's wellies or flipflops, t-shirts or fleeces – but June temperatures average a high of 20 degrees C and overnight lows of 12 degrees.
And if you're really not up for camping we're easily accessible by public transport you can find affordable hotels just a couple of train stops away in nearby Enfield
I think camping sounds great – what's it like on site?
Us too! And we'll lay on hot showers, plenty of toilets, a lovely wild campsite, local food producers for everything from your early morning coffee and pastry to your delicious dinner. And because our post 8pm events are unamplified (silent discos ftw!) you'll find it easy to wind down with younger kids – or if you just want a peaceful night watching the sunset.
What do you mean by a family friendly festival?
The festival has an amazing program of events for all ages, so kids and adults alike can go and take part in something that inspires them. We have science, performance, and writing workshops for five to 15 year olds. If you do want to bring your baby or child, all performances are relaxed performances so there's no need to worry about plaintive wails of "I'm hungry" or "I need the toilet."
And on that topic – there are plenty of toilets and changing spaces. Also places to find a quiet moment and calm down, as well as places to play and be excited! And the Saturday evening highlights include a silent disco with two sets of tracks – so even if you and your kids have wildly different opinions about 90s britpop you can still dance Saturday night away together as a family.
So where are your "family" tickets?
We recognise that families come in all shapes and sizes so we're not selling a "two adults, two kids" package. Instead our prices are as low as possible while still being fair for everyone; making sure that our staff and speakers are paid, and that as many people can access the festival as possible.
What do you mean by an inclusive festival?
We know that publishing isn't as inclusive as it could be. We can confidently say we're bringing you the best of the best because we're looking for inspiring, entertaining, exciting speakers everywhere and making sure they can appear.
That also means that the festival infrastructure is inclusive. From BSL interpreters, to accessible toilets and changing places, to support packs for neurodivergent guests and speakers, to accessible parking and companion tickets. We want you to be able to have an incredible time at the festival!
How are you planning to plant 100 wildflower spaces?
That's where you come in! The first 100 orders incude a special commemorative box of Seedballs. These smart, sustainable spheres have everything needed to get a bee and butterfly-friendly patch started. Whether that's in a windowbox, a garden, a patch of wasteland, a grass verge, you'll help spread biodiversity wherever* you come from!
*(Sorry – for reasons of phytosanitary control, if you live outside the UK you'll have to scatter them this side of the border – we want to rewild but not by sending out invasive species!)
What else are you doing to protect nature?
By asking all our vendors to eliminate single use plastic when serving (and – as far as possible – in their supply chain.) We also have a reusable cup scheme where – for a small deposit – you hire a cup for the festival and then either return it or save it as a souvenir! Our electricity will be sourced from a green generator comapny – we're trying to source a solar pod so watch this space. And if you can come by public transport then you are doing an absolutely brilliant thing and we love you for it. We're also asking that you don't leave behind tents and camping equipment on site – save them and come back next year!