Description
If you are a keen wildlife photographer or birdwatcher why not join us at Stanpit Marsh? Experience the beautiful landscape, learn about Digi-scoping and gain some photographic tips. This will also be a great time to meet likeminded enthusiasts.
David Newton will be presenting a wildlife photography walk - Book your place!
Date: Thursday 25th April 2019
Venue: Stanpit Nature Reserve Centre, Stanpit, Christchurch BH23 1BD (Nearest Car Park is ¼ a mile away*)
The day will involve two drop-in sessions, morning and afternoon. You will be able to try out the latest Canon lens, Swarovski Optics and Velbon and Sirui tripods. Representatives from all companies will be on hand to pass on their expert advice and top photographic tips.
Wildlife photography is a passion we at Castle Cameras embrace and we are offering this free to attend event to any nature enthusiast. Stanpit Marsh is a fantastic place for us to learn together and improve our photography skills.
David will be presenting a brief welcome talk at the start of each session which is free to all, after which you are welcome to try some of the incredible kit we will have available including:
Canon EOS R with EF-EOS R Mount Adapter (OEM)
Canon EOS R with RF 24-105mm f/4 L IS USM Lens
Canon EOS-1D X Mark II
Canon EOS 7D Mark II
Canon EOS 5D Mk IV with C-Log Upgrade
Canon EF 200-400mm f/4 L IS USM Extender 1.4x
Canon EF 100mm f/2.8L Macro IS USM
Canon Extender EF 1.4x III
Canon EF 100-400mm f/4.5-5.6L IS II USM
Canon EF 300mm f/2.8L IS II USM
Canon EF 400mm f/2.8L IS II USM
Canon EF 400mm f/4 DO IS II USM
Canon EF 70-200mm f2.8L IS III USM
The NEW Canon 600mm F4 L IS USM Mark III Lens (rare)
And a range of Swarovski's incredible spotting scopes, set up for digiscoping
We would be grateful if you could email us to advise your attending (am or pm) to help with our planning. Click here to email us (Please use Stanpit 25 April as the email title, thank you :)
Morning session: 10am – 12noon
Afternoon session: 2pm – 4pm
Wildlife Photography Walk with David Newton
In addition to activities at the visitors centre, David will be conducting a guided walk onto the marsh where he will show you the techniques he uses to capture great images and answer any specific questions you might have.
Morning walk: 10:30am – 11.00am - Cost £5 (which will be donated to Stanpit Marsh)
Afternoon walk: 2:30pm – 3.00pm - Cost £5 (which will be donated to Stanpit Marsh)
Book a place on David's walk through Eventbrite

The day will be a rare opportunity to try out the NEW Canon 600mm F4 L IS USM Mark III Lens, in an ideal wildlife location.
---
About Stanpit Marsh
Stanpit Marsh is situated on the north side of Christchurch Harbour, near were the rivers Avon and Stour meet. The 65-hectare site has an unusual combination of habitats including salt marsh with creeks and salt-pans, reed beds, freshwater marsh, gravel estuarine banks and sandy scrub.
The area was designated a Local Nature Reserve in 1964 and in 1986 it was also named as a site of Special Scientific Interest. The Marsh is home to over 300 species of plants, 14 of which are rare and endangered. There has been over 310 different bird species spotted at the marsh and there land also has a few other wonderful wildlife inhabitants to be found.
The day:
A rare opportunity to try out the NEW Canon 600mm F4L IS USM Mark III Lens
Try out the incredible Sirui gimbal head, ideal for long lenses.
Learn about nature conservation at Stanpit Marsh.
Experience and enjoy the beautiful environment and landscape.
Try out the latest Swarovski optics, Canon lenses, Sirui and Velbon tripods and get advice and tips.
Find out more about digi-scoping.
Exclusive Swarovski, Canon, Velbon and Sirui Promotions.
Photograph and capture the wildlife and beautiful landscape.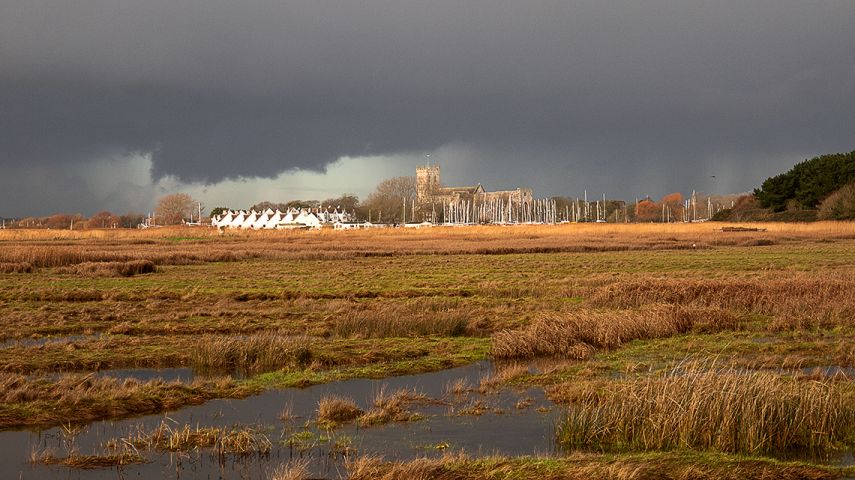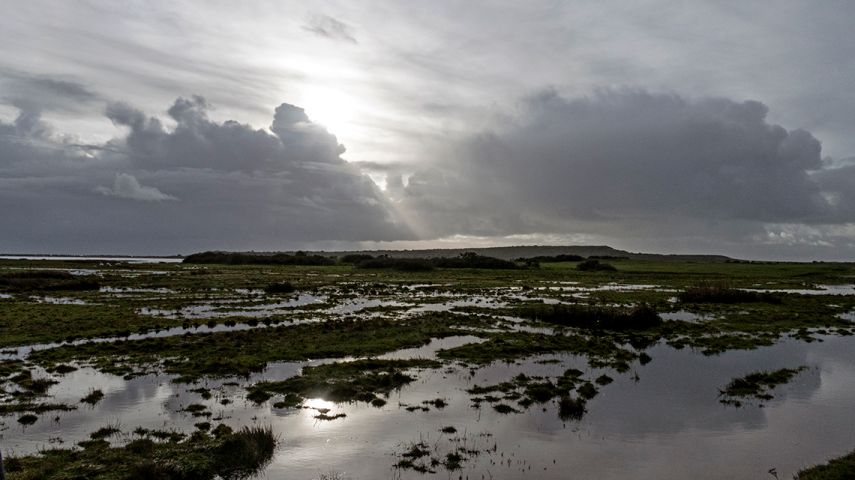 Even on a wet miserable day the landscape can be very dramatic
Important information
What equipment do I need to bring?: A Secure digital (SD) memory card and your Canon DLSR camera.
Footware - Please bring suitable footwear. The nature reserve can become very muddy and slippery.
Travelling by car: There is a free car park, which is about a quarter of a miles walk to the Stanpit centre.
Travelling by bus: Yellow Bus routes P1 & P3 - stop at Purewell Cross (about 10min walk).
Dogs - Must be kept on a lead at all times.
Toilets - There are no toilet facilities at the centre. The nearest public toilets to Stanpit Marsh are around 8 minutes drive away, in Christchurch.
Wheelchair Access: Is available, but it is worth noting that the track can be very muddy depending on the weather.
UPDATES: Please check this page before attending for any updates