Inspiring urgent action through the translation of complex critical science
About this event
Wildscreen feels compelled to convene the natural world storytelling industry, conservation organisations, green finance and climate scientists straight after COP26 to ensure storytellers can translate key climate messages so everyone feels compelled and empowered to make a difference for the future of our planet.
What is Communicating COP26?
Communicating COP26 aims to translate complex but critical climate science and conservation, and spotlight the crucial role that visual media plays in doing this. Communicating COP26 will be a platform to clarify, communicate and discuss key messages that emerge from the official COP26 summit in Glasgow.
The event will feature a robust line-up of keynotes, panels sessions and networking. Content highlights include:
Inspiring audiences to connect to nature
Breaking Boundaries: The Science of our Planet
The impact of storytelling in marine conservation
The role of finance in creating a greener world
Rewilding and nature-based solutions
This hybrid event will take place live in Bristol, UK and streamed online via Wildscreen's online platform.
Ticket Prices
Early Bird Pass - £64 + VAT - Available until 31 Aug
Wildscreen Network Member Pass - £64 + VAT
Concession Pass - £37.50 + VAT
Full Pass - £75 + VAT - Available from 1 Sept
Online Pass - £25 +VAT - Available from 1 Sept
Get in touch if you would like to find out about group discounts for buying blocks of 10+ tickets.
Tickets prices are inclusive of a plant-based lunch and morning and afternoon refreshments are included.
Please let us know if you have any dietary or access requirements.
Speakers
Craig Foster, Human star of Oscar award-winning documentary My Octopus Teacher and Founder of Sea Change Project
Pippa Ehrlich, Director of Oscar award-winning documentary My Octopus Teacher
Jon Paul Rodríguez, Chair of the IUCN Species Survival Commission
Ray Dhirani, Head of Sustainable Finance & Green Economy, WWF - UK
Colin Butfield, Executive Director, Studio Silverback
Adam Sweidan, Chief Investment Officer, Aurum Fund Management
Discover the other leading industry experts speaking at our event here.
Hybrid Access
The event will be livestreamed via Wildscreen's online platform. Following the event the sessions and a media library of films will be accessible to all ticket holders following the event for 1 month.
Online Pass holders will not be able to physically attend the event or contribute to networking or Q&A sessions.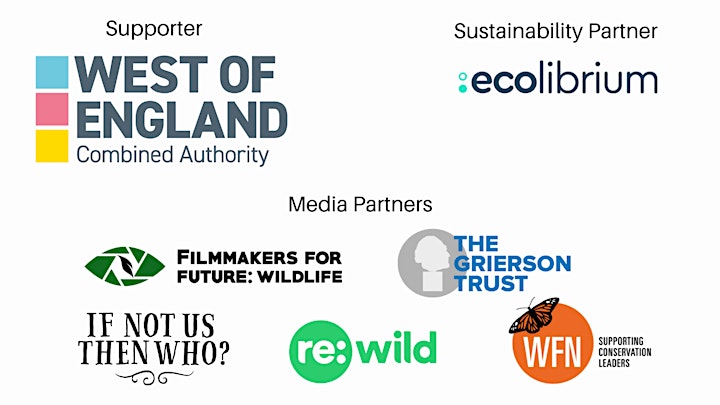 FAQs
Can I contact the organiser with any questions?
Get in touch with the Wildscreen team at hello@wildscreen.org.
Am I eligible for the Concession Pass?
A special concession rate is available at a massive 50% discount from the full pass price, bringing the price down to just £37.50+VAT. You are eligible for this rate if you are:
Under 25
An employee of a non-profit organisation
under 30 years of age at point of purchase
over 65 years of age
have applied for or are in receipt of your country's social assistance benefit programmes
reside in a least economically developed country as defined by the UN. For the current list of eligible countries see this webpage.
Please be prepared to provide proof of eligibility if requested.
How will COVID-19 impact the event?
We will continue to monitor the latest government guidance to ensure the safety of all delegates and staff, and communicating any safety precautions in the weeks ahead of the event.
In the scenario of an event cancellation due to governmental guideline changes, we will convert to a fully online event and provide a partial refund to live event tickets holders to the price of an online pass
What is the accessibility of the venue?
Bristol Harbour Hotel has a ramp for wheelchair access for the few steps leading up from the street into The Sansovino event room. The entire event is accessible on this level as well as a disabled toilet at the back of the event room. There is also an option for reduced price tickets offering virtual access to the event for individuals who are unable to travel.
We want to create a welcoming and accessible event for our delegates. We encourage anyone with specific access requirements or questions to get in touch with the Wildscreen team at hello@wildscreen.org
Are you minimising your environmental impact?
We will continually assess the environmental impact of Communicating COP26 and take every action to ensure that the effect our event has on the planet is minimised. Read our full commitment here.
We strongly encourage delegates to offset the impact of travelling to our event and are working with Ecolibrium as a Sustainability Partner. We will be contacting delegates directly with a simple and easy-to-use method for carbon balancing.
Is my registration/ticket transferrable?
Requests to transfer your ticket to an alternative person must be made via email to hello@wildscreen.org. Such requests shall be approved or denied by Wildscreen in its sole discretion and a fee may be charged.
What is the refund policy?
Tickets are refundable 7 days after purchase until 1 September 2021. A fee may be charged.
Is there anything else I should know?
You should be aware that you may be photographed or filmed at times throughout the event and the recordings may be distributed. Your contact details will be published on a delegate list which is distributed to all attendees of Communicating COP26. We will always respect your privacy and any personal communication between you and ourselves.
Where are the full terms and conditions?
You can find them on our website.