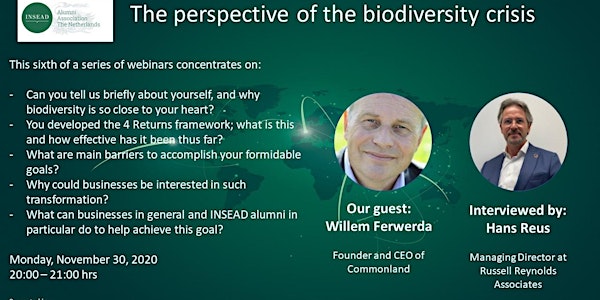 Willem Ferwerda online INSEAD Sustainability Club event, November 30, 2020
Invitation: Willem Ferwerda in online INSEAD Sustainability Club event on Monday November 30, 2020
About this event
Invitation: Willem Ferwerda in online INSEAD Sustainability Club event on Monday November 30, 2020
This year the INSEAD Sustainability Club organized a series of webinars with a wide range of perspectives, i.e., from an entrepreneur, the government, an academic, an activist and an investor. In the next webinar on Monday November 30 from 20:00-21:00 the perspective of the biodiversity crisis will be highlighted, with Commonland founder Willem Ferwerda as our guest speaker.
He will be interviewed by Hans Reus about what it takes to develop and implement large landscape restoration projects worldwide, that bring solutions regarding biodiversity, climate change, sustainable agriculture and community involvement. Key questions will include:
- Can you tell us briefly about yourself, and why biodiversity is so close to your heart?
- You developed the 4 Returns framework; what is this and how effective has it been thus far?
- What are main barriers to accomplish your formidable goals?
- Why could businesses be interested in such transformation?
- What can businesses in general and INSEAD alumni in particular do to help achieve this goal?
After a lively and interactive discussion you will be invited to ask questions to Willem; there will also be the opportunity to continue the discussion and to meet other INSEAD alumni in small groups.
Willem Ferwerda is the founder and CEO of Commonland; its mission is to transform degraded landscapes into thriving ecosystems and communities based on sound business cases and aligned with international policies and guidelines. Willem Ferwerda is an international entrepreneur, an ecologist and was the number 1 in the Trouw Sustainable 100 in 2016.
Hans Reus is a board member of the Dutch NAA Sustainability Club, and a partner with executive search firm Russell Reynolds Associates, where he co-leads the firm's global activities on sustainable leadership.
Organiser of Willem Ferwerda online INSEAD Sustainability Club event, November 30, 2020
Welcome to the Eventbrite homepage for the INSEAD Alumni Association in the Netherlands. The Dutch INSEAD Alumni Association exists to serve INSEAD alumni in the Netherlands. It is among the oldest INSEAD national alumni associations, and one of the largest in relation to the number of alumni.
Our objective is to strengthen the INSEAD experience after INSEAD, to build an alumni network through social and business events, to raise awareness of INSEAD in the Netherlands and to provide a communication channel between the school and the alumni.
Our events are only open to INSEAD NAA-NL members and members of other INSEAD National Alumni Associations.
By registering for this event, you agree that all photographs, video recordings, audio recordings and/or written contributions containing statements, images and/or voice reproductions of yourself taken or made in relation to this event can be reproduced and diffused in their entirety or in the form of extracts by INSEAD and/or its affiliated entities, and that INSEAD and its affiliated entities have the royalty free right and licence to use, reproduce, exhibit, publish, disclose and/or distribute such photographs, video recordings, audio recordings and written contributions in their entirety or in the form of extracts, irrespective of their format and of the audience.