Description

You are invited to attend William Harvey Day 2019. This annual conference will showcase some of the best cutting edge research currently underway at Barts and The London School of Medicine and Dentistry and their partner NHS Trusts.

The event is a wonderful opportunity for students, staff and guests to attend presentations from researchers at all stages of their career development, working in varied disciplines across the School.

Registration is free and all attending students can claim six CPD points after the event.

The day will begin at 9:00am in the Morris Lecture Theatre at Robin Brook Centre and will consist of lecture series by staff, students and three eminent guest speakers.

Breaks will take place in the Great Hall of St Bartholomew's Hospital and the Pathology Museum where mid-morning refreshment and lunch will be provided. Over 100 poster presentations of work carried out by students and staff will be on display in both venues.

---
Event Details
Date: Wednesday, 19 October 2019
Time: 9.00am - 4.15pm
Location: Robin Brook Centre, West Smithfield Campus
---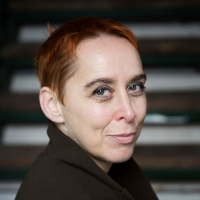 Timandra Harkness is a writer, broadcaster and presenter.
She is a regular on BBC Radio, writing and presenting BBC Radio 4's FutureProofing series, and documentaries including Data, Data Everywhere, Personality Politics, and Supersense Me for BBC Radio 4, and Are You A Numbers Person? for the BBC World Service Why Factor series.
She was also resident reporter on all 8 seasons of social psychology series The Human Zoo.
Since winning the Independent newspaper's column-writing competition, she has written for many publications including the Telegraph, Guardian, Sunday Times, BBC Focus magazine, WIRED, Men's Health and Significance (the journal of the Royal Statistical Society).
---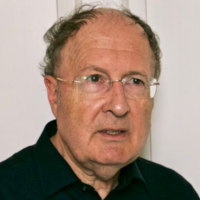 Sir Gregory Paul Winter FRS is a molecular biologist best known for his work on protein engineering and developing technologies to make therapeutic monoclonal antibodies (mAbs). Previously, it had proved impossible to make human mAbs against human self-antigen targets, as required for treatment of non-infectious diseases such as cancer or rheumatoid arthritis - and the corresponding rodent mAbs had provoked immune responses when given to patients.
Winter is credited with inventing techniques both to humanise rodent mAbs (1986) and to create fully human mAbs (1990). For his work on "harnessing the power of evolution" Winter was awarded the 2018 Nobel Prize in Chemistry along with George Smith and Frances Arnold. Winter was cited specifically "for the phage display of peptides and antibodies", the technology that led to the fully human antibody "Humira", and which is now the world's top-selling pharmaceutical drug. He founded three Cambridge-based start-up companies to help develop therapeutic drugs based on his inventions, and his research career has been based almost entirely at the MRC Laboratory of Molecular Biology and the MRC Centre for Protein Engineering, in Cambridge, England. He is a Fellow of Trinity College Cambridge and was Master of the College from 2012-2019.
---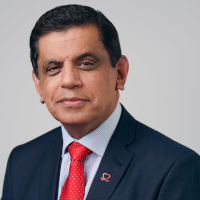 Professor Sir Nilesh J Samani Nilesh Samani is Professor of Cardiology at the University of Leicester and Honorary Consultant Cardiologist at the Cardiac Centre, Glenfield Hospital, Leicester. He was previously Head of the Department of Cardiovascular Sciences at the University (2003-2016) and Director of the NIHR Leicester Cardiovascular Biomedical Research Unit (2009-2016).
His main research interests are in cardiovascular genetics and biological ageing, especially focused on understanding their contribution to coronary artery disease. Since 2016, Professor Samani has also served as Medical Director of the British Heart Foundation. The BHF is an internationally-leading research charity which funds over £100 million of new research into heart and circulatory diseases each year. The Medical Director is responsible for overseeing the BHF's research funding and medical activities.

William Harvey Day will conclude with the traditional annual St Luke's-tide Service in the church of St Bartholomew the Great. All attendees are welcome to attend the service as guests and Queen Mary staff are invited to join the official procession.
You will be able to indicate that you wish to join the service at the time of booking.
If you have any questions or require further assistance please contact our team at whd@qmul.ac.uk