Event Information
Location
The Grange
The Green
Rottingdean
BN2 7HA
United Kingdom
Rottingdean Heritage hosts a fascinating brand new exhibition to celebrate the 150th anniversary of the celebrated artist William Nicholson.
About this event
Entry to the exhibition is FREE OF CHARGE.
This event has been supported by The William Nicholson Trust and the Nicholson Family.
A was an Artist presents an intimate portrait of influential artist and Rottingdean resident, Sir William Nicholson (1872 - 1949) marking the 150th anniversary of his birth.
Unlike previous, larger and more conventional Nicholson shows, this one centres on his life in Rottingdean - installed, as it is, in his house there - although it covers his early and later work too. It will give an overview of his entire life and art, with one gallery highlighting his graphic work - woodcuts and illustration from the earliest Beggarstaff period, through his famous woodcut series, to his later book designs. The other gallery will look at his paintings - portraits, landscapes and still life - and will feature some original works as well as illustrating many more that can't be borrowed - from his earliest known painting as a teenager, of Blenheim Bridge, to the celebrated Judd's Farm (Towner Art Gallery) and some paintings from private collections not exhibited before.
One feature of this exhibition that is unusual is that we are also looking at Nicholson the man - and are borrowing memorabilia that are normally not seen - his painting smock, the dressing gown that appears in photos, his hats and waistcoat and shoes, his monogrammed bow tie and his red braces of which he also made a drawing, which will be shown alongside. We will also have the famous red boots (Miss Simpson's Boots) that appear in the world record setting still life that recently sold in Christie's.
Rottingdean Heritage is a registered charity (#264056) and are reliant on donations to continue to host events such as this one.
PLEASE CONSIDER A DONATION as you enter or leave the exhibition using the donation facilities provided, or visit our website: Support Us.
Pre-booked ticket entry ONLY
50 minute viewing window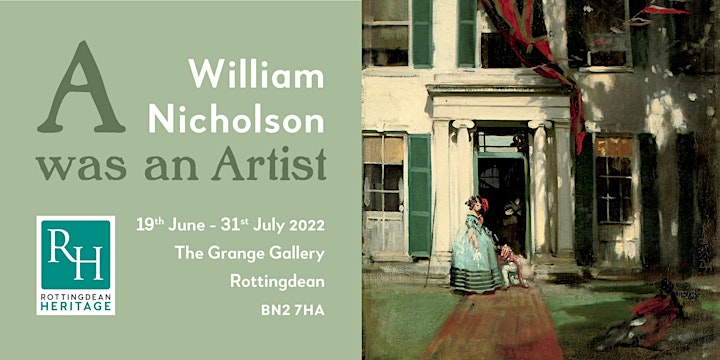 Location
The Grange
The Green
Rottingdean
BN2 7HA
United Kingdom