Description
Willow Weaving Workshop with Wyldwood Willow
Over this two day course we will create amazing Stags head sculptures to hang on your wall.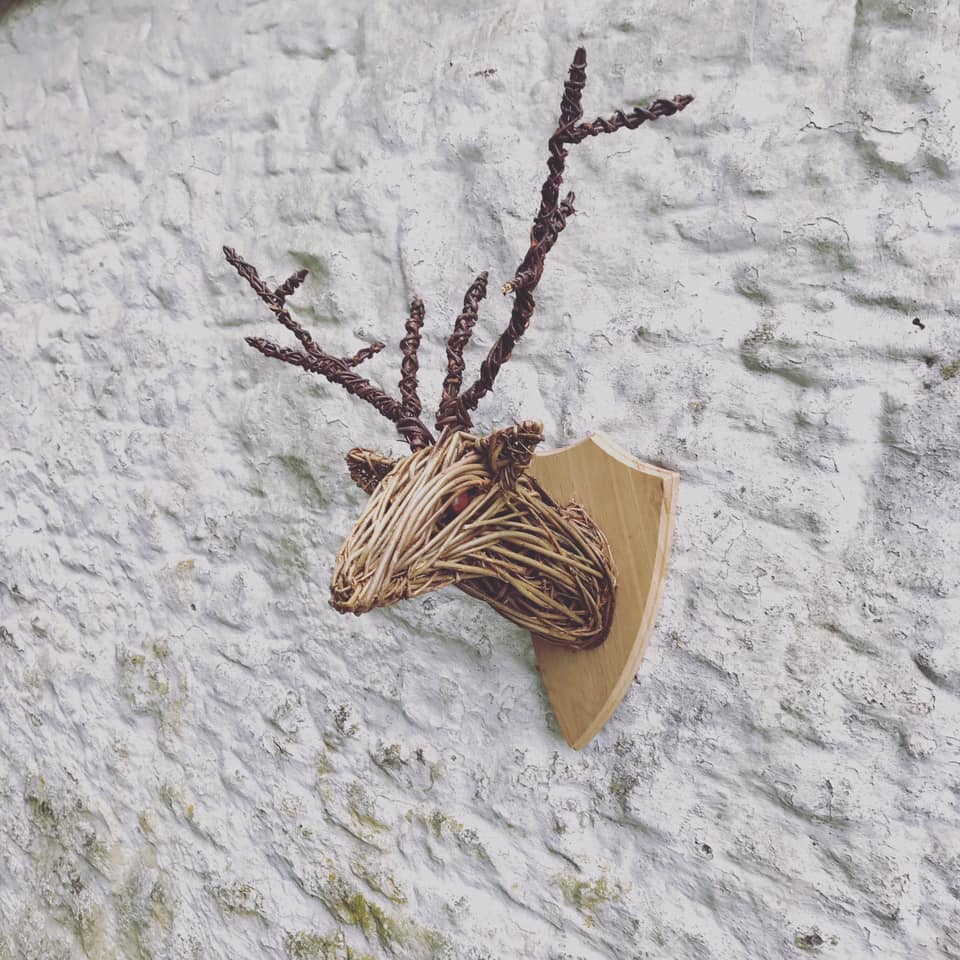 About your tutor
I am Amanda Rayner, I set up my business Wyldwood Willow in 2000. I first started weaving when my friend Phil was emigrating to Oz and was offering several bundles of Willow and a quick afternoons lesson in how to make a basket. It all carried on from there and the rest as they say is history...
I now weave all sorts of things from baskets and coffins to decorative and living Willow fences, tunnels, arbours and domes. Sculpture and more recently furniture and light shades.
I teach at many venues including Humble by Nature and The Sustainability Centre and also share my skills at lots of festivals throughout the summer.
Saturday 2nd & Sunday 3rd November
Weave a beautiful Stags Head willow sculpture, mounted onto a wooden plaque all ready for display on your wall.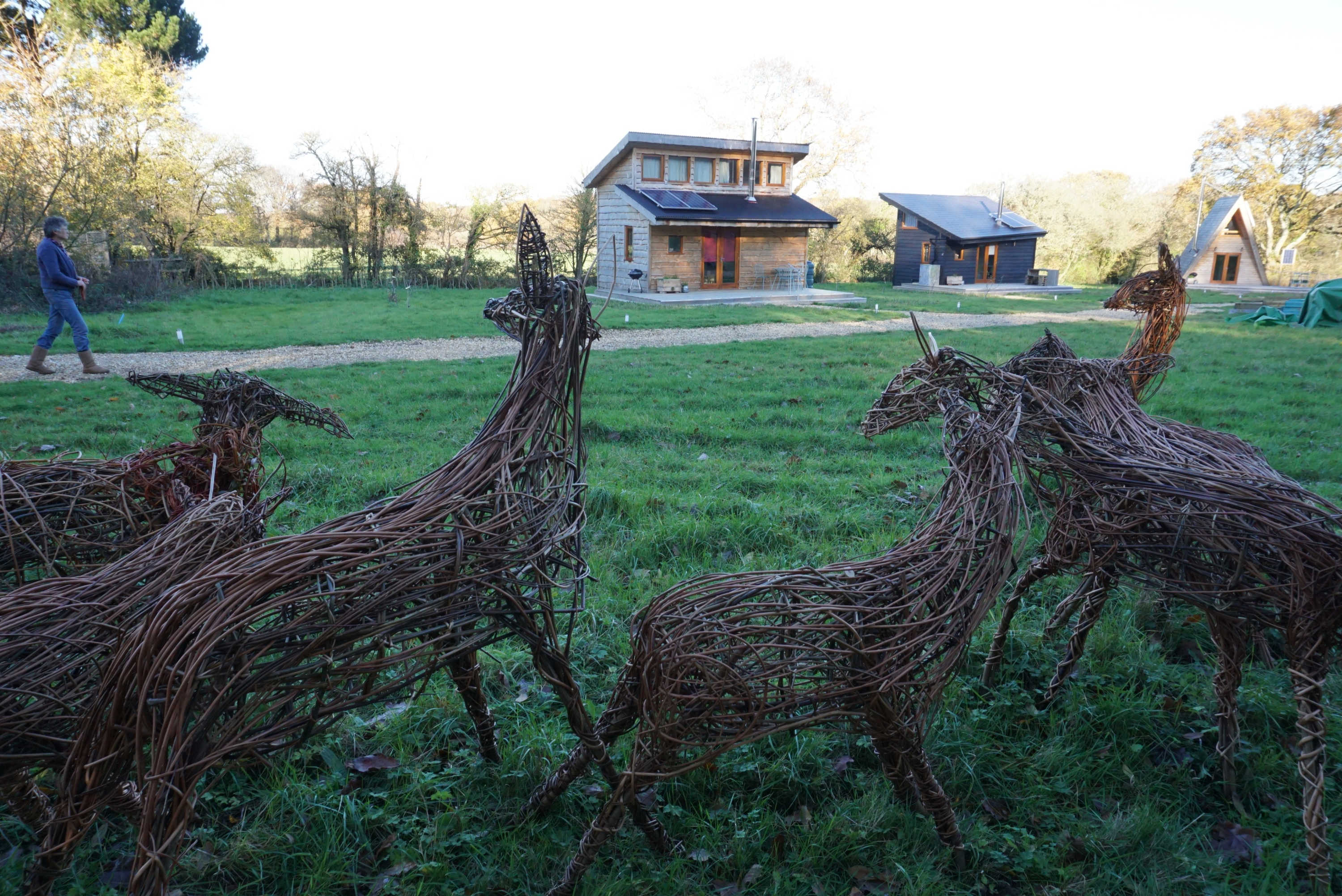 above : the willow deer sculptures from our 2018 workshop - we will upload a stags head images as soon as Amanda has finished the prototype!
Learn the techniques necessary to create your own beautiful piece of artwork for the home.
Stylish Christmas decor but also perfect to leave up all year round!
Day guest and residential tickets available for this two day workshop.
What is included;
2 full day workshops (10am – 5pm) on Saturday 2nd & Sunday 3rd November in our Studio
Simple but good breakfast supplies in your Tiny Home
Refreshments and a light lunch on the workshop days
Non residential spaces are available at £160 total for both days
Deposit for booking is only £50 per person (for both residential and non residential spaces)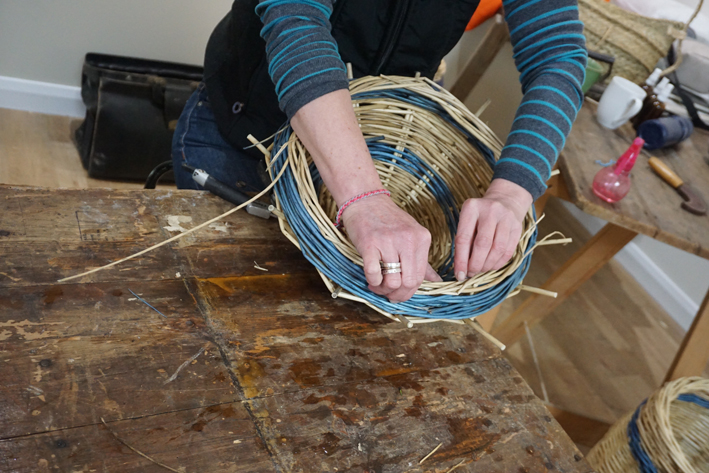 All tools and materials will be provided so nothing needs to be bought it is however not a hobby to be wearing your best clothes at so please dress comfortably in something you don't mind getting dirty!
above : previous Wyldwood Willow workshops at Tiny Homes Holidays
What is included;
Non Residential day guest ticket – two full day workshop, all materials, light lunch and refreshments supplied
Residential ticket for ONE, NOW REDUCED!!! SOLO use of a Tiny Home for up to three nights (1-4 November) One place on the full day workshops on 21st & 22nd September, all materials, light lunch and refreshments supplied on workshop days. Breakfast basket in your Tiny Home. We can help with discounted ferry bookings
Residential ticket for TWO, NOW REDUCED!!! TWO PERSON use of a Tiny Home for up to three nights (1-4 November) Two places on the full day workshops on 22nd & 3rd November, all materials, light lunch and refreshments supplied on workshop days. Breakfast basket in your Tiny Home.We can help with discounted ferry bookings