Description
A Flute Player's Blueprint: Join us in Bradford on Avon for a one-day flute workshop.
Explore tips and techniques to build a solid and confident foundation to your flute playing
with American flautist Dr. Jessica Quiñones (www.JQflute.com)


When: Sunday, 22 October 2017, 10am-4pm
Where: Wiltshire Music Centre, Bradford on Avon, Wiltshire, BA15 1DZ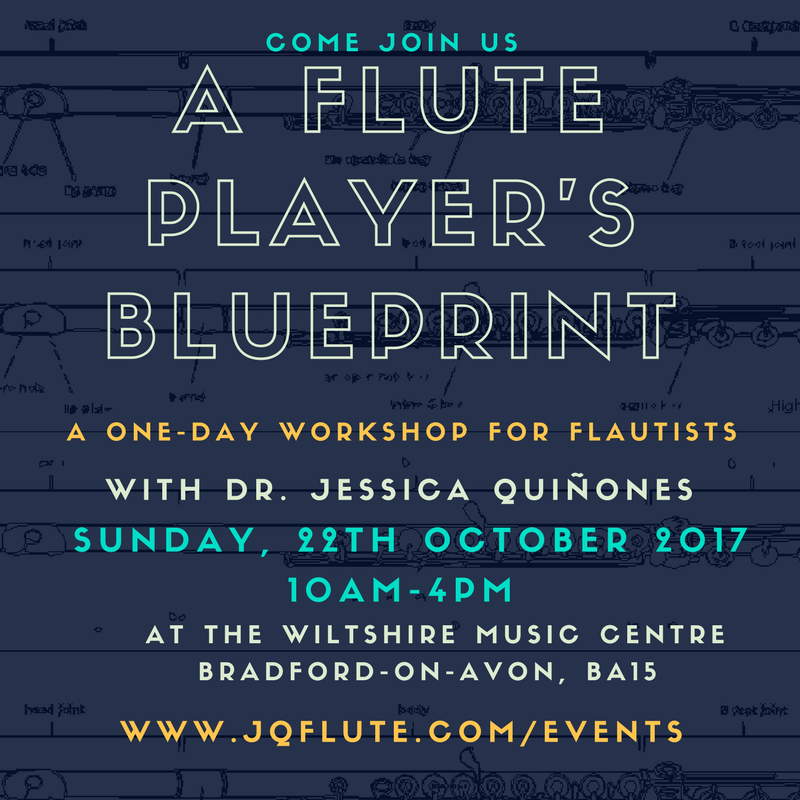 Workshop Description:
"The beginning is the most important part of the work" – Plato
If you're craving fresh and innovative tools to build a strong and unshakeable foundation to your playing then this workshop is for you. Spend a day with Jessica in a relaxed, friendly and supportive setting at the Wiltshire Music Centre in the gorgeous setting of Bradford on Avon. Explore and experiment with a variety of methods in which to master and (re)visit those key flute essentials such as breathing, finger technique, articulation, tone and posture. Whether you are a seasoned flute teacher in need of new teaching inspiration or are an absolute beginner, this workshop will provide a blueprint in which to build, remodel, and develop your own unique playing for years to come.
Want to receive personalised advice about your flute playing from Jessica during the workshop? Grab your spot to be one of 5 flautists that will be given 1:1 attention during the class sessions. Simply email jqflute@gmail.com stating which one area you would like help with and these will be allotted on a first come, first served basis. Choose from breathing, finger technique, articulation, tone or posture.
Requirements: Suitable for players of all levels of players, ages 18+ only.
Lunch: We will have a lunch break from 1-2pm, you are welcome to bring your own lunch if you wish. Kitchen facilities are available for use.
Breaks: A complimentary selection of teas, coffee, fruit and biscuits provided for you during your break times.
Cost: £70 (early bird rate til midnight Friday, 22 September 2017). BACS payment available if you would prefer to pay this way instead of through Eventbrite. Email jqflute@gmail.com if you prefer this method.
Please note: This workshop is a bespoke event designed around the attendees registered. Surveys asking about your playing level and experience will be sent out before the event.
Your registration fee is non-refundable, so please book your place mindfully.
Location: Bradford on Avon is located approx. 8 miles from Bath and 24 miles from Bristol. Direct trains that are available include Bath, Bristol, London, Brighton, Cardiff, Portsmouth, Gloucester, Southampton and Weymouth.
Getting here:
BY CAR
Address: Wiltshire Music Centre, Ashley Road, Bradford on Avon, BA15 1DZ
Wiltshire Music Centre is signposted with brown signs from main roads in Bradford on Avon and within the residential street called 'Churches', from which you can access the Centre.
The Centre has limited but free on site car parking. One car park is accessible from Winsley Road & is closest to the Centre. It is open through the day and evening. The other carpark is accessible from Ashley Road & is a short walk away from the centre.
BY TRAIN
Bradford on Avon Rail Station is a 20 minute walk from WMC. Taxis are available from the front of the station and buses from the town centre, a 2 minute walk from the Train Station.
BY BUS
The 265/265a service travels between Bath and Warminster, via Trowbridge. Ask for the 'Churches' stop on Winsley Road. From this stop, walk up 'Churches' until you see a brown sign pointing you in the right direction. [View the timetable]
Questions? Feel free to email Jessica at jqflute@gmail.com about any further information.
Not able to get to this workshop this time? Sign up for notification of other flute events with Jessica here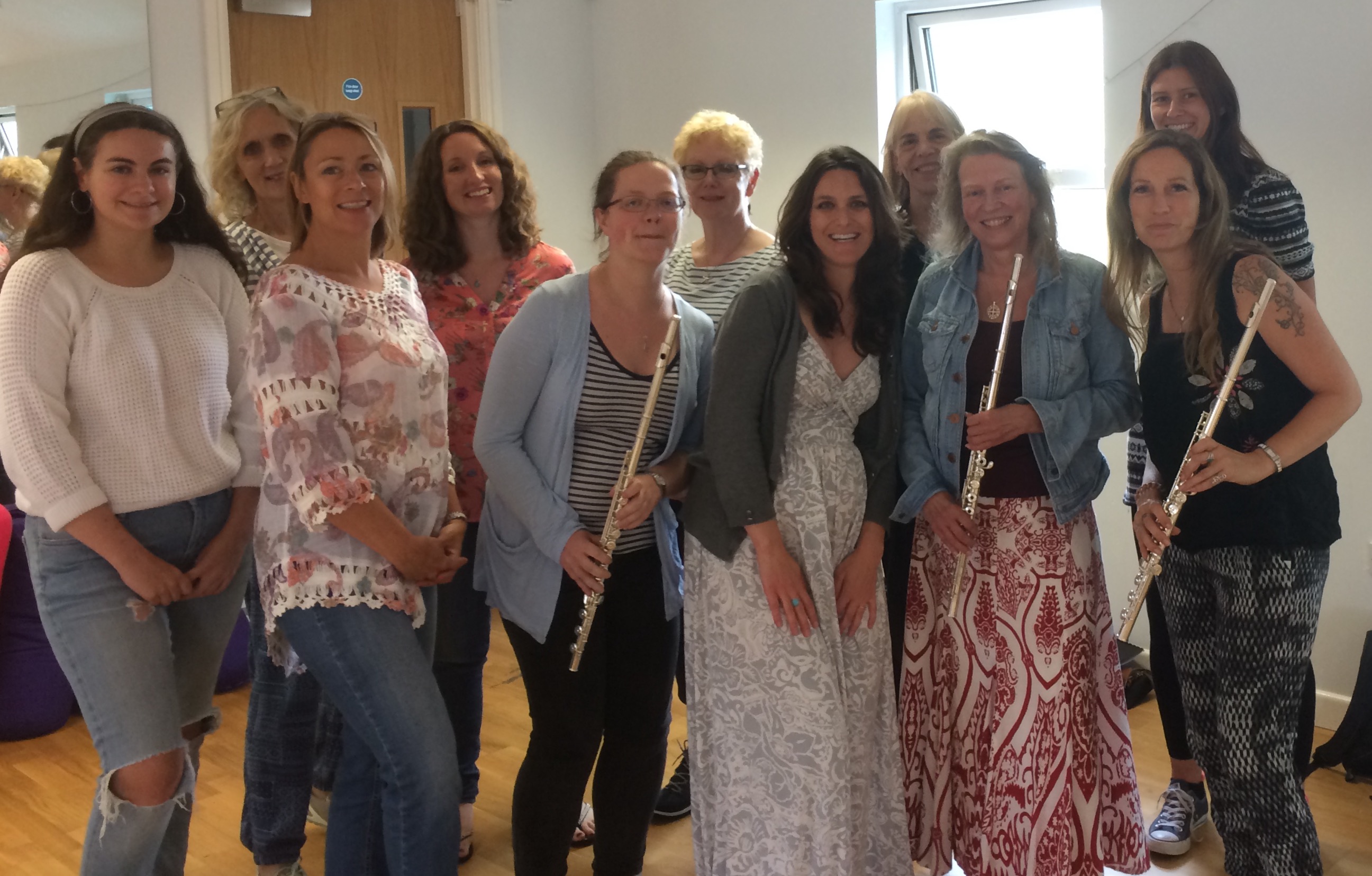 What people are saying about Jessica's flute workshops:
"Just back at station after a fabulously inspiring & reinvigorating flute workshop with @JQflute"
-- David B. via Twitter
"There was something so much more than music that happened…When I arrived there was such an easy, relaxed welcome. It was impossible to ignore the radiance, the glow, the warmth, the love, a truly a transcendent experience…couldn't help but do well from that start." -- Sean O.
"If you play the flute and are looking to spark up your creativity, then @JQflute is the lady for you!" -- Tanya B., via Twitter
"Wow, what a great day we had last Saturday and I have really benefited from the work we did. This week I have felt so much more free in my playing, as if I've been given permission to step outside of the box called 'traditional classical flute training' into somewhere else, unknown and exciting"… -- Fiona R.
"..here was a lady who was talking about shaking up the way you think about making music, about finding your own way of doing things, breaking out of the 'box' of traditional expectations around flute playing, and really sharing your music from the heart. …Jessica absolutely 'got' what I wanted to achieve …." -- Rachel S.
"Wow, what a great day we had last Saturday and I have really benefited from the work we did. Have already been trying out some of the tonguing and vibrato techniques in our orchestra rehearsal -- Sandra F."
"Loved having the opportunity to perform and to listen and watch others perform, too. The vibrato section was great as it wasn't something that I'd understood before (and the technique section was very useful - thank you) -- Jason B."
"Great to hear and meet other flute players and to watch such a fabulous teacher in action. I've come away with lots to work on so expect lots of updates on my progress" — Claire. H., via Instagram"
Want to see more?
Visit Jessica on social media
www.facebook.com/drjessicaquinones