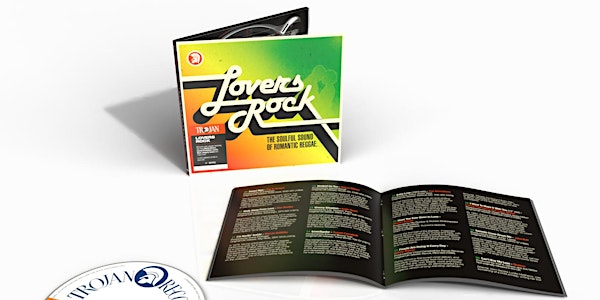 Win A Copy Of 'Lovers Rock (The Soulful Sound of Romantic Reggae)' (Trojan)
Trojan Records has released a 60-track 3-CD boxset compilation of lovers rock of hits, classics, rarities. And we're offering a compo copy!
About this event
This 2022 Trojan Records compilation is one of the best you can ever expect in in the physical format (there's also a double-LP version)! The hits, the key tracks, much loved revival favourites, and rarities that's hardly been re-issued in the 21st century, can be found across a 3-CD box set. Plus, as usual, there's also a very useful booklet for those who love to read credits (something which seldom comes with streams , playlists or downloads).
Lovers rock, as a name of the genre was coined in Britain in the late 1970s. Before then, British acts making such music, had various names for it, including "romantic reggae", as was revealed by Gary Dixon of the Revelation band on this year's International Reggae Day London, UK Zoom meeting on July 1.
Of course since Steve McQueen's award-winning 2020 BBC TV 'Small Axe' 'Lovers Rock' film, there's been renewed interest and awareness within the mainstream and outernational (musician/producer Dennis Bovell talked about participating in a huge McQueen lovers rock event in Europe in June).
To whet your appetite, the first two tracks on CD1, 2 and 3 are respectively, 'Silly Games '– Janet Kay and 'Hopelessly In Love' - Carroll Thompson; 'Money In My Pocket (1978 version') – Dennis Brown and 'We've Got A Good Thing Going' – Sugar Minott; and 'Night Nurse' – Gregory Isaacs and 'I'm So Sorry' – Carroll Thompson. Favourites by UK acts such as Sylvia Tella, Brown Sugar, Louisa Mark, TT Ross, Marie Pierre, are interspersed with favourites from Jamaican acts including some who lived i Britain for a considerable time, such as Marcia Griffiths, Delroy Wilson, Ruddy Thomas & Susan Cadogan, Ken Booth, John Holt, and Fil Callendar & The In Crowd.
We have one copy to give away.
To be in with a chance of winning, a) you have to correctly answer this question: What was the label on which Carroll Thompson's 'Hopelessly In Love' LP was released in 1981? b) You have to be in attendance at the The Lovers Rock Forum - 1970s Revealed Zoom Meeting on Oct. 19 2022 (click here to book) around 8.00pm-9.00pm when the winner will be announced (if you are not in the meeting, we move to the next person), and c) you must have a UK address. NOTE: The winner will be announced at this Zoom meeting.
Enter by clicking on Register on this page. Good luck! Look out for the BBM review of the book, articles of our interview with Chris Blackwell .
Sample and buy here.