WIN invites you to prepare for the future, accelerate your journey, enrich your skills, boost your confidence and grow as authentic leaders.
About this event
Who are the individuals and organisations leading the way with purpose, creating work places with meaning, and developing societies and a planet where everyone thrives? How do they access their inner power and strengthen their outer influence to make things happen, differently? How can you realise your power and impact so as to live fully, work sustainably and contribute to shaping the world, a world that works for all?
Attending WIN Manchester is an opportunity to exchange best practices in embracing diversity and initiating inclusive cultures. This event will provide you with inspiration, knowledge, practical tools and contacts to help you succeed and prepare for the future. It will help you lead the way and support others that do so too.
WHAT: A leadership event of plenary and interactive breakout sessions, and virtual networking aperitif connecting you to ideas, energy and people.
WHO: Women and men in middle and senior management, young leaders, consultants, entrepreneurs, NGO leaders, politicians, artists, all longing for a positive change in their world, work and life…. YOU!
WHY: Join to inspire and be inspired, to learn and to share, to create and co-create, to contribute and to connect with new ideas, yourself and other outstanding leaders from around the UK and beyond.
In particular, you will:
Learn about the emerging global trends and how innovative businesses are navigating them
Understand HOW the companies leading the way embrace women in business and create diverse and inclusive environments.
Identify the opportunities that lie ahead for women and men championing a more balanced business environment.
Participate in a special session on diversity & inclusion.
Find out how women with authentic power are impacting business models and bottom lines.
Learn from women whose careers stand out and discover how their courage, perseverance and feminine touch have helped them move ahead and pave the way for others.
Be inspired to realise change, make your dreams become a reality and create new possibilities for others and yourself, identifying where you can contribute the most.
GET INVOLVED: Become a speaker, a sponsor, an affiliated network and, most importantly, become an active participant.
Speakers at the 2020 WIN Manchester event include:

WIN MANCHESTER AGENDA
13:30 Meeting Room Opens
13:45 Opening: Pioneering the Future, with Courage
How do the many changes in the world open new possibilities to be accelerating and creating the future of our highest dreams – together?
Rt. Hon Baroness Beverley Hughes, Deputy Mayor of Greater Manchester
Dr. Kerry Firth, Opera Singer
Kristin Engvig, CEO & Founder, WIN & WINConference
Claire-Marie Boggiano, Director & Coach, Lurig Change & Development
14:15 Preparing for the Future
A world in transformation - how is new technology, the changing political climate, concern for health, safety, the environment, rapid pace of change and the gender revolution impacting business, society, you and me? Especially now in times of Covid-19. What are the most important trends and forces in the environment worth being aware of and how can we become part of creating the future.
Julie Froud, Professor of Financial Innovation, Alliance Manchester Business School, University of Manchester
Nazir Afzal OBE, International Adviser on Rule of Law & Former Chief Prosecutor
14:45 Buzz Groups
14:55 Plenary: The Future Company – Creating an Inclusive, Agile & Innovative Organisation
What will the company of the future look like? Now after or with Covid-19. How are these companies creating inclusive and sustainable business cultures while embracing women, technology, diversity, the environment and healthy work-life balance opportunities? Which are the sustainable strategies, programs and/or initiatives that can be used to create this conscious culture? How are women impacting society, business models and bottom lines? How can we do our part in creating the company of the future, assuring enough women in STEM and in the boardroom too?
Kristin Engvig, CEO & Founder, WIN & WINConference (moderator)
Katie Murray, Chief Financial Officer, RBS
Jenn Barnett, Inclusion, Wellbeing & Diversity Director, Grant Thornton UK LLP
15:20 Leadership Meditation
Doug Manuel, Founder, Doug Manuel International
15:30 Breakout Sessions
This is a time for you to re-evaluate your career and prepare to lead the way where you are most needed. There will be 3 interactive workshops to choose from.
1. Leading with Courage
Exploring what it means to be a courageous leader in times of rapid change with practical steps to take. How do recent developments, new technologies and concerns for health, safety and the environment impact business, society, you and me?
Brigit Egan, Managing Director, Oakridge Training & Consulting (facilitator)
Susanna Lawson, CEO & Co-Founder, OneFile
Karen Campbell-Williams, UK Head of Tax, Grant Thornton UK LLP
Anne Stevens, Council Director – Global Women, Global Leaders, The Conference Board
Sally Bucknell, Director, Diversity & Inclusiveness, UK & Ireland, EY
2. Accelerating Diversity & Inclusion at Work and in the World
We live in turbulent and uncertain times. How can organisations accelerate their progress in creating diverse and inclusive work environments? How are the D&I challenges changing given the impact of Covid-19, the growing awareness of the importance of anti-racism and other human rights issues?
Kristin Engvig, CEO & Founder, WIN & WINConference (facilitator)
Sally Penni, Barrister & Founder of Women in the Law UK
Anne-Marie Jones, Director Commercial & Business Banking Healthcare & Real Estate, NatWest
Isabella Phoenix, EMEA Omnichannel Transformation – Senior Manager, HP
Graham Sparks, Director, IAD Consulting, Former Head of D&I, Shell LGBTI Workplace Inclusion
3. Innovations and Opportunities for Women & Girls in STEM
What are the possible innovations and pioneering strategies to get more women and girls in STEM given the disruption that is happening? What can be practically be done by organisations, institutions and individuals? How is technology innovation accelerating to support the new Covid19 situation?
Claire-Marie Boggiano, Director & Coach, Lurig Change & Development (facilitator)
Chi-chi Ekweozor, Founder & CEO, Assenty
Lisa Kelly, Head of BTC UK & Ireland, BASF
Emma Antrobus, North West Director, Institution of Civil Engineers
David Muir, CEO, Code Nation
16:10 Coffee Break
16:20 Plenary: Women with Vision & Courage
Exceptional and aware leaders will share their stories of leadership, feminine power and the value of staying connected as they describe their route to the top and beyond. We will hear how their courage, perseverance and feminine touch helped move them ahead and pave the way for others to lead the way.
Claire-Marie Boggiano, Director & Coach, Lurig Change & Development (moderator)
Rose Marley, CEO, SharpFutures
Susan Campion, Co-Founder, Giant Steps
Dr. Erinma Bell, MBE DL JP, Co-Founder & CEO, CARISMA
Jan Iceton, CEO, SmartWorks
17:00 Mobilising Women
We will mobilise the resources in the group and learn the importance of mentoring. Let's share and learn how to better connect and mobilize ideas and resources in a way that accelerates careers, projects, business and society. Let's become clear about some of our ideal dreams for the world, work and selves.
17:20 Closing Ceremony
Let's celebrate the winner of the 2020 WIN Manchester Award and dance together - virtually.
Dr. Kaouthar Darmoni, Speaker & CEO, Atria Institute on Gender Equality & Women's History
More information on our speakers is available on the WIN Website here.
We are thankful for the following organisations sponsoring WIN Manchester.

We are also thankful to the following organizations for their partnership.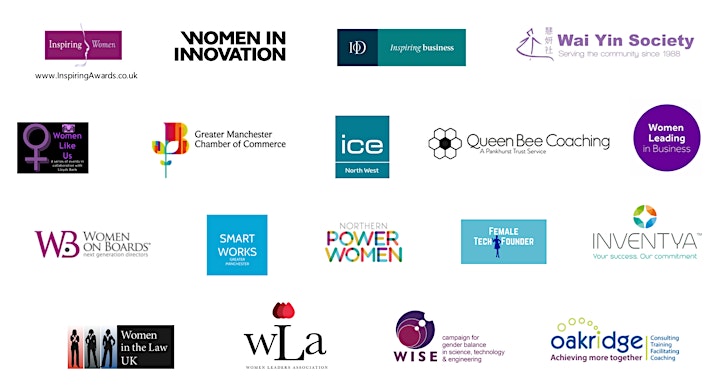 As well as the following media & events partners.

Date and time
Location
Refund policy
Organiser of WIN Manchester 2020