Win More Business with Advanced LinkedIn Techniques this summer
Description
Win More Business with Advanced LinkedIn Techniques
Step up your social selling this summer with our intense programme on getting more business from your ideal clients with our Workshop and coaching.
23 million business people in the UK are on LinkedIn. Most buyers have already researched their puchase before they talk to suppliers. Direct contact by email and phone is getting lower conversion rates. So LinkedIn deserves to be taken seriously as a way of winning new business, and growing existing accounts.
This programme starts when you sign up and includes:
1) Self Assessment - rate yourself and identify gaps in your current LinkedIn use
2) Prospecting on LinkedIn Webinar - review the basics of prospecting with our LinkedIn Webinar
3) Top techniques from Koka Sexton, former head of social media strategy at LinkedIn on key behaviours and top techniques for success using LinkedIn
4) 1:2:1 Coaching Call With Ermine Amies before the workshop to review your profile, connections and current activity, and your business development or sales objectives for increasing your use of LinkedIn.
5) Workshop on 3 August - packed with advanced LinkedIn prospecting strategies and techniques, including:
How to grab attention of on-profile prospects

LinkedIn SEO

Techniques to secure meetings

Linkedin as the GDPR safety net

3rd party apps

How to use Sales Navigator to generate regular leads and evaluate if it's worth signing up

Action planning, creating a cookbook and measures of success.
6) Book: LinkedIn the Sandler Way - with 25 ways to use Linkedin to prospect
7) Group Coaching Calls - 2 Coaching sessions - practical support as you implement your action plan, with additional tips and techniques.
This is advanced prospecting, with LinkedIn best practices, dovetailed with Sandler selling principles.
This not a beginners course. You need a LinkedIn profile, connections with people you know and to know how to post a comment.
The Self Assessment, Prospecting Webinar, techniques from Koka Sexton and coaching call on your profile and current use of LinkedIn will help you accelerate your learning, and fill in any gaps in your current practice before our Workshop.
This
workshop will show you how to create a system to use LinkedIn to generate more leads, more prospects and more sales. It isn't worth attending unless you are willing to plan in an hour a week using LinkedIn in your work, prepping for meetings, prospecting, networking, making proposals and more.


Who will find value from this Advanced LinkedIn programme (and who will not)?
You'll find value:
If you must generate new business, find and grow clients or sell as part of your job,
then this programme is for you.
It is for people who want a systematic repeatable process to lead generation, and are willing to integrate LinkedIn into their work. This includes:
Chief Executives and Business Directors

Business Owners

Sales Managers

Sales People

Marketing Managers

Entrepeneurs

Recruiters

Coaches and Consultants

A

gencies helping brands and business use social media

Social Media Consultants looking for up to date LinkedIn hacks
Who this programme is not for
This LinkedIn programme is NOT for you if you are not prepared to take action.
Linkedin requires regular use as part of your sales process.
Are you willing to invest 15 minutes a day, or an hour or two weekly ensuring that you generate regular business, leads, sales, bookings, signups from LinkedIn? If not, don't do it.
"We never had a formalised sales training program or methodology at LinkedIn until we started working with Sandler.
The short term impact of Sandler was to uplift the sales team.
With Sandler, it's primarily about the people and the amazing things they can really do to help you."
Use this summer to upgrade your use of LinkedIn.
Review your profile, develop an action plan a repeatable system for getting in front of target clients.
Included FREE with your registration:
One 1:2:1 coaching session on your profile
Two follow up coaching sessions post the workshop
Instant access to our book LINKEDIN THE SANDLER WAY: 25 Secrets that Show Salespeople how to Leverage the World's Largest Professional Network! written by Sandler Training and LinkedIn
and lots of other resources.


Refreshments included
Seating is limited.
Venue may change.
Group rates available.
NOTE: Pre-registration is required. No walk-ins or registrations at the door will be accepted.
* In 2017, there are 500 million LinkedIn members from 200 countries worldwide, including 23 million in the UK.
More testimonials
"I enjoyed the content and delivery of the session. It was really useful"
"Great training and ideas."
Ermine is a larger than life character. Her enthusiasm is infectious. She's great fun. When it comes to business her organised and pragmatic approach to her clients' issues is a breath of fresh air in an arena that's sometimes lacking in decisiveness. Her intuition gives her the ability to help you put a finger right on the sticking point. Once found the client is always encouraged to develop clarity around the challenge and to be held accountable for their decisions that will take them forward into the future. I loved working with her.

"I implemented Sandler at Salesforce for two reasons. First, it offers a proven system for maximising
the performance of individual sales reps and second it's a powerful management process that gives
us a predictable, reliable plan for growing and developing a whole generation of consultative-selling salespeople. At Salesforce, we invest highly in our customers and employees, and Sandler has made
a huge positive impact not only on my team's bottom line but also in their ability and confidence as salespeople. The Sandler Enterprise Selling program is a must for those who want to take their
game to the next level." Tony Rodoni SVP Commercial Sales - Salesforce
What followed was one of the most enjoyable sessions I have taken part in for quite some time. Ermine has a huge amount of charisma, which encouraged a large amount of highly informative and amusing audience participation.
Our sales reps really needed a system - a track to run on. We tried all of the 'as old standards,' but in the end, we always reverted to our old habits. With Sandler on our team, the sales reps and sales managers feel we have a discipline that saves a lot of time and helps us qualify our prospects better. The proof lies in the fact that our closing rates have improved, the sales cycle is shortened, fewer quotes are going out to unqualified prospects and we can now more effectively handle the bid wars with the competition. G Miller, Sr VP of Sales - Cap Gemini Ernst & Young
Your superb sales and sales management training programmes continue to deliver the edge we need, and your training efforts continue to earn an astounding 93 percent approval rating! That's why we've decided to bring the sales force of our new division under the Sander umbrella. Peter O'Neill, Sales Director - IBM
Sandler has been a revelation to our business and we are seeing an immediate positive impact on our sales numbers. Not only that, we are also seeing that the various aspects of the whole Sandler methodology and process can be applied to so many business situations. We strive to be different and Sandler only adds to our approach to standing out in a crowded market place. S. Taylor - Managing Director For Ecocleen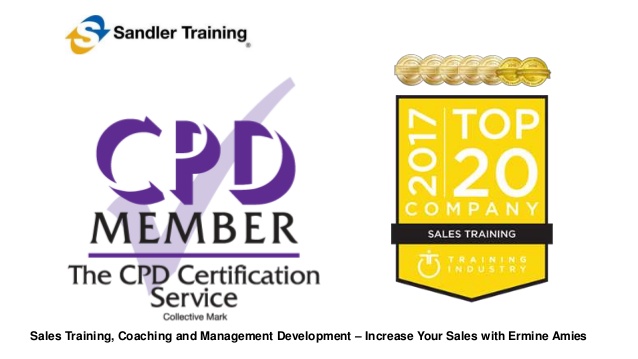 ---