Location
The Hase Pub and then onto No.3 Gin Club & Restaurant, Hessle
3 The Weir
Hessle
HU13 0SB
United Kingdom
Description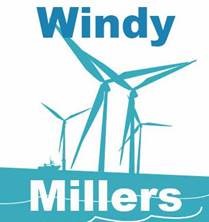 WINDY MILLERS' SOCIAL AND NETWORKING NIGHT OUT
Thursday, 4 April 2019
The Hase pub - http://www.thehase.co.uk followed by supper at No.3 Gin Bar – The Weir, Hessle
Our spring gathering of Windy Millers, will take place on Thursday, 4 April.
We know it's not been long since our last meet-up, but we've had to choose a closer date than normal as April and May are already full of events, including Easter and of course OWC2019! This will be our last WM until 4 July.
We asked our last WM group which venue they preferred (Hessle or Hull), and Hessle has been selected. However, just to mix things up a bit, it's likely that the WM after this one scheduled for 4 July could be on the south bank!
The evening will commence at c 18.00 (or just after) at The Hase pub, http://www.thehase.co.uk then we're booked for 19.30 at No3 Gin Bar, The Weir for a 2 course supper. This self-paying supper will be £20.00 plus drinks of course!
As usual, our main aim for the evening is to meet up with like-minded folks, have a few beers/wines and or gins and of course, some fun! Networking with our members, friends, colleagues from the wind industry is also on the agenda, before going for supper at c 19.30.
If you would like to join us, and to save time on the evening, please would you pre-pay through Eventbrite through this link
The menus are attached for you to pre-select your choices from the starters, main courses and side orders, so please let me know what you would like to order in advance.
If you're staying over, the Premier Inn, Hessle (Home Farm) is just one of a few local hotels and is showing rooms today at just £30.50 Premier Inn This hotel is an 18 minute walk from No. 3 Gin Bar, so if you'd prefer to go by taxi – Karen's Cars can be booked up to 11.45pm, they will drop you off later just as long as you've booked prior to that time 01482 654321. Alternatively, The Village Hotel has rooms at £45.00 Village Hotel
If you've not attended a Windy Millers' night out before, here's the link to find out a bit more https://www.linkedin.com/groups/8553331
Everyone is welcome and we're looking forward to seeing you.