Description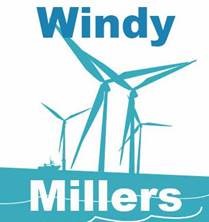 WINDY MILLERS' SOCIAL AND NETWORKING NIGHT OUT
Thursday, 28 February 2019
The Hase pub - http://www.thehase.co.uk followed by supper at No.3 Gin Bar – The Weir, Hessle
Our winter meeting of Windy Millers' night out will be on Thursday, 28 February and by popular choice, we've chosen Hessle again for this event. The evening will commence at c 18.00 at The Hase pub http://www.thehase.co.uk then we're booked for No3 Gin Bar, The Weir for a 2 course supper. The cost for the evening will be £20.00 plus drinks of course!
Our main aim for the evening is to meet up with like-minded folks, have a few beers/wines and or gins and some fun! Networking with our members, friends and colleagues from the wind industry is also on the agenda, before going for supper at c 19.30.
If you would like to join us, and to save time on the evening, please would you pre-pay through Eventbrite through this link The menus are attached for you to pre-select your choices from the starters and main courses.
If you've not attended a Windy Millers' night out before, here's the link to find out a bit more https://www.linkedin.com/groups/8553331
We're looking forward to seeing you.
Kind regards
Mary Green