A wine tasting exploring the beautiful wines from Tuscany and Central Italy
About this event
Wines from TUSCANY and Central Italy
The centre of Italy comprises Tuscany, Umbria, Le Marche, Abruzzo, Lazio and Molise.
In terms of wine, Tuscany has been dominant for decades, overshadowing its neighbours. Sometimes there are good reasons for this e.g. Tuscany is the home of Chianti, Brunello and the SuperTuscans. However, don't overlook the other regions: they also produce some very fine wines from a host of indigenous grapes such as Lacrima, Bianchello, Montepulciano, Pecorino, several of which are relatively unknown in the UK.
This is an opportunity to taste some fine examples of wines from Central Italy, to experience the amazing range of styles, aromas, flavours that this extensive area can offer.
In this tasting it is planned to include some well-known wines, such as a Chianti and a 'Super-Tuscan' from Tuscany, and a powerful Montepulciano from Abruzzo plus some little known wines such as a luscious Bianchello white wine from Le Marche.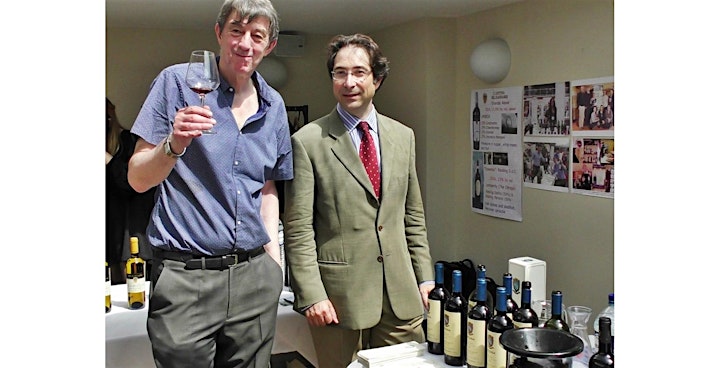 Photo: Gordon with Ascanio Orlandini, winemaker Tenuta Il Santo, producer of 'Argena' Super Tuscan wine
-----------------------------
In our wine journey around Italy, we will be tasting about 8 different, delicious wines from Tuscany and other wine regions of Central Italy.
All the wines in this tasting will be of very high quality.
Our tasting will be guided by Gordon Stuteley, MBA CEO of GS Wines, who, through extensive travel within Italy, tastings and contact with Italian winemakers and personal research, has attained a wealth of knowledge of Italian wine grapes and wine styles which he will share with you whilst tasting the wines together. A set of wines show-casing quality as well as variety!
We are also honoured to have winemaker Ascanio Orlandini , from Tenuta Il Santo in Tuscany, present at the tasting to talk about his 'Argena' Super-Tuscan (Sangiovese) wine which we will be tasting!
NB: Seating and service will be organised and provided according to current Easing of Lockdown Regulations.
A ticket for the WINE-TASTING & Dinner event costs £64.50 per head (plus Eventbrite fees) offer open only to persons aged 18 years or over), and includes:
a welcome drink of a high quality Italian sparkling wine
an illustrated and guided tasting of at least 8 quality Italian wines
winemaker presentation - short presentation by winemaker Ascanio Orlandini of Tenuta Il Santo winery from Tuscany
delicious snack from Sicily Restaurant to complement the wines for tasting
FREE LIVE Musical Interlude (not charged in ticket and may be included subject to availability of artiste(s) - to be confirmed)
post-event feedback report (based on participants own wine ratings and feedback)
a mini prize draw at the end of the wine tasting to win prizes of wines plus a selection of quality non-alcoholic Italian produce
SICILY 3-course Dinner - Special Menu
----------------------------------------------------------------------
Update
Sunday 10th October 2021 We now have our list of wines for tasting - including 2 vintages of 'Argena' Super Tuscan wine from Tenuta Il Santo, Tuscany (please see below for the full list).
Wednesday 6th October 2021 SICILY Restaurant 3-Course Special MENU is now ready - please see details in the Menu section below. Our list of wines for tasting is being finalised, and will shortly be put on this page.
Tuesday 20th September 2021 Launch of ticket sales!
----------------------------------------------------------------------
Wine List of Wines for Tasting (Updated 10 OCT 2021)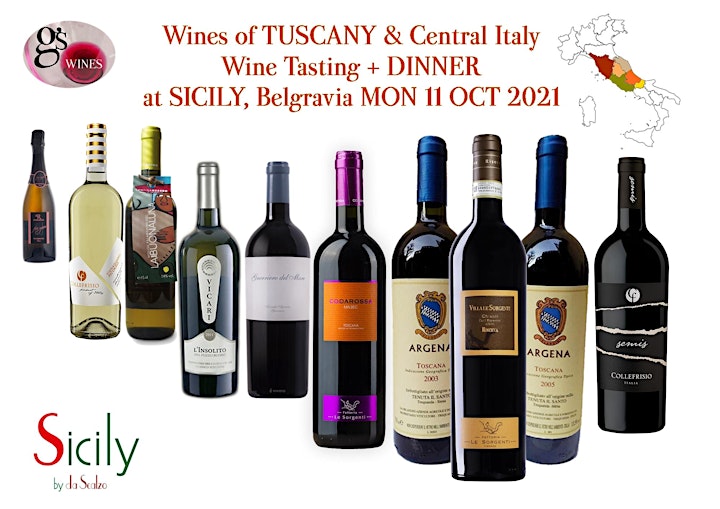 WHITE Wines
RED Wines
Le Sorgenti 'Coda Rossa' Malbec 2017 IGT 13.5% Red, Tuscany
Tenuta Il Santo 'Argena' Super Tuscan 2004 IGT 13.5% Sangiovese Red, Tuscany
Orlandini Tenuta Il Santo 'Argena' Super Tuscan 2007 IGT 13.5% Sangiovese Red, Tuscany
Le Sorgenti Villa Sorgenti Chianti Colli Fiorentini 2017 DOC 14.5% Red, Tuscany
Collefrisio 'Semis' Montepulciano Rosso 2012 DOC 14.5% Red, Abruzzo
SPECIAL Set Dinner* offer for our guests following the Wine tasting event:

As a special offer for attendees, a post-tasting SICILY SPECIAL Wine Tasting Event Menu (3 course - starter, mains, dessert)
(Updated Wed 6th October 2021)
Starter
Calamari fritti fried squid seasoned with smoked paprika, sea salt
Pepata di Cozze fresh Scottish mussels with dry white wine, garlic and parsley served with garlic toast.
Gnocchi fritti (v) deep fried potato dumplings filled with tomato & mozzarella and topped With a tomato & fresh basil sauce.
Mains
Branzino al cartoccio seabass fillet with fresh orange, datterini tomatoes, courgettes, capers, dry white wine & fresh herbs, oven baked in cartouch, served with seasonal vegetables.
Tagliata di manzo thin sliced grilled Aberdeen Angus ribeye steak served with rocket and parmesan shavings
Caprese Salad (v) fresh mozzarella from Campania, sweet San Marzano tomatoes, mixed olives, fresh basil & aged Modena balsamic dressing.
Tagliatelle al Ragu di Manzo fresh egg pasta with a slow cooked Ox cheek ragu made with grass fed free range British beef.
Dessert
Tiramisu`
Panna cotta
Affogato al Caffe vanilla ice cream Italian espresso & a shot of liqueur of your choice.
Please let us know if you have any allergies, or require information on ingredients used in our dishes. All prices are inclusive of service charge and VAT.
TICKETS
If you wish to attend our WINE-TASTING plus Special 3-course dinner at Fish Central, please purchase:
Ticket: GS Wines WINE TASTING + Special 3-course DINNER - cost £64.50 (+ Eventbrite fees)
Ticket includes Welcome glass of Italian bubbly + Guided Wine tasting of at least 8 Italian wines + Snack with Wine Tasting + Free Prize Draw on the night + Special 3-course Set Dinner at SICILY + Voucher for £5 towards future purchase of a minimum of 1 case (6 x 75cl bottles) of Italian Wines from GS Wines
------------------------------
NB. Ticket prices are as stated and no further charges will be added to these.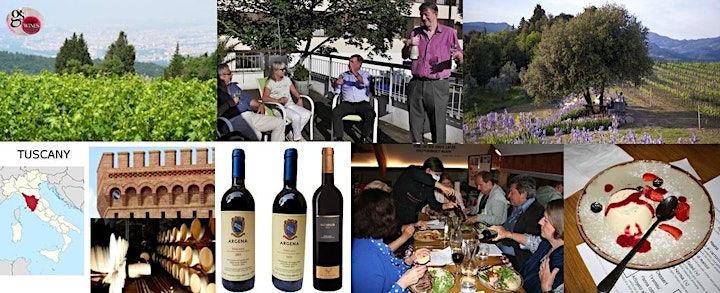 SUMMARY
This Event: 'Wines from Tuscany and Central Italy'
Venue: SICILY Italian Restaurant (Belgravia)
Date: Monday 11th October 2021
Time: 5:30 PM for welcome drink
Wine Tasting: Approx. 6:30 PM start of guided wine tasting. (approximate duration 1 hour 15 mins) Includes presentation by winemaker from Tuscany, Ascanio Orlandini
End of Wine Tasting: 7:40 PM
Dinner: 8:00 PM
The evening promises to be an enjoyable tasting experience of some very well made, better known Italian wines, as well as some not so well known in the UK,  in a relaxed informal, and convivial setting!
We look forward to welcoming you!
Organiser of Wines of TUSCANY & Central Italy - Wine Tasting + DINNER at SICILY, London
Gordon Stuteley MBA, CEO GS Wines, has had a keen interest in wines from all over the world since the 1970s. He has delivered numerous informal and entertaining talks (at corporate events as well as private wine tastings) about Italian wines, grapes and winemakers, sprinkled with interesting historical anecdotes and notes in general about wine making. He has recently combined his love of operatic music and Italian wine in events that offer the best of both worlds such as concerts of operatic arias with a bit of wine tasting!