Multiple Dates
Wings & Wheels 2021 at the City of Norwich Aviation Museum
Wings & Wheels Event at the City of Norwich Aviation Museum! Saturday 3rd July / Sunday 4th July 2021
About this event
Wings & Wheels Event at the City of Norwich Aviation Museum!
Saturday 3rd July / Sunday 4th July 2021
After a successful first event in 2019; On Saturday the 3rd and Sunday 4th July 2021, the City of Norwich Aviation Museum plans to host its second annual Wings & Wheels Event between 10am and 5pm; allowing you the chance to get up close and personal to classic cars, motorbikes, military vehicles and equipment, historical re-enactors, military and civilian aircraft, equipment and displays.
Along with these visiting displays, the museum's very own Vulcan Bomber, Nimrod, Lightning and Jaguar Cockpit will be open for guided tours along with its Hawker Hunter Flight Simulator, Fokker F27 Friendship, Herald and recently acquired RJ85.* Over the weekend, the Vulcan, Nimrod and RJ aircraft will be brought to life to demonstrate some of the systems used when in active service. This includes a demonstration of the Vulcan's bomb bay.
After exploring the outdoor displays; visit the museums newly refurbished Friendship Tea Room which will be serving light refreshments throughout the day as you enjoy live music and an excellent atmosphere of what promises to be an interesting weekend for visitors!
All entrance money raised will go towards the Museum's development fund, which supports the maintenance of exhibits and allows the museum to develop future projects such as making the site more accessible and a much-needed hangar to house some of our prized aircraft and exhibits.
Address: Old Norwich Road, Horsham St Faith, Norwich, Norfolk, NR10 3JF.
Tel: (01603) 893 080 Web: www.cnam.org.uk E-Mail: admin@cnam.org.uk
Registered Charity Number: 287745
*Subject to Volunteer Availability
Normal admission prices will apply to the museum.
Cockpit & Simulator entry given on a first come first serve basis - additional charges will apply.
£1 Surcharge applied to 'Live' Aircraft Tours and dependant on aircraft serviceability.
Photography is allowed inside the aircraft free of charge and access to all aircraft is via Stairs.
Please Note: By signing up on Eventbrite you are confirming your attendance to the event. Normal entry fees to the museum will be payable upon entry. Additional fees may apply for Cockpit and Simulator tickets.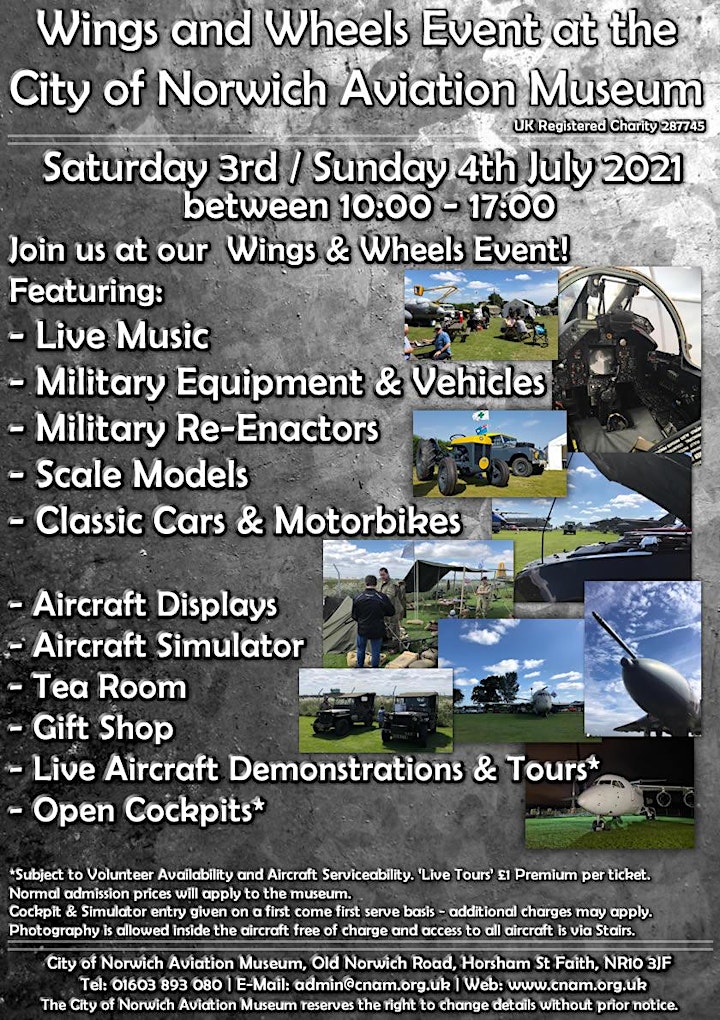 Organiser of Wings & Wheels 2021 at the City of Norwich Aviation Museum