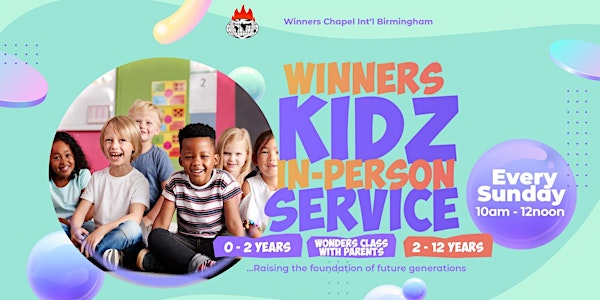 WINNERS KIDZ SUNDAY SERVICE REGISTRATION | WINNERS CHAPEL INT'L BIRMINGHAM
Location
Winners Chapel International Birmingham
241 Wellington Rd
Perry Barr
birmingham
b20 2qq
United Kingdom
WINNERS KIDZ IN-PERSON SERVICE REGISTRATION
About this event
The church is open for communal worship but the following is required of you when you come in;
1. Some (not all) on-site safety measures are still in place: Social distancing & wearing of face masks is still advisable to ensure a more welcoming environment.
2. Registration for CHILDRENS CHURCH is the ONLY registration you would need to do. All other registrations (Covenant Hour of Prayer, Midweek Service, and all Main Auditorium and Teens Church registration) is no longer a requirement.
3. If you are exempt from wearing masks, you are still welcome to church
4. Please observe the use of the designated entry & exit areas
WORSHIP ONLINE IF
1. You or anyone in your household are displaying any Symptoms of Covid-19
2. You're are isolating or living with someone isolating, please worship online to reduce the spread.
We love you and the church will be fully open soon. Stay connected!