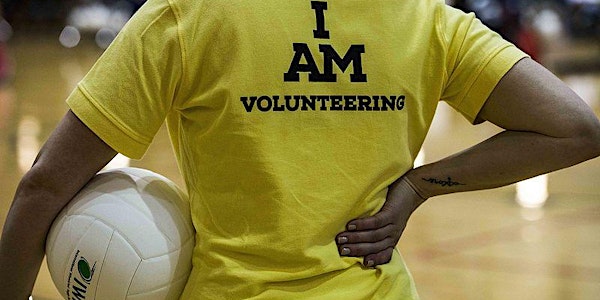 Winning in Volunteer Management: Working together, what can we achieve?
Description
21 September 2017 at The Crypt, Christ Church Spitalfields Commercial Street | Spitalfields | London
Volunteering and Sport have the power to change lives, but do all Volunteer Managers Face the Same Issues?
Volunteers in sport make up the highest percentage in the UK (22%), and volunteer management is a focus for many sporting organisations looking to expand the capacity of their sport. With the spotlight on volunteering brought about through the Gamesmakers of the London 2012 Olympic Games, what lessons have been learned about effectively engaging volunteers in sports organisations?
Volunteer Managers at Sports organisations address certain issues that are unique to the sports sector. However, they also face many issues that are universal. What can the sports sector learn from the charity sector about how to manage volunteers well?
This event aims to bring together presenters and delegates from sports and non-sports volunteer organisations, to see how sharing experiences, challenges and successes can be of mutual benefit to all.
Several of our speakers will be sharing their personal experiences of both sports and non-sports volunteering and volunteer management.
As always, there will be plenty of networking opportunities and roundtable discussions and a Panel Debate, allowing all our delegates the chance to express their views and opinions.
AGENDA, (subject to change):
10:30 Arrivals, tea, coffee and networking.
11:00 Welcome from Bryan Precious, AVM Director.
11:10 Jenny Betteridge, Sport England,
Combining the power of Sport with Volunteering
This session will give an introduction to sports and physical activity volunteering; what makes it unique, and where it relates to volunteering across other sectors. Provide an overview of the opportunities for organisations and communities to harness the transformative powers of both volunteering and sport. But also highlight a couple of challenges, and how we might work together to overcome them.
Jenny joined Sport England in February 2017, after spending 13 years working in political and community volunteer mobilisation, to lead on Sport England's first volunteering strategy, 'Volunteering in an Active Nation'
11:45 Kerry Marland, England Athletics, Alex Beaumont, LTA / British Tennis,
Volunteer Management in Sport vs the Charity Sector: it's all the same anyway, isn't it?
Kerry and Alex have both made the move from the charity sector to sport to lead volunteering programmes at their organisations, England Athletics and the Lawn Tennis Association. In this talk they reflect on their own experiences of this move, what are the similarities and what are the differences, and how the sectors can learn from each other.
Kerry is the National Volunteer Manager at England Athletics, the national governing body for grassroot athletics and running in England. Prior to her move to sport, Kerry worked in a number of senior volunteer management roles within the charity sector, most recently at Marie Curie and Tenovus Cancer Care.
Alex joined the Lawn Tennis Association as Volunteering Manager in May 2016, overseeing a strategy that engages over 25,000 volunteers throughout tennis. Prior to this role, Alex worked in volunteer management in the charitable sector for a number of years, including Missing People and the MS Society, from an operational to a strategic level
12:35 Roundtable discussion

1pm Lunch

1:45 Dr Fiona Reid, SVRN / Glasgow University, Dr Lindsay Findlay-King, SVRN / Northumbria University

Lindsay and Fiona will be speaking from the academic research perspective, looking at some of the applied research that has been done with sports organisations and its uses for developing future practice. Lindsay and Fiona represent the UK Sports Volunteering Research Network which aims to facilitate the interchange of information, ideas, and practice in the research of sport volunteers; especially between researchers and practitioners.

Fiona is a Lecturer in Sport and Event Management at Glasgow Caledonian University (Scotland, UK). Her research encompasses sports geography, sports development and sports events, and she is currently focussing on volunteers and the voluntary sector in sport.
Lindsay is a Principal lecturer at the Department of Sport, Exercise and Rehabilitation, Northumbria University, Newcastle-upon-Tyne. Her research focuses on sport and leisure volunteering experience, recruitment and retention. This work has included: sports club, facility and event settings, and uniformed youth organisations.
2:20 Chantel Scherer, Join In / the Sport and Recreation Alliance

Volunteering in sport: how we recruit, retain and reward our volunteers.

This session will share how to get more people active through volunteering and how best to recruit, retain and reward volunteers using the GIVERS framework. GIVERS transforms data on over 300,000 volunteers into a simple, practical tool to help anyone recruit, retain and reward more volunteers.

Chantel is Director of Marketing, Communications and Member Engagement, at the Sport and Recreation Alliance and she looks after the Join In brand, which was set up after the London 2012 Olympic and Paralympic Games, to capitalise on the power of major sporting events to benefit grassroots clubs. Prior to joining the Alliance, she was Head of Communications at Samaritans, a leading mental health and suicide prevention charity, working with over 22,000 volunteers who deliver the charity's service to nearly 6 million callers a year.

2:55 Panel Debate: hosted by Kerry Marland, Panel to include: Will Watt of Jump Projects; Alex; Kerry; Fiona or Lindsay;

3:30 Roundtable Feedback

3:50 Closing address: Bryan Precious, AVM Director.
Any enquiries, please contact the L&D Officer on greville.southgate@volunteermanagers.org.uk

or 020 7426 9192
Not a member? Why not join AVM and save on the cost of your ticket? YOU CAN JOIN HERE
Organiser of Winning in Volunteer Management: Working together, what can we achieve?