Winning Twice: Using Sustainability to Drive Innovation: Creating Resilience and Competitive Advantage. £65+VAT per person.
About this event
Why this workshop?
Sustainability is moving rapidly from a choice to a necessity:
➡ The Covid crisis has highlighted the huge and interconnected challenges that we as humanity are facing.
➡ The latest report from the IPCC, the world's most authoritative body on climate science, demonstrates how rapidly we need to act to protect the planet.
➡ Employee shortages affecting our infrastructure - 76% of millennials consider a company's social and environmental commitments when making employment decisions.
Businesses that focus on sustainability – balancing People, Planet and Profit - will be the businesses that thrive. Research found that such businesses outperform others on several levels: lower operating costs (-90%), better profitability (+88%) and superior share price performance (+80%).
Now is the time to embed sustainability-driven innovation into your business so you can fast track to success.
➡ Learn about award winning sustainability and innovation models and frameworks that you can apply to your business immediately;
➡ See what success looks like with case studies on sustainability led businesses
➡ Interactive session with a world renowned innovation expert.
What you will take away
๏ A fresh perspective on innovation and sustainability
๏ An understanding of how to map your organisation's capabilities onto the UN's Sustainable Development Goals
๏ A roadmap for integrating sustainability and innovation agendas
๏ An understanding of why collaboration and diversity are key, and how to engage everyone in sustainability-driven innovation
๏ Tools and frameworks for bringing it all to life, including the award winning 6'I's® framework
What you will experience
๏ Opportunities to apply the learnings to your specific context
๏ Gaining insights into your own preferences and contribution in the context of innovation, as well as a better understanding of the contributions of others
๏ An open-hearted and open-minded environment in which all questions are welcome
Who might want to join
๏ Senior leaders responsible for providing the context in which sustainability driven innovation can thrive
๏ Those who make decisions about innovation
๏ … in short, anyone whose role involves 'leading for' rather than 'leading of' innovation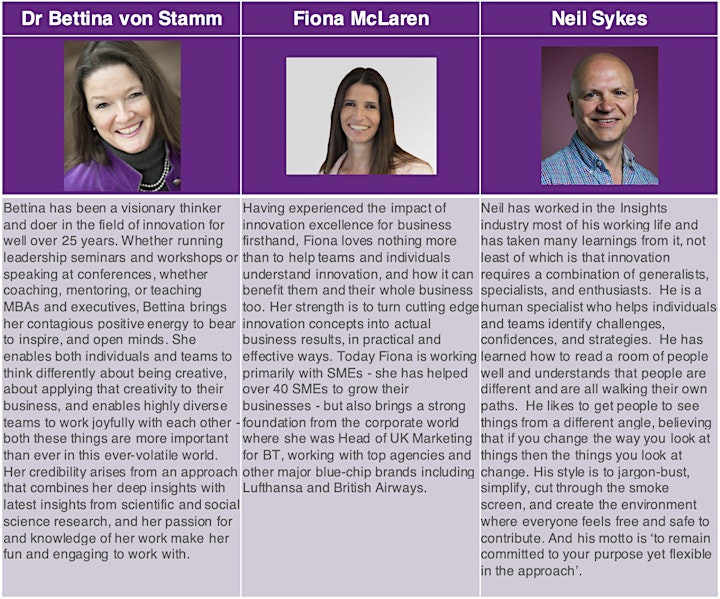 Sources1.https://www.ipcc.ch/report/ar6/wg1/ 2 .https://www.recruiter.com/i/why-corporate-sustainability-should-matter-to-recruiters/ \3 .https://investors-corner.bnpparibas-am.com/investing/sustainability-profitable
Date and time
Location
Refund policy