Learn about the Social Value Model, a £284 Billion opportunity and meet with corporate buyers and social enterprise suppliers
About this event
Co-hosted by Hogan Lovells and Supply Change, this event will help corporates and SME/Social Enterprises deliver on the Government's ambition for social value to be embedded in the delivery of all public sector contracts (in accordance with the latest Social Value Model requirements) and thereby win those contracts.
This event will provide insights on policy, law, best procurement practice, effective win strategies and how, through working with social enterprises, corporates can deliver positive impact. 
A meet-the-corporate buyer session will take place, allowing corporates to meet with social enterprises to create partnerships and opportunities to create social value.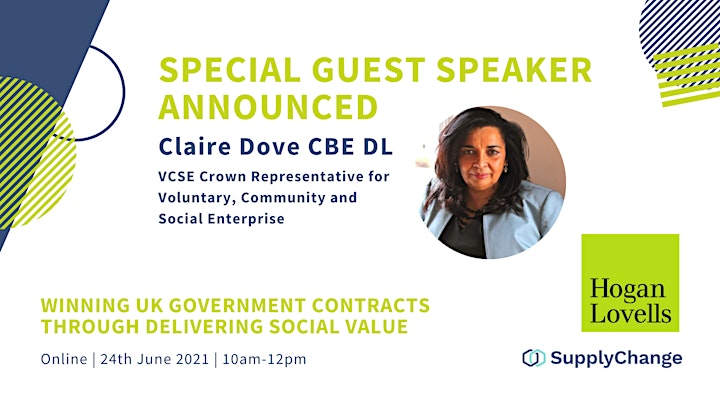 Claire Dove CBE DL, VCSE Crown Representative
Claire has been a key player in the Voluntary, Charity and Social Enterprise movement since the 1980's and currently has the remit of supporting the sector to access government contracts.
Claire is known nationally and internationally for her work in the sector and for ten years chaired Social Enterprise UK. She worked with government and leaders from the sector to create the first strategy for the Social Enterprise movement. Claire has ensured that VCSEs have a voice within Westminster and Whitehall; this included working with the teams to introduce the Social Value Act which is now embedded into many local government frameworks and in the national Crown Commercial procurement service.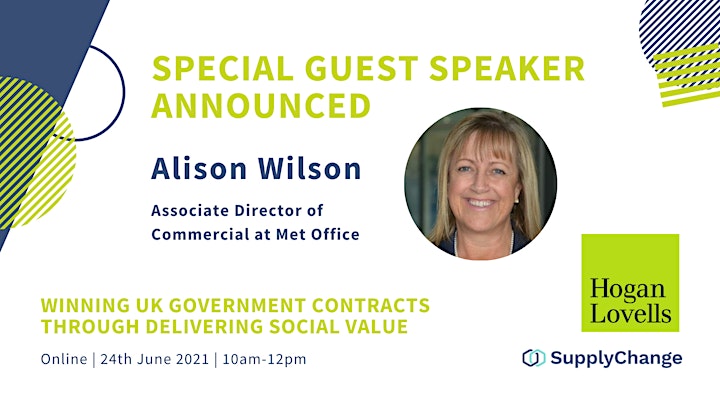 Alison Wilson, Associate Director - Commercial at Met Office
Alison Wilson is responsible for all elements of commercial activity with an annual spend between £95 and £120 million and a team of 23.
Alison started with the Met Office in 2007 and transformed the procurement from the traditional transactional approach to Category Management. The commercial transformation continues with cross organisation focus on Contract Management and Supplier Relationships. She is responsible for the management of the newly formed Strategy Partnership function to support the business with both economic and non-economic partnerships.
Organiser of Winning UK Government contracts through delivering social value