Description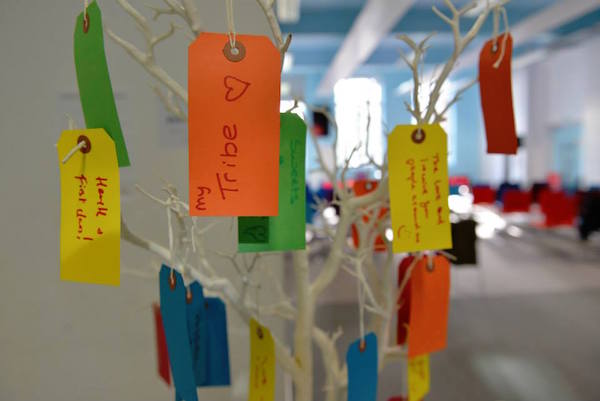 We are launching a Winter Happiness Festival at the Museum of Happiness, running for 4 weeks!
Here's what we have in store for you:
- A Giant Adult Ball Pool taking over half of the Museum of Happiness in Shoreditch, London. Probably one of the deepest ball pools in the UK!
- Gratitude tree, Letting Go bin, Mindful colouring in other activities that can boost your happiness skills (yes, happiness is actually a skill).
- A program of talks and workshops on Saturday afternoons in the basement of the Canvas Cafe - the home of the Museum of Happiness.
Tickets for the ball pool go on sale on the morning of Monday 16th January which is Blue Monday.
Reportedly the most depressing day of the year...but not this year if we have a say in it!
The actual festival starts on Saturday 21st January and finishes around 19th February.
This event will be shared with up to 1.3 million people in newspapers and magazines, and probably other media outlets too, so please ensure you book on the morning of Blue Monday - 16th January - to secure your tickets!
Tickets for the ball pool will be about £5.90, and the talks and workshops will be on a donation basis. Invite your friends and go in as a group!
Workshops (located in Canvas Cafe Basement Area)
Sat 21st Jan - Happier World Circle - This is a workshop/meeting for 'Happiness Changemakers' - People who are keen to help make the world a happier place, and value taking time to recharge themselves too. Separate Ticketed Event - Tickets here:
Saturday 28th Jan - Happiness, Gratitude and Laughter with our co-founder Vicky Johnson. Discover Vicky's journey to happiness, her love of gratitude and self-compassion, tips for practising gratitude and try out some laughter yoga too! The whole package! Tickets by donation on this Eventbrite page.
Saturday 4th Feb - The Power of Uke with Sarah Weiler - Bond with strangers, sing your heart out and laugh! Learn to play the Uke and sing really cool songs like Justin Bieber! Pumping energy into the winter blues with this energetic play shop. Sarah is one of our favourite contributors and her comedy songs are soooo good. And you can even buy a Uke from Sarah at the end if you wish. I defo want one!!! Tickets by donation on this Eventbrite page.
Saturday 11th Feb - Kindfulness Meditation with Shamash - Meditation doesn't have to be serious business. Short talk and 45 minute Guided Kindfulness Meditation for Relaxation, Peace and Happiness. Tickets by donation on this Eventbrite page.
Saturday 18th Feb - Yoga Day - 2-3.30pm - Our very own Rosa Connor and other yoga teachers will be offering an afternoon filled with yoga. Leave feeling peaceful, calm and refreshed! Canvas Cafe Basement. Everyone welcome! Tickets by donation on this Eventbrite page.
The Museum of Happiness, as seen in:
BBC News, Psychologies, Time Out, Evening Standard,
Facebook Event Page for Winter Happiness Festival
FAQs
Are there minimum age or height requirements to enter the event?
Yes!
This is an adult ball pool for 18 years olds or older. If you're 21 or under, bring ID as I know some of you happiness fans have great skin and look so young! (If our policy on this changes, check back here in the FAQ for the latest info)
Minimum height: 1 metre (3 ft 4 inches)
What are my transport/parking options for getting to and from the event?
Go here for Google Maps directions to the Museum of Happiness/The Canvas Cafe
Nearest undergrounds are Liverpool Street or Aldgate East. There's plenty of buses that serve this location too. Limited parking on the streets - if you must drive, there are some local car parks.

How can I contact the organiser with any questions?
You can email the Museum using the contact button on this page.
What's the refund policy?
Our policy is no refunds as they are so cheap and we don't have the admin capacity to deal with it.
But you can gift your ticket to a friend who I'm sure would feel happy to receive such a unique gift!
Is it dangerous?
We've taken precautions to ensure it's a safe experience. However, you will be given a few brief safety instruction to follow to ensure it's a happy experience for you and those around you.
Photography?
Yes, you can take photographs.
We need photos to promote future events too! We reserve the right to take photos and use them for future promotion of events. If you don't want use to do that, please let us know on the day and in writing by email, and we'll delete the photos.

Can I sponsor this awesome event and link my organisation to your lovely mission!
You can sponsor the event if you wish and your logo could be seen by up to 1 million people (as happened last year at our festival).
Contact us if interested and if you think your brand values line up with ours: kindness, creativity, community, conservation and mindfulness.
What's the hashtag for the event?
#WinterHappinessFest