Winter is here: Apocalypse & Climate Change in Christina Rossetti
Sales Have Ended
Registrations are closed
Please follow us on twitter @RHUL_CVS!
Sales Have Ended
Registrations are closed
Please follow us on twitter @RHUL_CVS!
Description
Who this event is for
Everyone. The event is free but there are limited numbers.
About the event
Explore the bleak mid-winter with Professor Emma Mason at Royal Holloway's Centre for Victorian Studies.
The evening will include a question and answers session with Emma and be followed by a wine reception.
Winter is here ...
Christina Rossetti wrote a series of poems about winter throughout her career—'Winter Rain', 'In the bleak mid-winter', 'Here now is winter', 'Winter: My Secret'—and valued the season as that into which the human Christ was born. In these poems, Rossetti identified winter as a 'type' of the apocalypse, a symbol of the end of time in which the earth is plunged into a series of natural and climatic disasters. But Rossetti attributed these disasters, not to God, but to the anthropocenic exploitation of the environment. She separated a human apocalypse of destruction and terror from the Second Advent of Christ in which creation, she wrote in The Face of the Deep, would be renewed and 'Absolute unanimity amongst all creatures' restored. In God's apocalypse, this paper argues, Rossetti saw a material and political, as well as spiritual and sacramental, response to climate change, one founded in her reading of early Christianity as a nascent ecotheological movement.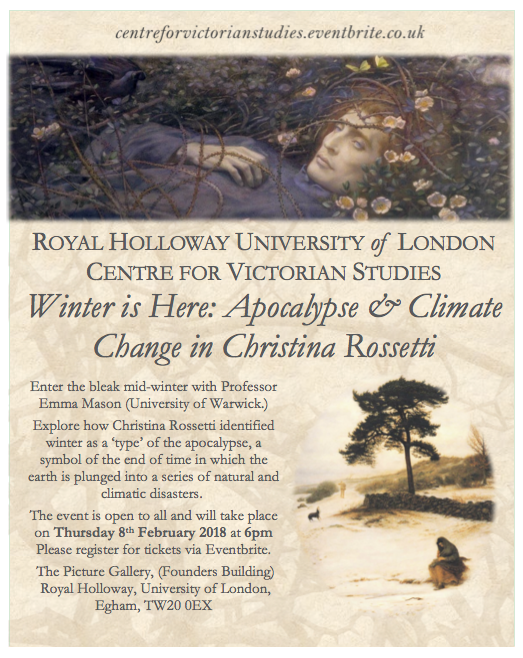 Where is the event?
The event will take place in our beautiful Victorian picture gallery located in Founders Building.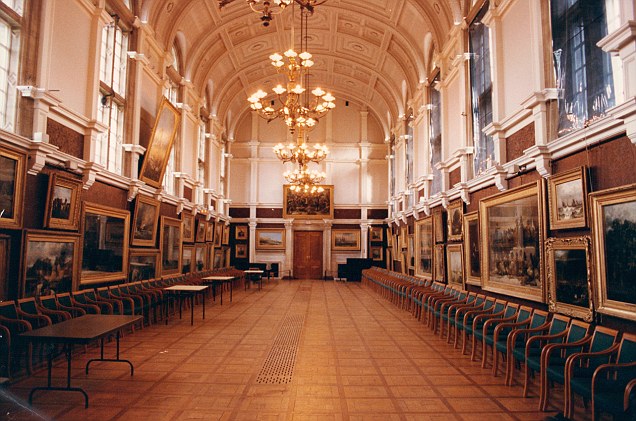 About the speaker
Professor Emma Mason is author of Christina Rossetti: Poetry, Ecology, Faith (Oxford University Press) which she wrote with the support of a Leverhulme Research Fellowship. She is also working on Weird Faith in Nineteenth-Century Literature: Theologies at Work, with Mark Knight (Bloomsbury); as well as a new edition of the works of Victorian poet, William Barnes, with Tom Burton (Edinburgh University Press).
At Warwick, Emma convenes the Philosophy and Literature BA with Eileen John in Philosophy, and teaches on the English & Comparative Literary Studies BA and MA programs. After studying at Cardiff University (BA English Literature; MA Critical and Cultural Theory) and Warwick University (PhD Comparative Literature), Emma was a British Academy Postdoctoral Fellow at Corpus Christi, Oxford. Emma has held Visiting Fellowships at the University of Madison-Wisconsin, the Huntington Library, California, and Pompeu Fabra University in Barcelona.
Emma is editor of the Year's Work in Critical and Cultural Theory (Oxford University Press); and serves on the editorial boards of Literature and Theology (Oxford University Press) and the Romanticism pathway of Literature Compass (Blackwell).
Emma is also developing a collaborative project on plant studies and consciousness called Terrarium.