Description
Winter Pimm's Networking is a unique event hosted by projectfive, which invites local businesses to join together to help Surrey Wildlife Trust clear some of the pine trees at Barossa, to allow the natural heathland-habitat to flourish.
You can enjoy tea and coffee courtesy of Wild About Coffee, network in the fresh air with 200 local business people, enjoy a delicious al fresco lunch courtesy of Surrey Markets, share some mince pies and Winter Pimm's and the best bit is that everyone gets to take a Christmas tree home with them – for free!

DON'T JUST TAKE OUR WORD FOR IT...


This established event has been a huge success for the past seven years; it's a great networking and team-building day out. But don't just take our word for it:
"Winter Pimm's Networking is a real highlight of the office calendar in the run up to Christmas. Fantastically well organised by projectfive; it's an opportunity to help return some of our local common land to its natural habitat, take home a free Christmas tree or two and support the Surrey Wildlife Trust. All this whilst networking with other local business people, enjoying Winter Pimm's and some great food - what could be better!"
James Stewart, Managing Director - Property, Dolphin Head


"Winter Pimms Networking is an informal highlight of the networking year, where you'll meet a broader cross-section of businesses than at the average event."
Keith Grover, Networking in Surrey


"I thoroughly recommend the event to others and am certainly looking forward to this year, and helping to beat last year's amazing achievement."
Mark Clinkskel, Branch Manager, Handelsbanken


---
AGENDA
10:30 – Arrival with Tea and Coffee, courtesy of Wild About Coffee. Informal networking with other businesses.

11:20 – WELCOME – 'maintaining the heathland' and the Safety Briefing.

11:30 – Pick and Cut your own Christmas tree (with the Surrey Wildlife Trust rangers).

12:45 – LUNCH BREAK, courtesy of Surrey Markets.

13:15 – Help clear as many trees from the heathland as we can manage – working in teams.

14:30 – Winter Pimm's and Mince Pies.

15:00 – Depart (before it gets dark!)
---
FAQs
What do I need to wear?

We'll be outside on the heathland, with only a couple of gazebos for shelter. We'll have a fire or two on the go, but do come dressed warmly with plenty of layers.
* Dress warmly with long sleeves/trousers/hat and gloves
* Bring a waterproof jacket (we can't be sure that the forecast is going to remain dry!)
* Sturdy/Waterproof boots are a good idea.
* Gardening gloves – we will provide some gloves on the day, but you may prefer to bring your own.


Where can I park?
The parking is along a dirt road with a few pot holes, so please drive slowly and cautiously. Please share a lift on the day if possible.
There will be some of the projectfive team acting as car park marshals on the day.

Most importantly - don't forget that you'll be taking your Christmas Tree home with you, so make sure it can fit into your car!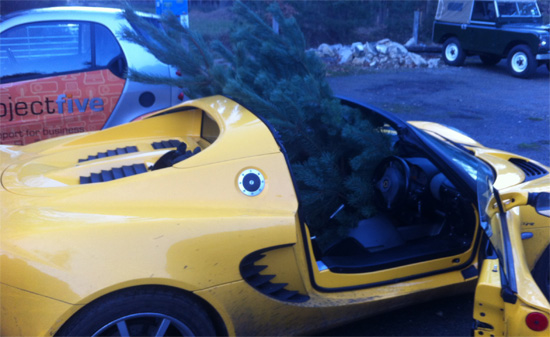 ---
This promises to be our best Winter Pimm's Networking event yet - and we can't wait to see you there!