Description
Winter Pimm's Networking 2019 is a unique event hosted by projectfive, which invites local businesses to join together to help Surrey Wildlife Trust clear some of the pine trees at Barossa, to allow the natural heathland-habitat to flourish.
You can enjoy tea and coffee while you network in the fresh air with other local businesses, enjoy a delicious al fresco lunch from Surrey Markets, share some Winter Pimm's and mince pies and take your own Christmas tree home - for free!
DON'T JUST TAKE OUR WORD FOR IT...
This popular event has been a huge success for the past 8 years; it's a great networking and team-building day out. But don't just take our word for it...
"I was blown away by how big the event is - I'd never seen so many smiling faces! Everybody was having a fantastic time and there was some brilliant networking going on as well. What more could you ask for?!"
Louise Punter, CEO, Surrey Chambers
---
AGENDA
10:30 – Arrival with Tea and Coffee. Informal networking with other businesses.
11:20 – WELCOME – maintaining the heathland and Safety Briefing.
11:30 – Pick and Cut your own Christmas tree (with the Surrey Wildlife Trust team).
12:45 – LUNCH BREAK (courtesy of Surrey Markets).
13:15 – Help clear as many trees from the heathland as we can manage – working in teams.
14:30 – Winter Pimm's and Mince Pies.
15:00 – Depart (before it gets dark!).
---
FAQs
What do I need to wear?
We'll be outside on the heathland, with only a couple of gazebos for shelter. We'll have a fire or two on the go, but do come dressed warmly with plenty of layers.
Dress warmly with long sleeves/trousers/hat and gloves.

Bring a waterproof jacket (we can't be sure the forecast will stay dry!).

Sturdy/waterproof boots are a good idea.

Gardening gloves - we will provide some on the day but you may wish to bring your own.
Where can I park?
The parking is along a dirt road with a few pot holes, so please drive carefully and cautiously. And if you can share a lift on the day, that's great.
There will be some of the projectfive team acting as car park marshals on the day.
Most importantly - don't forget that you'll be taking your Christmas Tree home with you, so make sure it can fit into your car!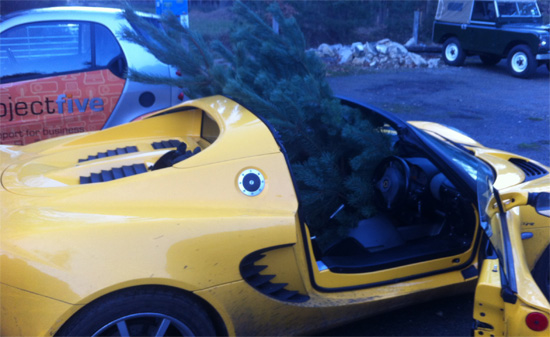 ---
We want to make this our best Winter Pimm's Networking event yet - and we can't wait to see you there!