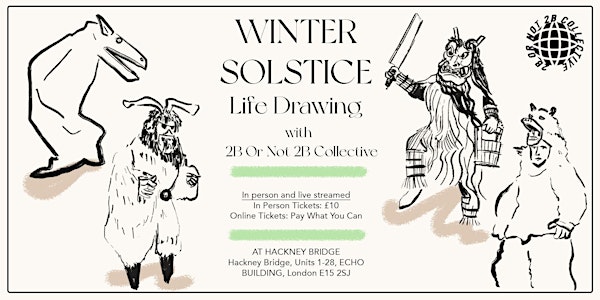 "Winter Solstice" Life Drawing at HACKNEY BRIDGE (In Person+Live Streamed)
Join us in this "Winter Solstice" Life Drawing at HACKNEY BRIDGE (In Person+Live Streamed)
About this event
Join 2B Or Not 2B Collective for a fun session of drawing, mental health maintenance and creativity…
**Eventbrite will send you a confirmation email with a link to access the event. If you do not receive this email from Eventbrite, or have issues entering the event, please message us on Instagram @2bornot2bcollective (this is more preferable) or email us at 2bornot2bcollective@gmail.com**
About this Event
PLEASE READ THE FAQ'S AT THE BOTTOM OF THE PAGE TO ANSWER ALL QUESTIONS ABOUT BOOKINGS <3
HYBRID SESSION: In Person and Live Streamed
Address: Hackney Bridge, Units 1-28, ECHO BUILDING, London E15 2SJ
MAX CAPACITY: 30 people
Join us in this special Sunday afternoon event in the heart of Hackney Wick in East London where BIPOC run life drawing 2B Or Not 2B Collective will be hosting a special "Winter Solstice" themed session featuring an array of props and costuming against the model's body.
For those of you further afield, live streamed tickets will also be available for you to join in via Zoom, the live streamed tickets will be pay what you can.
IN PERSON PRICE:
10GBP per person. Paper will be available, and some basic materials such as charcoal and chalk pastels, however do feel free to bring your own materials and sketchbooks along to the session!
ONLINE ENTRY PRICE:
Our online classes are pay what you can, we rely solely on your donations. Which go towards paying our models/zoom/website fees/pro bono list and allow us to keep on providing sessions! We believe in fair pay for models, therefore we pay 50% of all our online profits to help support our models.
HOUSE RULES AND MODEL SAFETY:
1. Please do not under any circumstances record (with your mobile) or screenshot the model, we welcome you to photograph, record and share your work on social media but please do not record their body out of respect for them, thank you! <3
2. We will be checking cameras throughout the session for security and safety reasons
Our sessions are inclusive and suitable for all abilities. Each pose is timed and called out before each pose.
What you'll need:
* Something to draw on and something to draw with! You can grab whatever is nearest at hand, pen and paper, ipad, envelopes, whatever floats your boat! Take a look at our instagram for more inspiration! @2bornot2bcollective
* Zoom. You'll need to register for a zoom account and install the app. Registering for a zoom account is free and is easy to do!  Sign up with Zoom via this link:
https://zoom.us/freesignup/
Follow us on instagram for more updates and join our community!
@2bornot2bcollective
REPLAYS:
For access to our replays visit our Gumroad page to see our previous sessions! They are at an affordable price of £5-7 with 50% royalties going towards supporting our models as they would in the live sessions.
www.gumroad.com/2bornot2bcollective
-----------------------------------
PLEASE READ THE FAQ'S AT THE BOTTOM OF THE PAGE TO ANSWER ALL QUESTIONS ABOUT BOOKINGS <3
Please read the following FAQ's as you may find the answer you are looking for already listed below. If these do not answer your question, then please email us or DM us on Instagram and we will be in touch as soon as possible.
Thank you for your patience!
Love, Jess & Erhan
What other 2B Or Not 2B Collective classes do you have coming up?
You can book and find all events info here: 
https://www.eventbrite.co.uk/o/2b-or-not-2b-collective-32803855775
Is there a Recording?
It depends on the model and whether they would like to have their session recorded or not. Most sessions are recorded but not all! We usually edit the recordings after the session and then upload them to our Gumroad page where they are available for purchase for a minimum of 5GBP-7GBP depending on whether it is a tutored, untutored or HD version. Once purchased you can stream (no downloads) the replay as many times and whenever you like.
Our replay website is:
https://www.gumroad.com/2bornot2bcollective
What time does the class start where I am?
All our classes take place UK TIME
You can use this site to convert UK time to where you are:
https://www.thetimezoneconverter.com/
How do I attend your classes?
You need to book your place via our Eventbrite page: 
http://2bornot2bcollective.eventbrite.com
Our classes take place online via Zoom. You will need to download and register with zoom before the session.
We will then send you a link to join the live class.
We send you the link to the class 1 hour before the class. If you have just found out about the session and it's last minute, please contact us for the link and we can DM it to you directly.
If you cannot find them, please check your junk or promotions folders for Eventbrite emails from us.
I haven't received the link to the live zoom class, what should I do?
Please wait a day before your class to receive your link.
Check your junk/spam folder for an Eventbrite email from us.
If you still can't find it email us at 2bornot2bcollective@gmail.com clearly stating the class title or model name in the subject heading, or message us on Instagram with your query.
All refund requests can only be processed via Eventbrite before the event start time. Please login to your Eventbrite where you will be required to state a reason for your refund.
Thank you for your interest and support!
Best wishes,
Jess & Erhan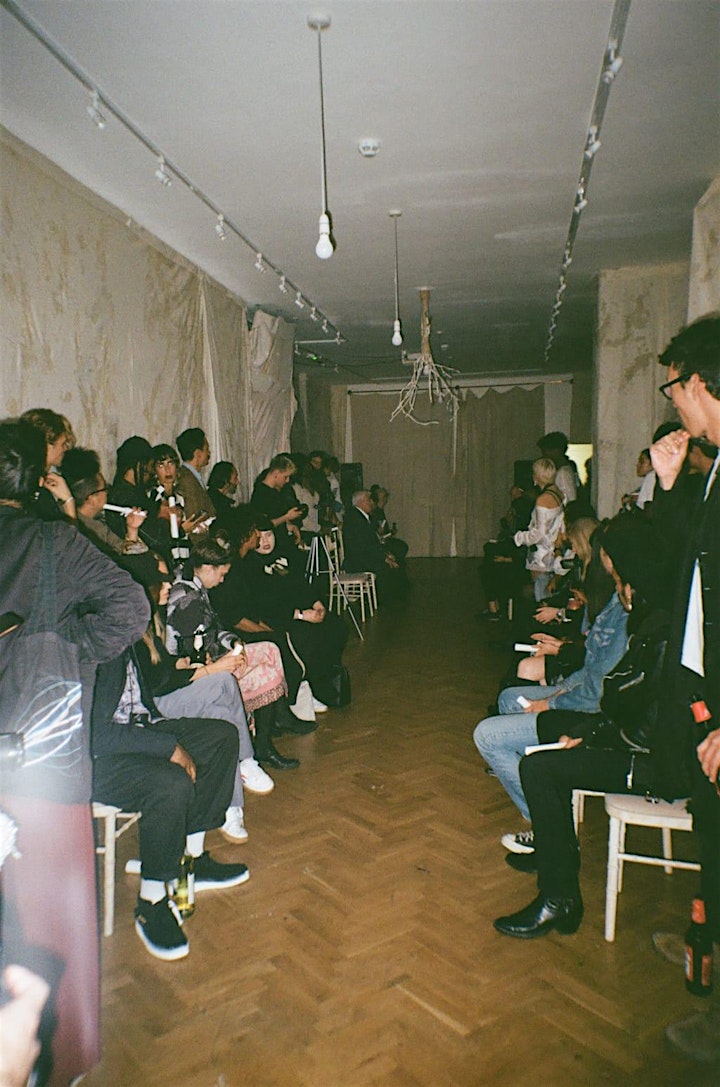 Organiser of "Winter Solstice" Life Drawing at HACKNEY BRIDGE (In Person+Live Streamed)