Event Information
Refund Policy
Contact the organiser to request a refund.
Eventbrite's fee is nonrefundable.
Online Sacred Cacao Ceremony with lap harp and voice. Harness solstice energies to realign intentions and prepare for the Winter cycle.
About this Event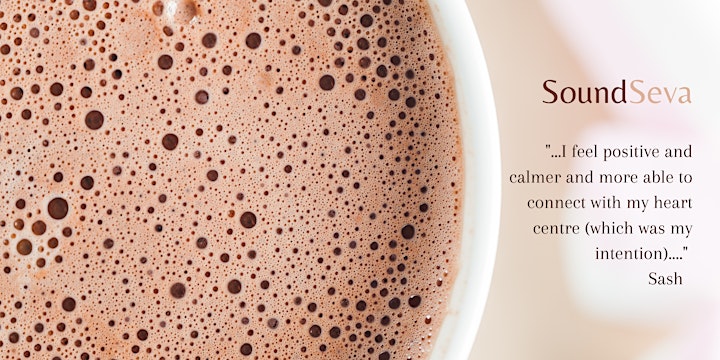 Realign intentions and prepare for Winter with cacao-infused love and clarity.
Be held by pachamama, Sacred Cacao, lap harp, earth and water chimes to receive guidance, insight and wisdom.
Release that which will not serve you to carry into winter's deep introspection.
In my 7-year relationship with Sacred Cacao, I have witnessed transformations and healing trajectories in myself and others through her (Sacred Cacao's) guidance. She expands the heart and calls us home to Pachamama (Mother Earth). She resets us upon the right path and is a valuable ally to help us walk with clarity, heart and presence. She is a useful ally to work with over Winter Solstice, as both invite introspection, creativity and intention-setting.
I'm anticipating a nurturing ceremony of deep retreat into the heartbeat of Pachamama (Mother Earth) and the divine feminine. Our cacao-infused presence will enable a release of that which is ready to be surrendered in preparation for the Winter and year ahead. We will prepare our beds' and allow the old to rot away with lessons learned. As our learning fertilises our soil foundations, we shall create space to allow new seeds of inspiration to emerge. Seeds that shall ripen as we nurture them through the winter months ready to be sown in the Spring. While Summer Solstice celebrates the Sun, for me the Moon, with her deeply feminine, reflective qualities holds significance for the Winter Solstice. Sacred Cacao is also feminine in her qualities and invites feminine flow into our ceremonies. Feminine qualities of creativity, visioning, intution, nurture and abundance lie within us all: men and women. So, all are welcome to join Sacred Cacao and I as we rest within the pause between the seasons of Autumn and Winter to reflect, release, prepare and realign intentions.
If you have work the next day, you can go lightly with Sacred Cacao or simply join us for the sound healing and meditation.
I hope that you can join us. The last online event was really beautiful!
About Ticketing:
Choose from the 3 ticket options to suit your heart and purse!
Please ensure that you read: 'Please Note' & DISCLAIMER before booking (scroll down).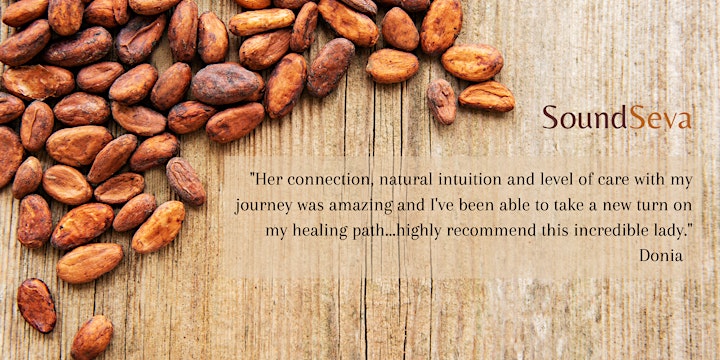 What to expect
SAFETY: A well-held community space. Your safety and well-being is prioritised from preparation to after-care.
MEDITATION: Non-denominational prayer/intentions that ground humility for love, life and light is integral to every SoundSeva ceremony.
Drink Sacred Cacao tea with intention and meditation.
Clarify your intentions for the winter cycle and year ahead.
LEARN: to connect and develop your relationship with Sacred Cacao essence.
Learn how to prepare Cacao and space for ceremony.
HEALING, BALANCE & RE-ALIGNMENT: Sacred Cacao's blissful, loving and divine-connecting properties (See below: 'Cacao...what is she good for? ) can stimulate cleansing and healing. She will gently dissolve resistances and you may experience emotional release.
GUIDANCE: Sacred Cacao guidance through my voice and instrumental sound intuitively flows with the needs of the group to soothe and guide.
As well as this guidance you will also receive a card reading to support your journey. This will be emailed to you after the event.
3 hours of ceremony is set to ensure a relaxed pace. We may end sooner if so intuited.
Held within the comfort of your own home, your experience is just as deep and powerful online.
You are welcome to journal.
Please Note: As I work intuitively with Sacred Cacao and your needs, the above themes may change.
Cacao...what is she good for?
Cacao (raw chocolate) is non-psychoactive and contains essential minerals, B vitamins, vitamin E , flavonoids with anti-oxidant properties and neurotransmitters:
Theobramine and Histamine Arginine (natural Viagra) help the heart and circulation.
Endocannaboid (the body's natural cannabis), Dopamine, Anandamide and Phenylethylamine invoke 'BLISS' and 'LOVE' states.
Also useful for: circulation, memory, menstrual and menopausal issues, energy, blood pressure, inflammation and pain-relief. I can personally vouch for her effectiveness with menstrual cramps!
Cacao also brings:
Enhanced meditation
Clarity
Heart-centering
Creativity
Love and compassion for self and others
Release
Divine alignment
Antidote to Fear
Reconnection
The Mesoamericans referred to Sacred Cacao as 'Medicine of the Gods' as the priests, upon drinking her sacred bitter tea, became divine conduits of wisdom, insight and guidance.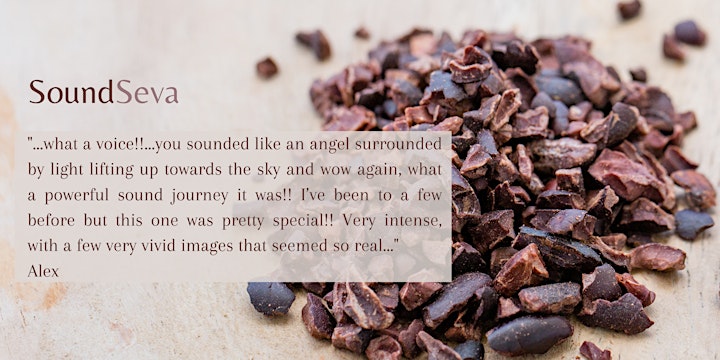 Please note:
Advance tickets only.
Tickets are set per person. So, if there is a group of you intending to join us through the same/multiple device(s), please ensure that each person purchases a ticket. Thank you.
Children up to age 12 are welcome to sit in if childminding is an issue (FREE).
For more information about me, Jasvindar Kaur, see below or visit my website.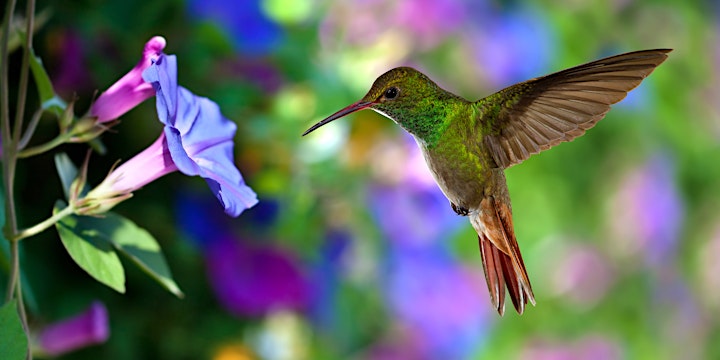 DISCLAIMER
Please contact me before booking if you are pregnant or breastfeeding and/or if you need to avoid chocolate due to a medical condition; e.g: you're taking seratonin inducing anti-depressants. If, due to a condition, you are unsure whether this event is appropriate, please seek medical consultation. You are also welcome to contact me with queries. To receive a refund minus booking fee, please provide a minimum 3 days cancellation notice. Cancellations beyond the 3 day notice will not be refunded. Exceptional circumstances will be considered on a case-by-case basis.
Feedback from a previous New Moon Sacred Cacao Ceremony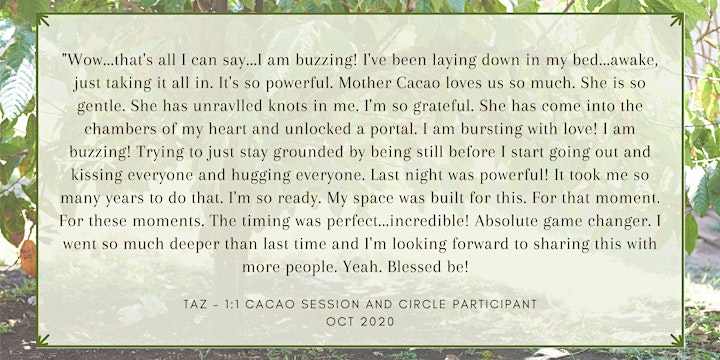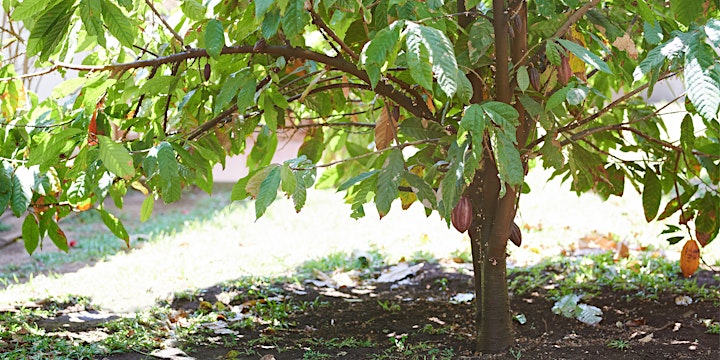 Date and Time
Location
Refund Policy
Contact the organiser to request a refund.
Eventbrite's fee is nonrefundable.