Event Information
Refund Policy
Contact the organiser to request a refund.
Eventbrite's fee is nonrefundable.
Journey and activation of a new reality on Earth. Are you ready for a brand new chapter and rebirth to meet a new version of yourself?
About this Event
The Winter Solstice is a powerful time of awakening. Winter is always a time to go within to see what we will birth for the coming year. As so much change continues to unfold on the planet, it is time for new directions and awakening a greater aspect of ourselves.
The soul has many colours and we are here to assist you in awakening and activating your multi-layers and multi-facets during this time on Earth.
Join me for a transformational journey of healing, activation and deep meditation. Receive cosmic codes and higher frequencies of light in your being. Let's come together to commune with spirit on the incredible Winter Solstice and create a world that we desire.
It is time to prepare for a greater vision for ourselves and the world. Each one of us hols sacred keys during this time of growth.
We will start with an energy update followed by a one hour transmission, channelled guidance and receiving new information and soul deep healing and activation.
WEEKLY ONLINE GROUP SESSIONS
Join our powerful online group sessions as we bring souls from all around the world and work with the current energies of these times.
We work on every level of the mind, body and spirit, clearing lifetimes of armour and old constructs and belief systems that are limiting individuals from being everything they came here to be.
These sessions will assist you in becoming clear and powerful, as we anchor new frequencies of crystalline light and unconditional love from beyond our world - the highest frequencies of unconditional love and light working with many beings from the cosmos.
The sessions clear deep cellular, DNA, physical, emotional, mental and energetic levels of the being. Clearing through time and space and through lifetimes that which is out of balance to restore balance and heal within.
Testimonials of our Group Sessions:
I first heard Neelam's beautiful angelic voice two years ago when she was doing a radio interview about meditation and why she left her successful corporate career to follow her higher calling to help others. I was spellbound listening and received so much energy and comfort from that first encounter as it was a time of great personal turmoil and I was barely functioning on auto pilot in my day to day life. This year has been a turning point as I have joined Neelam's online group healing sessions and I have gradually gained much joy and motivation in my life again. The clarity, comfort and understanding that has been shared by Neelam's transmissions is profound as my own consciousness is being raised, my awareness is developing and I see things before Neelam describes them exactly as they were presented to me.
What is even more amazing is my daughter's 2-year-old dog comes running through the house every time she hears Neelam's voice on the weekly Zoom sessions. She charges into my room and up on the bed while I'm preparing for meditation. I've tried closing the door, turning down the sound and putting her outside but she still manages to get in and be near me during the meetings. She goes into a deep sleep within minutes, often snoring loudly and remains asleep until Neelam ends the meditation. Recently during the Green Tara meditation, she barked in her sleep, wagged her tail and gave a series of howls while dreaming which is something I have never heard her do before.
During a one-on-one healing session with Neelam the dog sat on my lap and curled up quietly at the start and was very resistant to move to her own spot so my energy could be read rather than hers. However, after Neelam suggested I move her, she suddenly relented and I feel she understood herself. Once I put her in her own place at the end of the sofa, she stayed there the entire time without any fuss, totally blissed out. She definitely has been a different dog since I started meditating with Neelam five months ago and is now more relaxed, happy and much calmer than when she first arrived as an anxious and timid rescue dog. I thank the Universe every day for sending Neelam into my life and the lives of the others who meditate remotely in group sessions with us. For me, (and my daughter's dog), it's been profoundly life changing. Julia, Sydney, Australia
Neelam is a very advanced soul and a gift to our world. It is so evident to see the divine vessel of unconditional love that she embodies. Her abilities and understanding of the cosmic energy is so beautiful as she works with such a magical array of beings - and how she shape-shifts into shamanic power animals and beings of light is truly amazing and inspirational. It has been an incredible experience for me, and I feel truly blessed that our paths crossed. Her group sessions were exactly what I needed during the lockdown period. A time of deep healing and going within. They have nourished and healed me on the deepest level. Thank you sweet Neelam. Clare. UK
Neelam is one of those ageless, timeless, rare souls whose purpose on the planet seems to simply be one of serving and sharing the vibration of love. She lives and walks in the expression of kindness, compassion, and unity consciousness for the betterment of humanity, our planet, and even our Universe. Her voice carries a divinely gentle, calming frequency of feminine wisdom and healing. Thank you dear Neelam for your beauty and your incredibly touching sparkle. JG USA
My heart gushes in deep gratitude to Neelam for her service not only to me, for others, yet for our planet. All living things are going through deep transformations and it's crucial that we have spiritual guidance for support. I have worked with many "spiritual" people, yet find myself continuing to be drawn to Neelam as she holds a special and sacred essence that exudes safety, support, compassion, trust and SO DEARLY LOVING.
It you are not familiar with Neelam, you have a treat in store for you. Get to know her offerings, and I especially recommend her meditations – so powerful; transforming. She clearly holds special light(s)magic which is dearly needed as we transmute and alchemise energies into love and light. Neelam exudes authenticity in all ways – I'm incredibly blessed I found her….and I know you will as well. Carolyn Story – Orcas Island, WA – USA
I've been grappling with the right words to describe working with Neelam who is a truly gifted channeller, alchemist and healer.
Over the last several months I've participated in her group meditations where I felt embraced by her loving, gentle yet profoundly powerful guidance. This guidance is assisted by the most beautiful higher dimensional beings.
She bridges the connection between the group and the cosmos so we can receive and experience the unconditional love, wisdom and guidance from many different ascended beings in many different dimensions. These have been extraordinarily expansive experiences which have helped me navigate and understand the vibrational changes that are now occurring.
To truly understand the uniqueness of these meditations, I highly recommend experiencing them. Each one is different and divinely guided and will take you on amazing soulful journeys that will help you grow and more deeply understand your own light and path. In light and love
Patrice Cahill USA
I experienced extraordinary new awakenings through my work with Neelam. Her ability to escort you to higher dimensions and channel personalised information will broaden your own psychic abilities, align your purpose, and move you fully into your potential. You'll love her comfortable, caring and genuine style. An experience with Neelam is rich, rewarding, and I guarantee you'll be delighted. – Linda Dierks, Spin Straw to Gold (USA)
www.neelamminocha.energy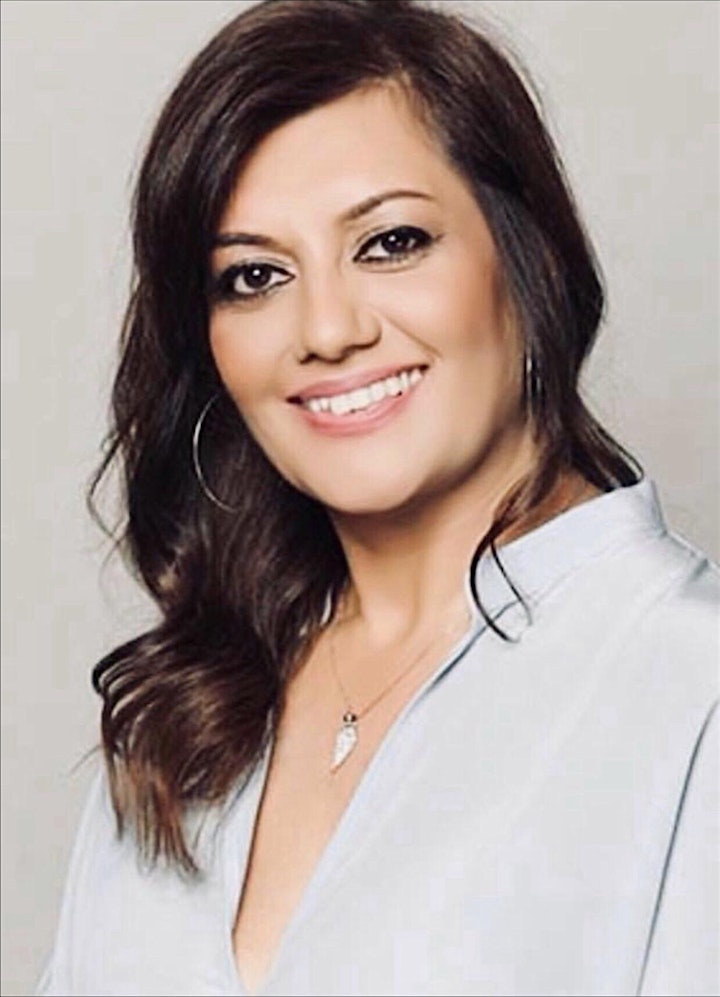 Date and Time
Location
Refund Policy
Contact the organiser to request a refund.
Eventbrite's fee is nonrefundable.