Description
Welcome to our New Year's Half Day Retreat's
A perfect opportunity to connect with your intentions for the year 2020 and get some 'me time.' A chance to open our hearts and elevate with like-minded people.
We have created the perfect space to get cosy and warm in nature, tune your body, mind and spirit to the frequency of the heart. January can be the time of year when nothing is happening! Or we feel low after the hype of Christmas and the cold setting in!
This gives us the opportunity to find time to connect with ourselves, work on the things that we need to tweak in order for life to run smoother at home or work. Simply give yourself some attention after thinking of everyone else!!
Are you ready to disconnect yourself from your phone and forget the outside world for a little while? Reconnect to your true authentic self. Enjoy the beautiful surrounding area & be cocooned in a fire warmed yurt (only 30 mins from London).
Your Day Includes:
Kundalini Yoga and Meditation
Gong Sound Healing
Wand making (Yes! you read that right- See below for details)
Intention setting
Delicious, nutritious wholesome food
Walking meditation
And much more…
Lift your mood, elevate to your highest potential..
How your day will unfold..
Ground

- Firstly casual introducing ourselves and becoming familiar with the space with a cup of Yogi Tea

Energy

- We will experience a full Kundalini yoga and Meditation class for renewing and restoring our bodies whilst lifting our energy.

Nourish

- A freshly prepared vegetarian lunch. We like to produce new & interesting seasonal dishes for you to try, followed by some of our homemade vegan, sugar free chocolates.

Breathe in Nature

- After lunch, we will go out & enjoy the fresh air and walk around the beautiful grounds. *We may walk in all weathers so come prepared!

Insights & Creativity

- Using an ancient South American tradition we are going to create our own wand. Setting intentions for the year ahead, and making promises to ourselves, weaving and welcoming your creativity, using natural materials, make something special and unique to take away- ensuring our manifestations turn into the dreams we wish to happen for 2020.

Deep Relaxation

- Relax to the power of the gong. Take yourself off and escape to the magic and healing sounds. Use the time to deeply relax and feel the intense sense of letting go and moving into the year ahead.
Our intentions for this holistic wellness afternoon with you are:
*Tune in your body, mind and spirit*
*Elevate!!! your mood, consciousness, potential*
*Reconnect with your heart and purpose*
*Feel relaxed and Rejuvenated and ready to move forward*
*Leave feeling way better than when you came*
*Have FUN!!*
LOCATION
:
Bisley, Woking. (25-30 min drive from Twickenham).
The Bisley Yurt, Miles Green Farm, Queens Road, Bisley, Woking GU24 9AR.
DATE & TIME:
Saturday, 4 Jan 2020 12:30 - 17:30 GMT
Sunday, 26 Jan 2020 12:30 - 17:30 GMT
EXCHANGE:
£85.00 pp
PARTNER PROMOTION
Book 2 spaces for £149
Bring a friend or family member and book both places at the same time.
Or treat yourself! Buy 2 tickets and book both retreats!
GIFT VOUCHERS AVAILABLE
There are also popular as gifts & we're always happy to send a PDF gift voucher if you would like to purchase a place on the yoga retreat for a friend, colleague or loved one.
Gift yourself this beautiful life experience!
Is the Retreat for me?
Yes! Open to All.. If you hear the call.
You don't have to be a yogi or even practice regularly to join us. We do our my best to make the space suitable for everyone, from beginners to those with experience of yoga- I encourage students to listen to their own bodies attentively & learn how to adapt poses to honour their own level of strength, stamina & flexibility.
What do I need to bring?
Your beautiful self! An open mind,

Comfy clothes, suitable shoes to walk in, a shawl or blanket for relaxation

Optional comforts- A block or meditation cushion for sitting, your favourite mug- Yogi tea in abundance!

Journal, your favourite essential oil.
Questions you may have?
Victoria Amore - 07748480788
Email: victoriaamore11@gmail.com
Website: https://victoriaamore.com/
Usha (Co-creator) - 07540835878
Email: info@aarushiyoga.com
RELAX. HEAL. ELEVATE.
Your retreat organisers: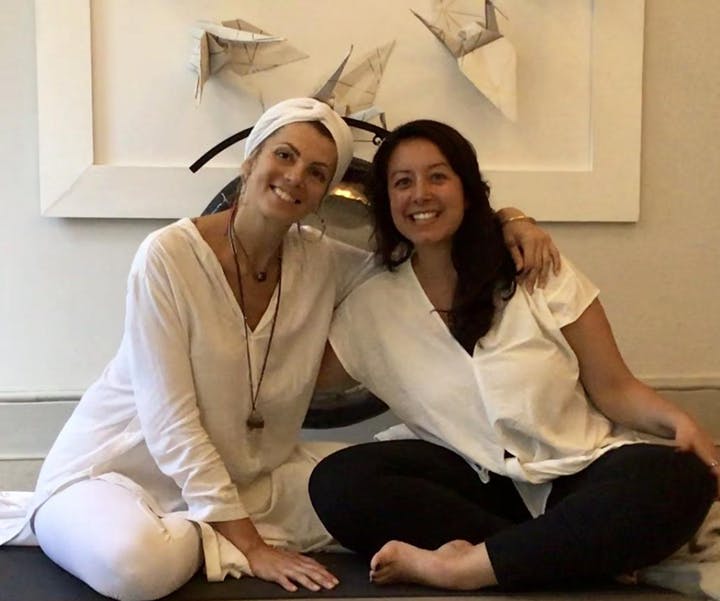 Victoria & Usha x