Event Information
Location
Big Creative Academy Campus
Clifton Avenue
London
E17 6HL
United Kingdom
WIRED – Power of Analogy A live event celebrating great minds wired to create...
About this event
WIRED – Power of Analogy
A live event, funded by Time To Change Waltham Forest Hub, celebrating great minds wired to create and share their unique voices while giving others the insight, the language, the imagery, the voice to be heard, understood, and listened to.
Let's talk about mental health in an artistic way, through images, poetry, music, fashion, drama, and more. Let's celebrate a sense of belonging that arts offer on so many different levels while embracing emotions it evokes.
Organised and run by mental health advocates, taking place on 4th February 2022 at a lovely venue: Big Creative Academy, Clifton Avenue, Walthamstow, London, E17 6HL.
Programme:
3:00 PM Welcome and intro by TTC Waltham Forest Hub - Presented by Chris O'Sullivan
3.15pm Fashion - Sarah Hollebon is a fashion designer and mental health activist who explores and raises awareness of social issues through sculptured garments. Her brand creates collections that highlight people's real experiences, challenges, and strengths where some are extremely deep rooted.
10 min break
4.00pm The Power of Connection - a new network for London: Talk To Change London; a short talk from the coordinator sharing the mission of the network and an insight from an adult nurse as a different perspective - Presented by Steve Loft
4.40pm This Zine Has Issues – introduction to a mental health magazine embracing creativity of artists with lived experience of ill mental health. Plus the short talk from co-editor - Dave Combs
10min break
5.30pm Fine Arts – Dorota Chioma exhibiting artwork created on the topic, based on the analogies fellow champions shared with her.
10min break
6:10 PM Film - Sobriety Films UK, presents their latest film 'Flux', by SFUK filmmaking participant J.D - Presented by Maddie Kitchen
6.40 PM Q & A with Maddie & Jade D individuals behind the film screened
15-20min break
7.15pm Poetry and music - Open Mic – facilitated by What's Going On In Your Head Presented by Jon Salmon
8:45 PM Acknowledgements and Event closure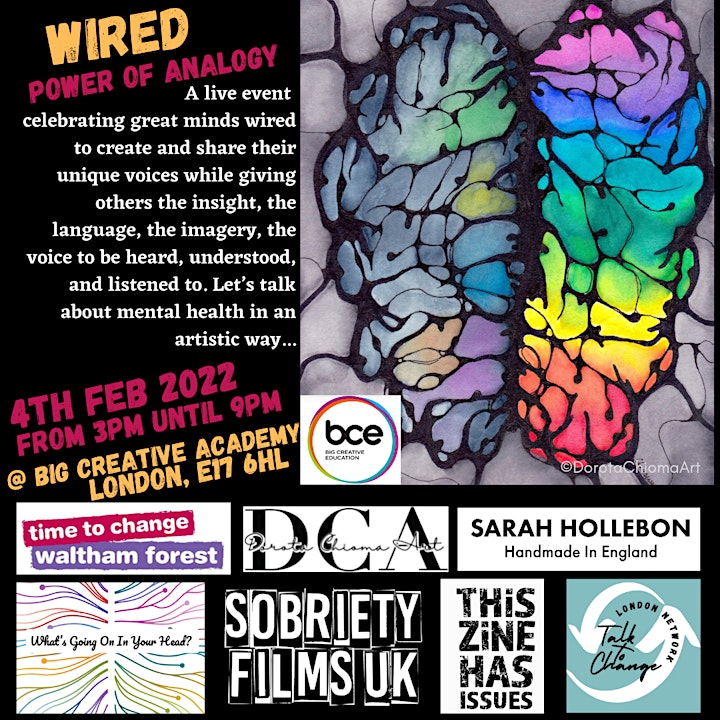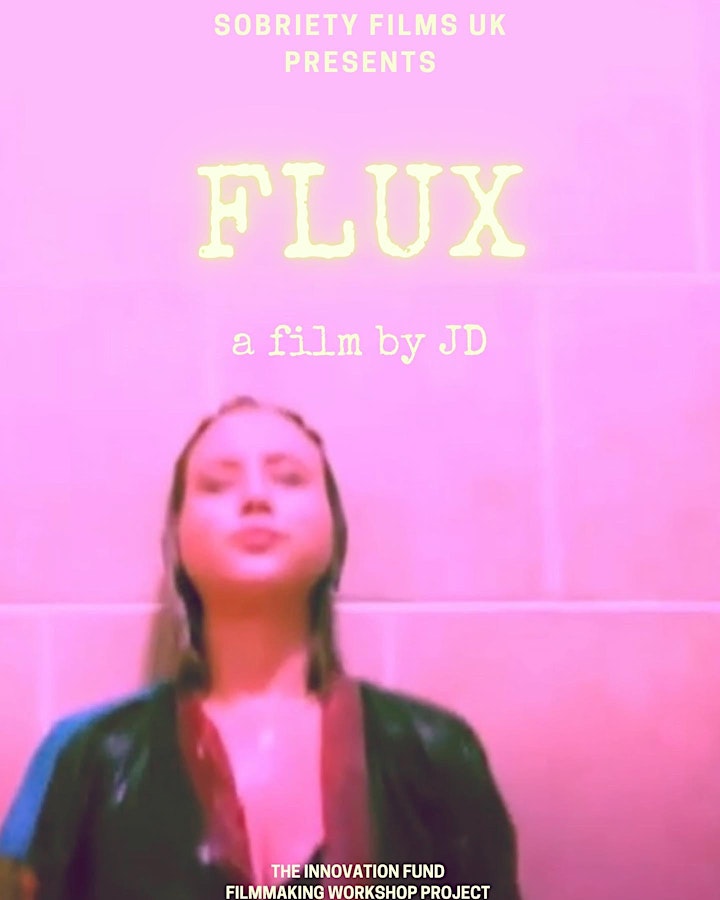 Date and time
Location
Big Creative Academy Campus
Clifton Avenue
London
E17 6HL
United Kingdom