Emerging from Lockdown - embracing positive horizons in 2021! Come and join us for an informative but relaxing event online workshop
About this Event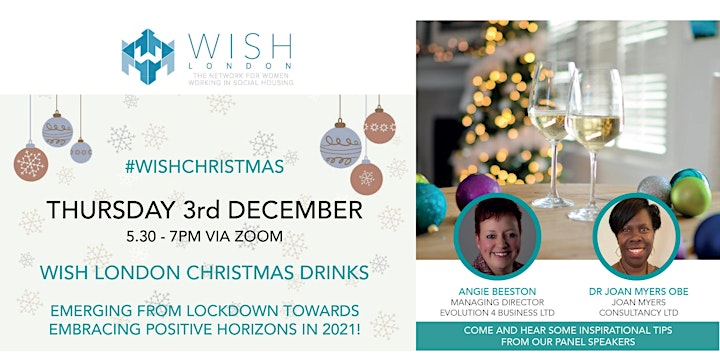 WISH London Christmas Drinks
Emerging From Lockdown Towards Embracing Positive Horizons in 2021!
Date: Thursday 3rd December 2020
Time: 5.30 – 7 pm
Via: Zoom
Come and join us for an informative but relaxing online workshop to end the year with a festive cheer! Have your celebration drink to hand, dress up if you WISH, as we will be ending the session with music and dance to get us in the mood for Christmas! Don't miss out, come join the fun, you are going to love it!!
By taking part in this interactive online workshop, participants will:
1. Hear from two inspirational speakers who will share some pocket-sized tools for maintaining a positive mindset.
2. Discover new ways of managing heightened workload and worry in ourselves.
3. Learn tips on how to focus with a chance to engage in discussions on the issues that post lockdown might bring.
4. Share some positive strategies for creating a balanced body and mind.
This online workshop is suitable for anyone who wants to have fun whilst also pick up some tips to embrace new horizons for 2021!
Looking forward to seeing you all on the 3rd December!
Our Speakers
Angie Beeston, Managing Director @ Evolution 4 Business Ltd
Angie created her business in 2010, rebranding to Evolution 4 Business in 2013. She supports businesses, individuals and teams with executive coaching, business mentoring, career coaching and bespoke leadership development programmes.
With a background in small businesses, larger companies and PLC's in many different sectors and in various job roles, Angie brings a wealth of knowledge and experience to share with others to help them with every aspect of their development, be that personal, teams or for the business.
From developing and supporting individuals into future leaders, helping teams to become high performing, business planning, to creating vision and values, to recruitment, sales, marketing, projects, processes and general management, Angie has already assisted many hundreds of businesses in the last few years. She works with small businesses through to companies such as AEG Europe, Thames Clipper, SSE Wembley, Eventim Apollo, The O2, Serco plc, Sainsbury Ltd and The Caravan Club.
Linkedin profile: https://www.linkedin.com/in/angelabeeston/
Twitter: @Evolution4Biz
Dr Joan Myers OBE @ Joan Myers Consultancy Ltd
Joan has over 35 years' experience as a nurse consultant and educator in community children's nursing settings across London. She has worked as an advisor to the Chief Nursing Officer for England in the NHS for over 10 years.
Joan recently retired from her post as Associate Director for Health Services and Chief Nurse in Kingston and Richmond. She is a 2018 Florence Nightingale Foundation (FNF) Leadership Scholar and became a Trustee and Director with the FNF in 2019. She is on Royal College of Nursing's Council representing over 62,000 nurses in London. She was included in the Health Service Journal 2020 top 50 Power list of the most influential leaders in the English National Health Service.
Joan is an inspirational speaker and is passionate about motivating and challenging people to excel and do well in their careers. Her Independent consultancy company offers mentorship and career support. Joan received an OBE for services to children and nursing in 2013. She is now a Queen's nurse and had a honorary doctorate from Middlesex University.
Twitter: @joan_myers