Join political and LGBTQ+ activist Jess Eastoe for a pre-recorded conversation and live Q&A with artists Anna FC Smith and Helen Mather
About this Event
Artists Helen Mather and Anna FC Smith talk with Jess Eastoe about her contemporary experiences as a campaigner, activist and youth worker based in Leigh, drawing parallels with the Leigh Female Reformers of 1819. Jess has actively worked to raise the voices of marginalised communities and working-class children, but she has also witnessed and been subjected to abuse similar to that of the Female Reformers who dared to speak out.
Jess Eastoe is an activist and works in youth engagement. She co-founded BYOU+ in 2018, an LGBTQ+ provision group to empower, engage and support the LGBTQ+ community across Wigan and Leigh. BYOU+ are the project leaders in Wigan Pride. She is also a founder member of Leigh Pride. She worked at RECLAIM, a Manchester-based youth leadership charity with the aim to end leadership inequality within a generation, making sure Working class young people are being seen, being heard, leading change. She has been a youth worker and worked for youth voice at Wigan Council and is now equalities lead at Greater Sport. She is also a Labour party activist, campaigning for the party and she holds the office of Leigh CLP's LGBT executive and is on the Labour Campaign Forum.
PLEASE NOTE: This online event will be run via Zoom.
Please provide your full name when registering on Eventbrite and ensure that when entering the call, your Zoom name matches with the account name you sign up with.
Registering for tickets ends 05/03/21 at 5pm.
(Image below: Jess Eastoe)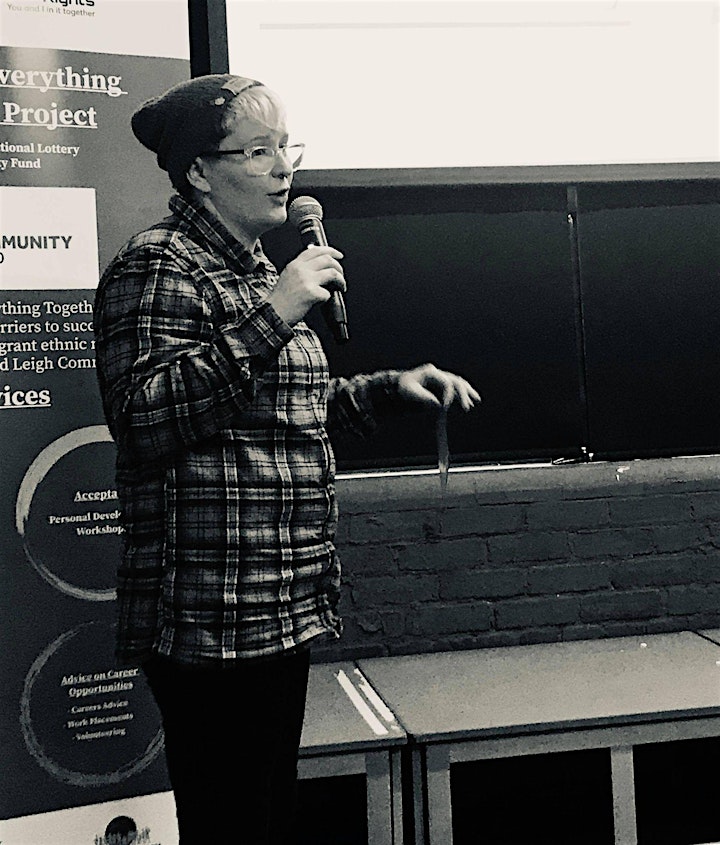 This event is part of the project These Lancashire Women are Witches In Politics at The Turnpike, Leigh.
These Lancashire Women Are Witches In Politics
This collaborative project and interactive residency by Helen Mather and Anna FC Smith takes its initial inspiration from the history of the Leigh Female Reformers of 1819* and the monstrous representations of them in the media of the time. Drawing on this symbolism and elements of the reformer's activities, the artists are researching and developing work with the Leigh community which weaves a new empowering language based on a shared history of place, myth, power and witchcraft.
Transforming The Turnpike into an enchanted forest ripe for conspiracy, the artists will be running regular workshops which connect people with their history through materials and making. This flexible space will engender citizenry, evolving through participants interaction and creation. A programme of talks, performances and a history walk further explore the sites and history of the reformers and the spectral power in an enfranchised populace.
(Image below: Anna and Helen by the obelisk next to The Turnpike, Leigh)