Join historian Ruth Mather for a talk and Q&A about Female Reform Societies and Lancashire Politics in 1819
About this Event
Wives, witches, mothers, monsters?
What role did Female Reform Societies play in the turbulent politics of Lancashire in 1819? In this talk, Ruth Mather reveals the subversive underpinnings of the seemingly innocent domestic language of the Female Reformers. She suggests that the focus on home and family in the speeches and addresses of Female Reform Societies was not necessarily an attempt to make their participation in politics palatable, but rather could act to unsettle local forces of law and order. Exploring the role of symbolism and tradition in the Female Reformers' political activism, this talk shows the potential for women to be seen as a monstrous and threatening force in early nineteenth-century politics.
Dr Ruth Mather is a historian of gender, class, home, and politics in eighteenth and nineteenth century England. Born and raised in Blackburn, she retains a particular interest in the history of everyday life in Lancashire cotton towns.
This event is part of the project These Lancashire Women are Witches In Politics at The Turnpike, Leigh.
Click Register to receive the Zoom link
Note: To join the event on Zoom, go to your order confirmation email. Click 'View the Event' orange button in email, this will take you directly to the Zoom link and password.
If you have problems, please contact: annafcsmith@gmail.com
(Image below: Anna FC Smith and Helen Mather by the obelisk outside The Turnpike)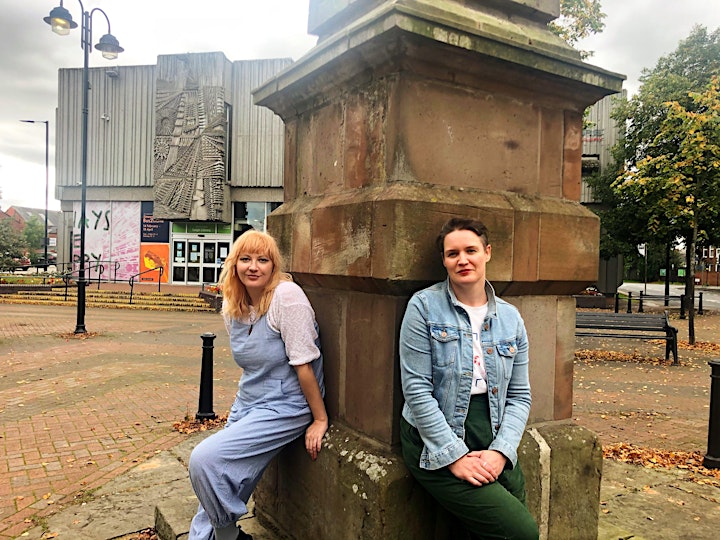 These Lancashire Women Are Witches In Politics.
This collaborative project and interactive residency by Helen Mather and Anna FC Smith takes its initial inspiration from the history of the Leigh Female Reformers of 1819* and the monstrous representations of them in the media of the time. Drawing on this symbolism and elements of the reformer's activities, the artists are researching and developing work with the Leigh community which weaves a new empowering language based on a shared history of place, myth, power and witchcraft.
Transforming The Turnpike into an enchanted forest ripe for conspiracy, the artists will be running regular workshops which connect people with their history through materials and making. This flexible space will engender citizenry, evolving through participants interaction and creation. A programme of talks, performances and a history walk further explore the sites and history of the reformers and the spectral power in an enfranchised populace.