WK 8: Protecting Your Business | Diogelu'ch Busnes
COVID-19 and your business: Startup Academy | COVID-19 a'ch busnes: Academi Dechrau Arni
About this Event
THIS SESSION WILL BE DELIVERED IN ENGLISH ONLINE. Welsh documents are available upon request.
MI FYDD Y SESIWN HON YN CAEL EI GYNNAL YN SAESNEG AR-LEIN. Mae yna ddogfennau Gymraeg ar gael os oes angen.
(Please scroll down for English)
COVID-19 and your business: Startup Academy | COVID-19 a'ch busnes: Academi Dechrau Arni
----------------------------------------
Academi Dechrau Arni
WYTHNOS 8: DIOGELU'CH BUSNES
Mae Academi Dechrau Arni Tramshed Tech yn rhaglen garlam 12 wythnos sydd wedi'i llunio ar gyfer sefydliadau sydd ar fin dechrau arni sydd â syniad da, neu sefydliadau sydd newydd ddechrau arni.
Bydd y rhaglen yn mynd i'r afael â'r prif heriau o sefydlu busnes ac yn cefnogi unigolion i ddatblygu cynllun busnes, i'w gyflwyno mewn Digwyddiad Paratoi i Fuddsoddwyr.
Bydd y rhaglen yn cael ei chynnal bob dydd Gwener rhwng 14 Hydref a 20 Ionawr.
Beth fydd cynnwys y cwrs?
Yn y gweithdy byddwch yn ennill dealltwriaeth hanfodol o Eiddo Deallusol, sut i'w ddiogelu a'r bygythiadau gan Drosedd Seiber, gan fynd i'r afael â:
Diogelu'ch IP
Diogelu data
Diogelwch Seiber
Cefndir y Siaradwr
AM - TBC
PM - Damon Rands CISSP, Wolfberry
Mae Damon yn arbenigwr seiberddiogelwch profiadol, gyda dros 30 mlynedd o brofiad yn y diwydiant Technoleg Gwybodaeth. Ar ôl gweithio ym maes datblygu, cefnogi a gosod mae wedi helpu cwmnïau ledled y byd i adeiladu systemau diogel a gweithredu arferion gorau i amddiffyn eu heiddo deallusol a'u gwybodaeth breifat.
Mae cyrhaeddiad byd-eang Wolfberry, yn golygu bod Damon yn treulio ei amser yn helpu sefydliadau i amddiffyn eu hunain rhag y Bygythiad Seiber.
Yn ogystal â bod yn gyd-sylfaenydd clwstwr Seiberddiogelwch De Cymru, mae hefyd yn aelod o sawl bwrdd cynghori ar draws addysg a'r llywodraeth.
*Noder, os ydych eisoes wedi ymuno â'r rhaglen, nad oes angen i chi ymrwymo i bob digwyddiad unigol.*
----------------------------------------
Startup Academy
WEEK 8: PROTECTING YOUR BUSINESS
The Tramshed Tech Startup Academy is a 12-week accelerator programme, designed for late pre-start organisations with a strong idea or early post start organisations.
The programme will cover the key challenges of setting up a business and support individuals to develop a business plan, ready to present at an Investor Readiness Event.
The programme will take place every Wednesday from 14th October to 20th January 2021.
What will the workshop cover?
This workshop is vital to you understanding what Intellectual Property is, how to protect it and the threats of Cyber Crime covering:
Protecting your IP (am)
Data protection (pm)
Cyber Security (pm)
About the speaker
AM - TBC
PM - Damon Rands CISSP, Wolfberry
Damon is an experienced cyber security expert, with 30+ years in the IT industry. Having worked in development, support and installation he has helped companies across the globe build secure systems, and implement best practices to protect their intellectual property and private information.
Wolfberry's global reach, means Damon spends his time helping organisations defend themselves from the cyber threat.
He is also the co-founder of the South Wales Cyber Security Cluster and a member of several advisory boards across education and government.
*Please note, if you have already signed up to the programme, you do not need to sign up to each individual event.*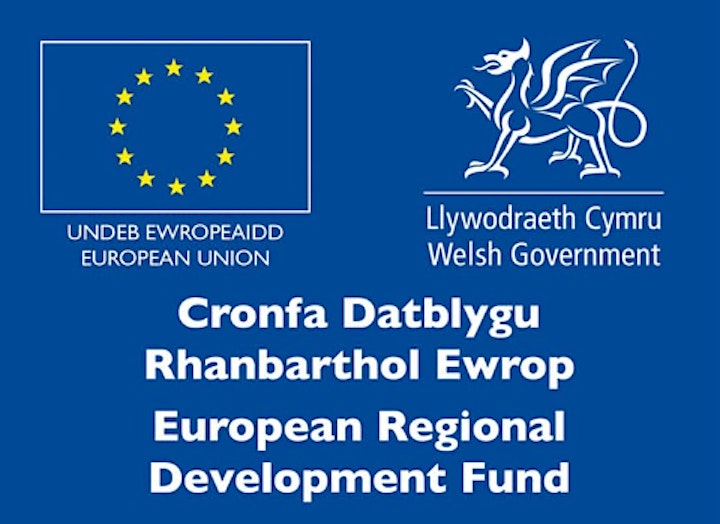 Mae Hybiau Menter Ffocws yn darparu gofod arloesol i ddeori a sbarduno busnesau newydd a'r rhai sy'n ehangu. Mae Hwb Menter Ffocws y Drenewydd a Hwb Menter Ffocws Caerfyrddin yn cael eu hariannu'n rhannol gan Gronfa Datblygu Rhanbarthol Ewrop trwy Lywodraeth Cymru
Mae'r digwyddiadau a ddarperir neu a gynhelir gan raglen Hybiau Menter Ffocws Llywodraeth Cymru am ddim ac yn agored i bobl o bob oedran, ond rhaid archebu lle ymlaen llaw. Mae'r niferoedd yn brin a disgwyliwn alw mawr am lefydd, felly archebwch yn gynnar i ddiogelu'ch lle.
Focus Enterprise Hubs are an innovative space to incubate and accelerate new, and growing businesses. Focus Newtown and Focus Carmarthen Enterprise Hubs are part funded by the European Regional Development Fund through the Welsh Government
Events delivered or hosted by the Focus Enterprise Hubs programme for the Welsh Government are free and open to all ages but must be booked in advance. Please be advised that numbers are limited and we expect high demand for places, so book early to secure your place.